FujiFilm Instax

The Instax Line-Up
Capable of instantly printing attractive, colorful photos, the Fujifilm Instax Instant Camera system pays homage to the instant photo printing cameras of the 90's. Using a built-in printing & developing system, the Fuji Instax is able print high-quality photos just moments after you've taken them. Fuji offers five different models of Instax to fit your preference and style.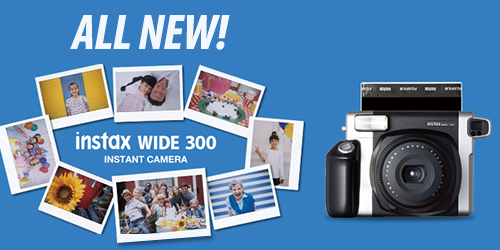 Similar to the Polaroid instant camera made popular in the late 90s, the Instax provides higher quality instant prints to accomodate today's standards. Various models and sizes are offered with their own distinct style; these include the Instax 210, capable of delivering larger prints than the mini series which include the Instax Mini 8, Mini 7s, Mini 25, Mini 50s. The Fuji Instax camera system exposes film through the backside of the photo, reversing the order of the dye layers. This ensures that the images do not need a reflex mirror to be shot. Providing improved color balance and tonal range in its final prints, the Fujifilm Instax instant camera system outperforms any of its competitors.
Instax Film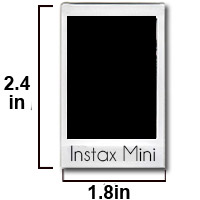 Fuji Instax photos come in two sizes; wide and mini. The Fuji Instax 210 model uses Instax Wide Film and is capable of producing large, colorful 3.89 inches (99 mm) width x 2.4 inches (62 mm) height prints. For a more pocket friendly print, the Fuji Instax Mini line of cameras use Instax Mini film and are capable of producing mini 1.8 inches (46 mm) width x 2.4 inches (62 mm) height prints you can slip right into your wallet for safekeeping or sharing with friends.
Introducing the new Instax SHARE Printer
Print Instax Mini Photos straight from your smartphone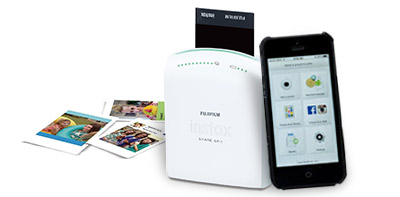 The Fujifilm Instax SHARE lets you enjoy printing straight from your smartphone for colorful prints you can share with your friends. This pocket-sized printer is perfect for bringing along and printing photos anytime, anywhere. Utilize a variety of templates to further customize your prints and make them one-of-a-kind. Download the Instax SHARE app on your Android or iOS device for quick and easy printing. More Info