If you want to livestream and need that professional look, this is the kit to rent! The Blackmagic Web Presenter connects easily to the Canon EOS 5D Mark IV as your livestream camera. Add on the Atomos Ninja V 5 Recording Monitor and it'll provide live feedback so you can be sure you're always correctly framed. It's everything you need to livestream today! Rent for only $99/day and you'll also receive a beginner's guide with instructions on how to livestream with the kit and the OBS livestreaming app.
Canon EOS 5D Mark IV
Canon 16-35mm f/2.8L
Canon 24-70mm f/2.8L
Atomos Ninja V 5 4K Recording Monitor
Blackmagic Web Presenter
Manfrotto Tripod w/ Video Ball Head
Full to Full HDMI
Mini HDMI to Full HDMI
USB-B to USB-A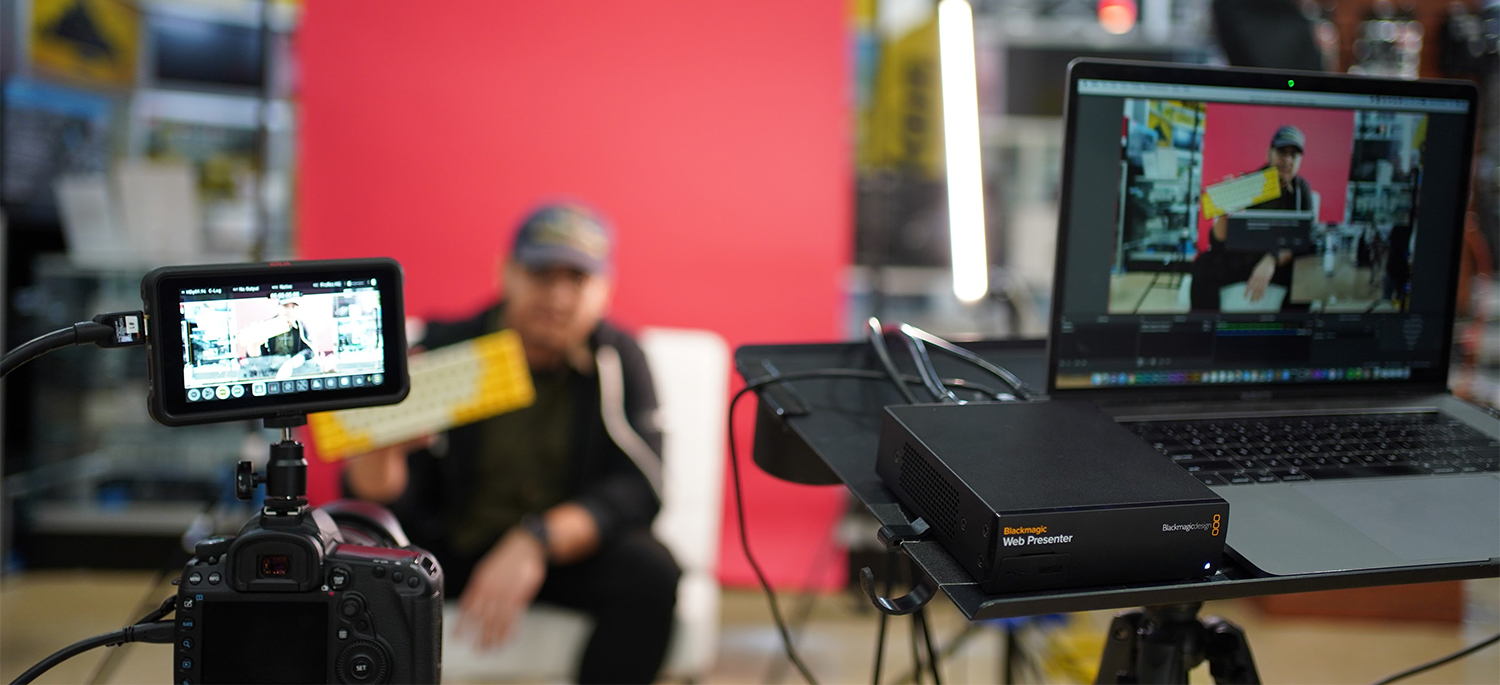 Improved in technology and loaded with features, the Canon EOS 5D Mark IV Digital SLR Camera Body features a 30.4-MP full-frame CMOS sensor that lets you shoot high-quality pictures in almost any light. Use the Dual Pixel CMOS AF for performing smooth, responsive AF while shooting videos in the normal mode or Live View shooting mode. Speaking of AF, the 61-point AF system comes in handy for getting a good focus on subjects. Get a precise exposure metering and detect flickering lights with the help of the 150,000-pixel RGB+IR metering sensor, which also enhances face-detection and scene-recognition capabilities. Finally, the inbuilt NFC and WiFi connectivity options enable you to share content with compatible devices, select social media sites, and the Canon Connect Station CS100 device.
The Canon EF 16-35 mm f/2.8 L III USM Lens is a well-designed lens that offers remarkable improvements for taking photos with crisp outer and corner sharpness. It comes with an Air Sphere Coating (ASC) and a Subwavelength Coating (SWC), which come in handy for eliminating flare and ghosting. The 9-blade circular aperture is useful for delivering soft, gorgeous backgrounds. Use the high-speed CPU, inner focusing ring USM, and optimized AF algorithms for providing your subjects with a fast and accurate autofocus. The fluorine coating on the lens' rear and front surfaces prevents fingerprints and smears. This lens is highly resistant to water and dust, which means you can conveniently shoot in rough weather conditions.
The Canon EF 24-70mm f/2.8L II USM Standard Zoom Lens (Black) is a standard zoom lens, designed for full-frame, Canon EF-Mount DSLR cameras. Though it is designed for full-frame Canon EF DSLRs, it can also be used with APS-C models, where it provides a 38.4-112mm equivalent focal length range. This L-Series zoom ranges from wide-angle to portrait length, & features a constant f/2.8 maximum aperture, which is beneficial when working in difficult lighting conditions, by allowing greater control over your depth of field.
Compose your scenes on the Atomos Ninja V 5 4K HDMI Recording Monitor to get an accurate idea of exposure and white balance. The monitor is designed for professional video camera systems such as ARRI and RED, and displays imagery on the 10-bit FRC IPS screen, having a brightness of 1000 cd/m². The AtomHDR display technology shows the log gamma footage without its characteristic flat tone. This Atomos video monitor supports LUTs meant for the ARRI, Canon, Fujifilm, JVC, Sony, Panasonic, and RED log formats. The recorder accepts 4K HDMI signals to store them in DCI or UHD formats for up to 60 fps. With the anamorphic de-squeeze, you can view anamorphic videos having a squeeze of 2×, 1.5×, 1.33×, and Panasonic 8:3. An XLR audio input with 48V phantom power is also provided for professional audio recording. Monitor the captured sound by plugging in a headphone to the output jack. Expand the operational capabilities of the Atomos Ninja V with the bidirectional video port.
Stream live in 720p HD with the Blackmagic Design Web Presenter. It accepts SDI and HDMI signals from a camera or any other source and makes them acceptable for broadcasting on a webcam-compatible platform and software such as YouTube, Facebook, Skype, Twitch, and more. To live stream, plug-in the video source to the Web Presenter and then connect it to your system's USB port. The built-in Teranex conversion technology automatically converts HD or UHD video signal into 720p resolution. Although the Web Presenter lowers the data bit rate, it retains the overall quality of the image. With the automatic re-synchronization, the Web Presenter ensures glitch-free switching between multiple video sources. The Web Presenter also has 12G-SDI, HDMI 2.0, XLR mic and line, and RCA stereo audio inputs along with SDI and HDMI outputs. You can also connect professional audio equipment with the balanced XLR audio inputs. The Web Presenter has RCA HiFi inputs for connecting iPods. With the built-in PSU, you can mount the unit on a rack or desktop. It allows you add Teranex Mini converters, HyperDeck Studio Mini recorders, and the ATEM Television Studio HD switcher to the Web Presenter.
Product Reviews
There are no reviews for this product.
In The Box
2x Canon LP-E6N Batteries
HDMI FULL - FULL
HDMI MINI- FULL
Webcam usb to usb A
Canon 5D MK IV | 302057003633
Canon eye cup
Canon EF 24-70mm f/2.8L II USM | 2720000822
Canon EW-88D Lens Hood
2x Canon Front Cap 82mm
Black Magic Pelican Case
Bower 82mm UV Filter
2x Canon Lens Back Cap EF
Yashica 82mm UV Filter
Apple HDMI Adapter
Black Magic Web Presenter
Canon EF 16-35mm f/2.8L III | 5430000855
2x Lens Pouches
Atomos Ninja V | K1A94NJV51G40
XIT Battery Charger | NP-F970
NP-F970 Battery
Atomos Ninja V AC Cable Adapter Plate
Manfrotto 055PRO3 :E0124682 | 500AH Video Head: F0337773, and 80P Bag
Canon Body Cap
Canon EW-88C Lens Hood
AC Power Cord | Black Magic Web Presenter
Atomos Ninja V Pelican Case
Canon 16-35mm f/2.8