Canon SELPHY CP1300 Compact Photo Printer - Black
Product #:

CND5975
Manufacturer #:

2234C001
UPC:

013803290493
Canon Selphy CP1300 Compact Photo Printer
For Smartphones, Tablets, & PCs
Dye-Sublimation/Thermal Transfer
Print Sizes: 2.1 x 2.1" to 4 x 6"
Print Speed: 47 Seconds for a 4 x 6" Photo
Maximum Resolution: 300 x 300 dpi
Screen: 3.2" Tilting LCD
Mobile apps: Canon PRINT, Apple AirPrint, Mopria, PictBridge
USB/WiFi Compatible
SD Card Slot (Supports SD, SDHC, SDXC)
Also compatible with Mini/Micro SD, SDHC, SDXC via Adapter
Power: AC Adapter (Included) or Battery Pack (Separately Available)
ENERGY STAR Certified/Power Save Mode
Features Anti-Theft Wire Lock Slot
Color: Black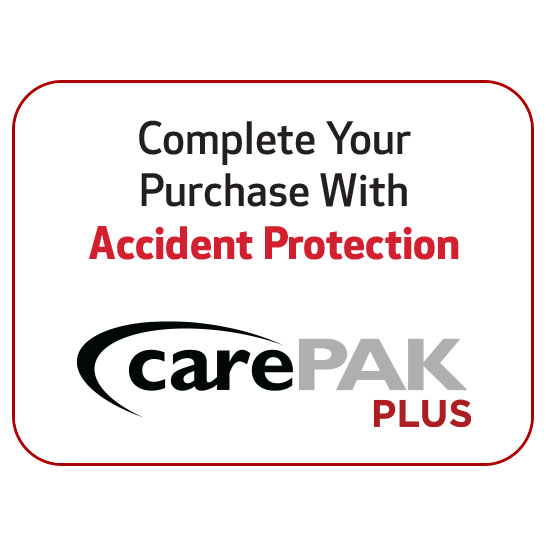 Overview
The Canon Selphy CP1300 Compact Photo Printer (Black) is designed to allow you to share physical prints of your most cherished memories in a quick & easily produced fashion. The Selphy CP1300 features Dye-Sublimation Technology, which allows for vivid & sharp prints of your favorite photographs. With a maximum resolution of 300 x 300 dpi, & Wi-Fi capabilities for wireless printing, the Selphy CP1300 is compatible with a wide variety of media (ex: 2.1 x 2.1" Stickers, 4 x 6" Postcards, etc.). Its remarkable speed allows you to print a 4 x 6" photo in 47 seconds, making printing your photos to share quick and easy.

In order to make the CP1300 even more user-friendly, a featured 3.2" tilting LCD display is provided to change settings, add effects, & even preview your images before printing them out. If you aren't interested in the wireless printing capabilities, a USB host port, as well as an SD card slot are included as well. The USB port & SD card slot enable the ability to plug your camera, computer, or memory card, directly into the printer. If you are a fan of wireless operation, the Selphy CP1300 provides you with several options for connectivity, as well as mobile apps that are compatible with it. A Wi-Fi Network, Apple AirPrint, & Canon PRINT are a few ways to print your photos. You can also use wireless PictBridge or Mopria, which are fully compatible with the CP1300. Some of the new functions, such as Party Shuffle Print, allow multiple people to connect to the CP1300 at once to make collages. The Canon Selphy CP1300 is designed to run on either AC power (adapter included) or on a separately available, optional battery pack.
Other Features:
Dye-Sublimation Technology: Helps produce sharp/long-lasting prints
Maximum Resolution: 300 x 300 dpi
Print Life-Span: Rated lifetime of about 100 years when stored properly
Printer Speed: Print a 4 x 6" postcard in 47 seconds/2.1 x 3.4" card in 39 seconds
Print Sizes: 2.1 x 2.1" labels, 2.1 x 3.4" cards, 3.5 x 4.7" L size, & 4 x 6" postcards
Wireless Mobile Printing: Apple AirPrint & Mopria Certified
Printing Options: Print over Wi-Fi or the USB connection
Wi-Fi Connectivity: Directly connect to your device via "Canon PRINT" mobile app OR network connection
Built-In SD Card Slot: Supports SD, SDHC, & SDXC Cards (miniSD, miniSDHC, microSD, microSDHC, microSDXC with adapter)
Borderless/Bordered Printing
Brightness Correction/Color Adjustment
Cropping/Date Print
DPOF
ID Photo Print/Index Print
Image Optimize/Brightness Correction/Scene Detection
Layout Print/Reprinting
Smooth Skin/Red-Eye Correction
Display: 3.2" Tilting LCD Screen for Settings/Previewing Images
Power: AC Power (adapter included) or an optional battery pack (separately available)
ENERGY STAR Certified/Power Save Function
Anti-Theft Wire Lock Slot
Product Reviews
There are no reviews for this product.
Specifications
Brand
Canon
Display & Viewfinder
Screen Size:
3.2" (8.1 cm)

Screen Size:

The size of the screen listed by height and width.

Display Type:
Tilting LCD Buttons

Display Type:

The type or brand of the screen.
Detailed Specifications
PC Interface:
USB 2.0, Wi-Fi

PC Interface:

This is software used to tether a camera to a computer interface. It is often used in a studio atmosphere as a better way to preview images.

Power:
AC adapter, Optional battery pack

Power:

This is the type of power a device uses.
Printer Specifications
Printer Technology:
Dye sublimation / thermal transfer

Printer Technology:

The type of printer technology.

Maximum Printer Resolution:
300 x 300 dpi

Maximum Printer Resolution:

The maximum size of a print with optimum quality.

OS Compatibility:
Windows, macOS/OS X, iOS, Android, Windows 10 Mobile, Amazon Fire
Physical Specifications
Dimensions:
7.1 x 5.4 x 2.5" (18 x 13.7 x 6.4 cm)

Dimensions:

The measurements of an object.

Weight:
1.9 lb (0.9 kg)

Weight:

The physical weight of the item without packaging.

Color:
Black

Color:

The color of the item.
Interface
Direct Print Capable:
USB, Wireless PictBridge, SD card slot

Direct Print Capable:

Allows camera to connect directly with a compatible photo printer and make prints without the need of a computer.
Paper Handling
Paper Capacity / Feed:
18 sheets

Paper Capacity / Feed:

Maximum amount of paper a printer can hold.

Print Speed:
47 seconds for 4 x 6" (10.2 x 15.2 cm); 39 seconds for 2.1 x 3.4" (5.3 x 8.6 cm)

Print Speed:

The average print speed of a paper.
Scanner Data
Color Depth:
256 levels per color

Color Depth:

Color or bit depth is the amount of information of the item being scanned; the higher the bit depth, the more colors get used and the better looking your scan will be. Grayscale images are 8-bit images, with 256 levels of gray. Color images scanned with a 24-bit scanner will have nearly 17 million colors; 36-bit scanners will give you more than 68 billion colors.
In The Box
Canon SELPHY CP1300 Compact Photo Printer (Black)
Canon PCP-CP400 Postcard Size Paper Cassette (4 x 6")
Compact Power Adapter
Sample Ink & Paper Set (5 Sheets)