Canon PowerShot ELPH 360 HS Digital Camera - Black
Product #:

CND2550A
Manufacturer #:

1075C001
UPC:

013803269598
Canon PowerShot ELPH 360 HS Digital Camera
With Canon zoom 4.5–54.0mm IS lens
20.2 MP CMOS sensor
DIGIC 4+ image processor
3-inch LCD screen
Continuous shooting rate of 7.2 fps
1080p video recording at 30 fps
Built-in flash
NFC-enabled Wi-Fi connectivity
Hybrid Auto and Story Highlights
NB-11LH rechargeable Li-ion battery
Color: Black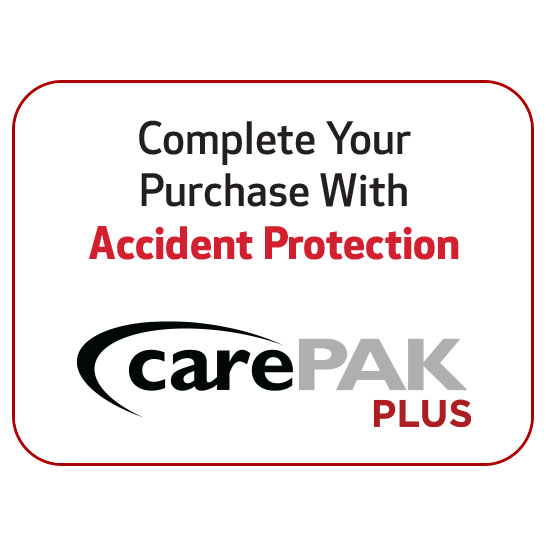 Overview
The Canon PowerShot ELPH 360 HS Digital Camera is ideal for capturing priceless moments during picnic trips or on special occasions. The Canon zoom incorporated into the camera's body offers a variable focal length of 4.5–54.0mm and an aperture of f/3.6–f/7. In addition, the high-sensitivity 20.2 MP CMOS sensor offers exceptional quality. Thanks to the DIGIC 4+ image processor, this digital camera records Full HD videos at 30 fps and facilitates continuous shooting at 7.2 fps. The 3-inch LCD screen provides a resolution of 461K dots when you are shooting your subject. You can transfer pictures to smartphones or tablets over NFC-enabled Wi-Fi. The camera functions on an 800 mAh NB-11LH rechargeable Li-ion battery.
Optics and Focus
The camera is equipped with a Canon 12× optical zoom lens that gives a 35mm equivalent focal length range and a maximum aperture of f/3.6. This camera incorporates an Intelligent IS image stabilization system that reduces the impact of shakes. Dynamic and Powered IS respectively correct camera and hand movements, while Macro IS compensates for shift-type shakes during close-ups. Moreover, the active tripod IS ensures smooth images by minimizing shakes while you are shooting with a tripod. The camera captures stable images of fast moving objects with a maximum shutter speed of 1/2000th of a second. You can vary the ISO sensitivity of the camera from 80 to 3200 depending on the lighting conditions.
Sensor and Screen
The 20.2 MP CMOS sensor provides high-quality images with vivid colors. With the 3-inch touchscreen LCD, you get 100% frame coverage. You can also review the captured images or navigate through different camera settings on the LCD.
Image and Video
The Canon Powershot digital camera captures crystal-clear JPEG images with a maximum resolution of 5184×3888 dpi. This camera also has a movie mode that records 1080p videos at 30 fps. In the continuous shooting mode, the camera can click 5 MP stills at 7.2 fps and 20.2 MP stills in 2.5 fps. The Creative Shot mode produces unique images by utilizing a range of compositional, color, and lighting elements from an original image.
Other Features
The camera supports NFC-enabled Wi-Fi to help you transfer photos to your smartphone and tablet. The built-in flash is effective up to 4m. Hybrid Auto records a 4-second video prior to image capture and then combines the still shot and video to create a video recap. You can enable the Story Highlights option to create a reel comprising photos and videos with background music. The camera features a self-timer, which can be set to 2 to 10 seconds, to allow you to become part of your family picture. This camera supports connectivity options such as HDMI and USB 2.0.
Product Reviews
There are no reviews for this product.
Specifications
Brand
Canon
Image Sensor
Sensor Type:
CMOS

Sensor Type:

Describes the makeup, build, and technology of the sensor that is in the camera.
Display & Viewfinder
Screen Size:
3.0"

Screen Size:

The size of the screen listed by height and width.

Display Type:
LCD Rear Screen

Display Type:

The type or brand of the screen.

Monitor Resolution:
461,000 pixels

Monitor Resolution:

A measurement of the LCD Monitor's resolution not by width by height, but rather the total amount of dots.
Detailed Specifications
Focus Range:
Wide: 1.97" (5 cm) - Infinity; Telephoto: 3.28' (1 m) - Infinity; Auto: 0.39" (1 cm) - Infinity; Macro: 0.39" (1 cm) - 1.64' (50 cm)

Focus Range:

The minimum and maximum range of focus with a certain lens.

ISO Range:
Auto, 80-3200

ISO Range:

Refers to the lowest and highest ISO sensitivity options the user has with a particular camera. (e.g. The Canon 5D Mark III has an ISO Range of 100-25,600)

Total Pixels:
21.1 Megapixel

Total Pixels:

The total amount of pixels. Describes the detail an image holds.

Max Resolution:
5184 x 3888

Max Resolution:

The highest resolution that a display device can support.

Coverage:
100%

Coverage:

This is the maximum viewing area through a camera's viewfinder.

Image Stabilization:
Optical

Image Stabilization:

This is a family of techniques used to reduce blurring associated with the motion of a camera during exposure. Image stabilization helps in low light situations using slower shutter speeds.

Compatible Media:
SD, SDHC, SDXC

Compatible Media:

A storage medium that is compatible with your portable device, in a form that can easily be removed or accessed by a PC such as a type of memory card that is compatible with your camera.

Megapixels:
20.2 MP

Megapixels:

A megapixel is one million pixels. It is commonly used to describe the resolution of digital cameras. For example, a 7.2 megapixel camera is capable of capturing roughly 7,200,000 pixels. The higher the megapixel number, the more detail the camera can capture. Therefore, the megapixel count is a significant specification to look for when buying a digital camera.
Shutter
Shutter Speeds:
1 - 1/2000 Second; 15 - 1 Second in Bulb Mode

Shutter Speeds:

The amount of time the shutter stay open for exposure. Measured in fractions of seconds.

Self Timer:
2, 10 Seconds

Self Timer:

Allows a delay between pressing the shutter release button and the actual firing of the shutter. Commonly used to give photographers time to put themselves in the shot and to take photos without having to physically have their hands on the camera during exposure.
Control Specifications
Exposure Compensation:
-2 EV to +2 EV (in 1/3 EV Steps)

Exposure Compensation:

Refers to the option for the user to override the internal light meter in the camera to either OVER or UNDER expose based on middle/18% gray. This is especially useful when photographing either extremely white/bright scenes or when in very dark/dimly lit scenarios.
A/V Mode
Video Resolution:
1920 x 1080p: 29.97 fps; 1280 x 720p: 29.97 fps; 640 x 480p: 29.97 fps

Video Resolution:

The measurement in height x width of a captured video file. Common sizes are VGA, 720p, and 1080p.

Video Clip Length:
Up to 29 Min 59 Sec

Video Clip Length:

The longest clip that a video camera can record.

Video Recording System:
Yes, NTSC/PAL

Video Recording System:

Describes the camera's video recording capability. Will describe the camera's video recording system, image sensor, video resolution, as well as other pertinent information related to the camera's video recording.

Audio Recording:
Built-In Mic: With Video (Mono)

Audio Recording:

Describes the camera's audio recording capability. Will describe the type of microphone and any additional XLR/miniphone jacks.
Physical Specifications
Dimensions:
3.9 x 2.3 x 0.9" (99.6 x 58.0 x 22.8 mm)

Dimensions:

The measurements of an object.

Weight:
5.185 oz (147 g) CIPA standard

Weight:

The physical weight of the item without packaging.

Color:
Black

Color:

The color of the item.
Flash Attributes
Built-in Flash:
Yes

Built-in Flash:

A flash that is embedded or part of the camera. Built-in flashes are found in both DSLR and Point & Shoot cameras. Although practical because of their small size and ease of use, built-in flashes are often ineffective and/or unflattering as a main source of light.

Flash Modes:
Auto, Flash On, Off, Slow Sync

Flash Modes:

Different modes that determines how a flash will be used in a photo.

Metering System:
Center-Weighted, Evaluative, Spot

Metering System:

The metering system measures the amount of light in a scene. It calculates the best exposure values based on the amount of light.
Imaging & Exposure Control
White Balance:
Auto, Cloudy, Custom, Daylight, Fluorescent, Fluorescent H, Tungsten

White Balance:

White Balance is the process of removing unrealistic color casts so that objects which appear white in person are rendered white in your photo.
Power System
Continuous Shooting Speed:
Up to 7.2 fps at 5 MP; Up to 2.5 fps at 20.2 MP

Continuous Shooting Speed:

Refers to the number of frames that can be captured per second (fps = frames per second).

Battery Type:
1 x NB-11LH Rechargeable Lithium-Ion Battery Pack, 3.6 VDC, 800 mAh

Battery Type:

The type of battery for a device. Some cameras use single use alkaline while others use rechargeable lithium batteries.
Recording Data
Image Formats:
JPEG

Image Formats:

The types of files that a particular camera produces. All cameras output JPEG images, but some of the more sophisticated models will shoot in RAW mode. RAW Image Formats will vary based on manufacturer.
Detailed Specs
Wi-Fi Capable:
Yes, Built-in
Camera Attributes
Image Sensor Size:
1/2.3"

Image Sensor Size:

Refers to the actual physical size of the imaging sensor in the camera. A sensor that has the same dimensions as a 35mm frame of film is considered to be "full" frame. Other smaller sensor sizes are described in terms relative to a "full" sized sensor. (e.g. an APS-C 1.5x crop sensor)

Aspect Ratio:
1:1, 3:2, 4:3, 16:9
Exposure Modes:
Program

Exposure Modes:

The various programmed, automatic, semi-automatic, and/or manual shooting modes which a camera has available for use. (e.g. Program, Shutter Priority, Aperture Priority, and Programmed Automatic)
Lens
Focal Length:
4.5-54mm (35 mm equivalent: 25-300mm)

Focal Length:

The distance between the film and the optical center of the lens when the lens is focused on infinity.
Hardware & Software Data
Interface & Connectivity:
HDMI D (Micro), Mini-USB, USB 2.0

Interface & Connectivity:

The connectivity of an interface to a network.
Lens Specification
Lens Aperture:
f/3.6 (W) - 7 (T)

Lens Aperture:

Range of Aperture size

Digital Zoom:
4x
Optical Zoom:
12x

Optical Zoom:

Optical Zoom
In The Box
Canon PowerShot ELPH 360 HS Digital Camera - Black
NB-11LH Lithium-Ion Battery Pack for Select PowerShot Digital Cameras (3.6V, 800mAh)
CB-2LF Battery Charger for PowerShot A2600 / ELPH 130 IS Digital Cameras
WS-800 Wrist Strap
You May Also Like
Camera Miscellaneous Accessories
Product #: CND9555B001

Our Price: $229.00
Batteries
Product #: CND3562

Our Price: $49.95
Viewfinder Accessories
Product #: CND1727C001

Our Price: $249.00