Apple Services
Call Today - (973) 377 - 1346



Unique Photo is now an Apple Authorized Service Provider, meaning we can repair your iPhone, iPad, and Apple Macbooks and iMacs using genuine Apple parts and professional services.

Certified Apple Repair Technicians
Two full-time Apple Service Technicians with 10+ years of combined repair & service experience are available to help with any questions or repair requests you may have. 
Repairs Performed Using Genuine Apple Parts
Repairs and installations are performed using only genuine Apple parts, ensuring only the highest quality components are used. 
Personal Consultation & Classes
We offer classes and instruction on basic phone operation and will be expanding our class selection in the near future.
1-on-1 instruction is also available to book.
Learn More

iPhone

iPad

Mac

Apple Watch

Apple ID

Music
Services
Apple repair services are performed by certified Apple repair technicians using genuine Apple parts backed by Apple.
MAC REPAIR - In-store repairs on Mac computers and laptops include display, speakers, keyboard, battery, logic board, hard drive, and ram replacement. Start a repair request to get a quote.
PHONE & TABLET REPAIR - We service & replace your iPad or iPhone speakers, camera, battery, and Taptic Engine. Start a repair request to get a quote.
RUSH SERVICE - $49 - Need it fast? Our rush service will guarantee that your service order will be prioritized first.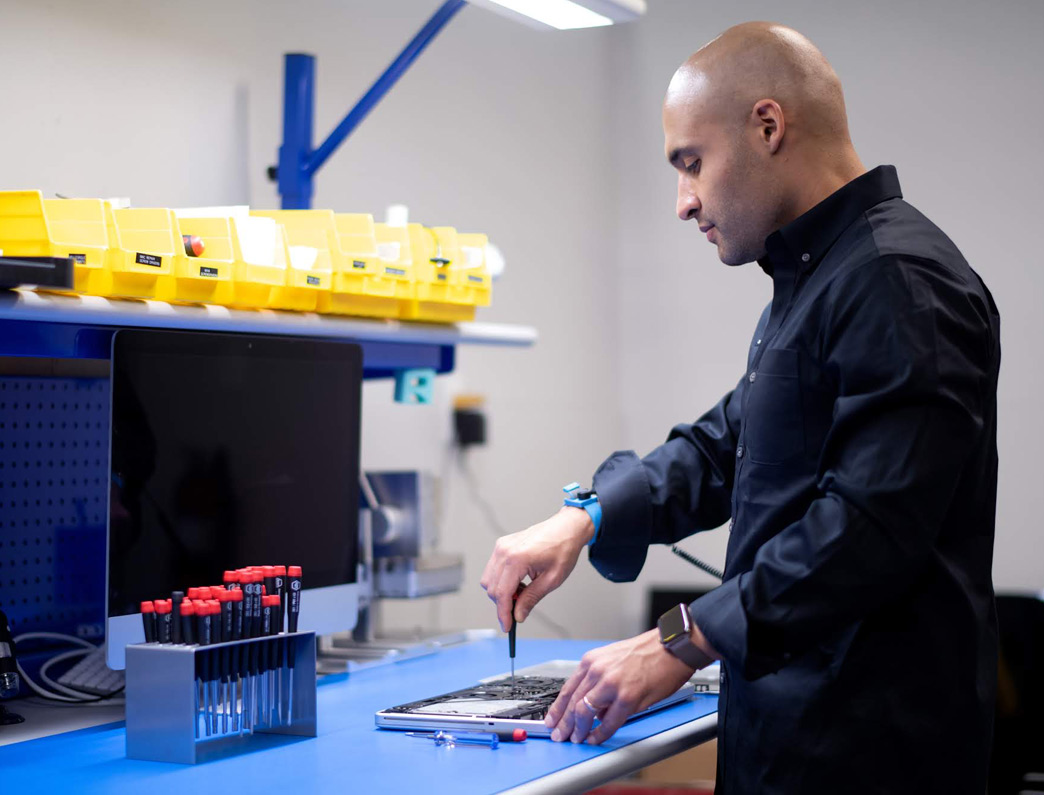 iPhone Screen Repair Pricing
The following screen repair prices apply if:
You need to replace your screen due to accidental damage or mishandling. Accidental damage isn't covered by the Apple warranty.
Your iPhone screen gets broken while it's still under warranty and you don't have AppleCare+ coverage.
Your screen stops working and your iPhone isn't covered by the Apple warranty, consumer law, or AppleCare+.
If your iPhone has additional damage that's not limited to the screen, see the "Other damage" fees.

*Same day screen repair dependent on inventory. Please call to confirm display stock prior to reservation time.
iPhone model
Screen repair only
Other damage
iPhone 12 Pro Max
$329
$599
iPhone 12 Pro
$279
$549
iPhone 12
$279
$449
iPhone 12 Mini
$229
$399
iPhone 11 Pro Max
$329
$599
iPhone 11 Pro
$279
$549
iPhone 11
$199
$399
iPhone XS Max
$329
$599
iPhone XS
$279
$549
iPhone XR
$199
$399
iPhone X
$279
$549
iPhone 8 Plus
$169
$399
iPhone 8
$149
$349
iPhone 7 Plus
$169
$349
iPhone 7
$149
$319
iPhone 6s Plus
$169
$329
iPhone 6s
$149
$299
iPhone 6 Plus
$149
$329
iPhone 6
$129
$299
iPhone SE
$129
$269
iPhone 5/5s/5c
$129
$269
iPhone 4s
See "Other damage fee"
$199
iPhone 4
See "Other damage fee"
$149
iPhone 3GS/3G
See "Other damage fee"
$149
AppleCare Plus iPhone Prices
Screen damage
$29
Any other accidental damage
$99
Theft or loss
$149
Battery Service
Your iPhone battery service might be covered by your warranty, an AppleCare plan, or consumer law. Otherwise, you'll pay an out-of-warranty fee for battery service, as shown below.
If your iPhone has any damage that impairs the replacement of the battery, such as a cracked screen, that issue will need to be resolved prior to the battery replacement. In some cases, there may be a cost associated with the repair.
| Battery service | In-warranty or with AppleCare+ | Out of warranty |
| --- | --- | --- |
| iPhone 12, iPhone 11, iPhone X, iPhone XS, iPhone XS Max, iPhone XR | $0 | $69 |
| iPhone SE, iPhone 6, iPhone 6 Plus, iPhone 6s, iPhone 6s Plus, iPhone 7, iPhone 7 Plus, iPhone 8, iPhone 8 Plus, and all other eligible models. | $0 | $49 |
General Services
Price
Data Transfers/Backups
$99
Temporary iTunes Backups
$15
Data Recovery


*No Charge for Unsuccessful Recovery, Transfer or Backup Services

$300
| Hardware Installation Services | Price |
| --- | --- |
| RAM Installation | $39 |
| Software Installation | $39 |
| Hard Drive / SSD Installation | $130 |

Master Your Phone
We also offer a variety of classes with our resident Apple expert and instructor, Kareem.
Inquire about 1-on-1 instruction, send us a line at

[email protected]
Understanding Your iPhone I
Whether you're completely new to iPhones and Apple, or just not sure why certain things are happening after an update, Kareem will tailor the class to the group and move at a pace that works for everyone's comfort level. Other basics, like your iPhone's buttons and ports, will be explained, as well as back-up options, how to navigate the operating system, and updates.

Learn more
Understanding Your iPhone II
Are you looking for a deeper understanding your iPhone, its apps, and iCloud? In this class, we will do a deep dive in a few of the most used native apps on your phone, as well as how to find new apps in the Apple Store. Kareem will tailor this lesson to fit the interests of the group, but he will also cover calendars, contacts, force touch navigation, and iCloud in more detail.

Learn more
Contact Us
Drop us a line and our Apple certified service technicians will get back to you as soon as possible

(973) 377-1346