There Are No Bad Holiday Pictures! By: Ellen W.
Published: December 06 2011
Images by David Castillo Dominici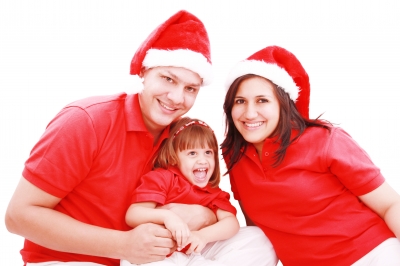 This time every year, families start thinking about creative ways to make their Holiday Greeting Card stand out in the pack. Everyone runs around making plans, buying props, and fixing their hair and outfits. Sometimes, you even get an image in your mind about the perfect picture. After hours of preparation, families trek into studios where many things, can, and will go wrong! In my years of experience shooting Holiday portraits, I have seen only a few sessions which went exactly according to plan. This time of year you may find yourself waiting in the lobby while your beautifully dressed children run around and mess up their clothes, get sweaty or tired, or even refuse to participate. The family portrait can become a nightmare for everyone involved. I want to help! Click "More" for some helpful tips which may change your holiday portrait experience to one that you look forward to year after year!
1. Make it simple and do not overcomplicate it. The most endearing and heartwarming images are uncluttered with a suggestion of the holiday. Coordinate your clothing so everyone is wearing similar or complimentary colors. For example: All red shirts or dresses with khaki pants or the family in white with the grandparents in red or green.
2. Wear something comfortable. Children in heavy, warm clothing will not be happy! Wait till the last moment to put the outfits on and only fuss with their hair once when you are ready to go.
3. Make sure waiting is not a problem. You can do this by having activities and snacks for your kids. Try to schedule your appointment at "good" times for the kids. A good time is early morning, after nap time, right after dinner etc. Bad times are dinner time, bedtime, after you have been shopping all day, or after you have been visiting with family. My suggestion is to make this event the only activity of the day.
4. Try to include props. Pick one or two. The image should feature your family and the greeting card will convey your message. A simple portrait is classic and lasts forever. You may want to hang it on your wall all year round.
5. Be flexible! Your image may be great even though its not what you expected. I had a family come in with two young boys. One boy was happy and anxious to have his picture taken while the other was sullen and uncooperative. We took several photos and wound up without a single image of the younger boy even standing next to his brother, nevermind smiling. The mom had an interesting idea at that moment . We used the image of the older son sitting beautifully and smiling, as the younger son stood in the background with his arms folded, his full blown pout and his eyes directed at the camera. She called them Naughty and Nice. Her whole family thought it was an unique idea and the perfect capture of her son at that age.
6. Make sure you have the time. You may not get the portrait you hoped for in your 1st attempt. Leave plenty of time to try again. Never leave this project to the last minute. It can be done, but your stress levels will rise and tempers will flare. Remember this is supposed to be fun. Creating memories for a lifetime is not an exact science. You may need to wing it. Take lots of pictures as quick as you can, and keep it moving!
For more images by David Castillo Dominici click here!