TAMRON 14-150MM DI III (MODEL C001) NAMED BEST CSC ENTRY LEVEL LENS AT THE TIPA AWARDS 2015
Published: April 09 2015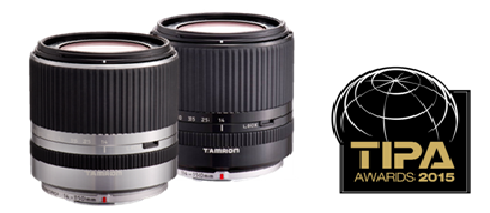 April 9, 2015, Saitama, Japan— Tamron Co., Ltd. (President & CEO: Morio Ono), a leading manufacturer of precision optics, has announced that the company's first high-power zoom lens designed for Micro Four Thirds mirrorless interchangeable-lens cameras, the 14-150mm F/3.5-5.8 Di III (Model C001), has been named BEST CSC* ENTRY LEVEL LENS at the TIPA AWARDS 2015.
*CSC: Compact System Camera
Excerpt from the Award Citation of the TIPA Jury
CSC cameras promise a lighter and more portable photographic experience. In line with this approach, Tamron has created a lightweight and compact MFT (Micro Four Thirds)-compatible lens. Delivering an impressive (equivalent) focal length range of 28–300 mm, the lens weighs a mere 10.1 ounces with just 3.16 inches in length (un-extended). Constructed with 17 elements in 13 groups, the lens has an impressive close focusing distance of 1.64 feet and contains AD (Anomalous Dispersion) glass, as well as hybrid aspherical and LD (Low Dispersion) elements. An IF (Internal Focusing) system means that the lens does not extend during focusing. The lens comes in both black and silver colors to match the user's camera body.
About the TIPA Awards
The TIPA Awards are world-renowned as the most influential photo and imaging product awards in the industry. The Technical Image Press Association (TIPA) has a worldwide membership of 27 photo and imaging magazines from 16 countries across five continents. TIPA also has a cooperative agreement with the Camera Journal Press Club of Japan. Once a year, the editors of TIPA's member magazines meet to vote for the best photo and imaging products in each category.
* The SP 150-600mm F/5-6.3 Di VC USD (Model A011) won a TIPA Award last year, making this the second consecutive year Tamron has won a prestigious TIPA award.
About Tamron
"New Eyes for Industry" is Tamron's philosophy. This creed is consistent with the company's position as a comprehensive manufacturer of a wide range of original optical products, from interchangeable lenses for SLR cameras to various optical devices for both the general consumer and OEM. Tamron makes optical products that contribute to a range of industries and will continue to devote its rich creativity and leading-edge technical prowess to various industrial fields. Furthermore, Tamron is fully aware of its responsibility to the environment and aspires to help preserve the natural environment in all of its business activities. Among its many optical and mechanical innovations since the founding of the company in 1950, Tamron's development of mass-produced hybrid aspherical elements paved the way for today's compact high-power All-In-One™ lenses when, in 1992, this technology was incorporated into the ground-breaking 28–200 mm. Tamron continues to lead in this category of lenses with the 16–300 mm Di II VC PZD Macro—the world's widest All-In-One™ zoom lens at an 18.8x range starting at an unprecedented 16-mm true wide angle. This compact and versatile lens features Tamron's proprietary VC (Vibration Compensation) system for blur-free, hand-held shooting of photos in low light and at telephoto settings, PZD (Piezo Drive) autofocus system for a fast and quiet autofocus operation, and macro capability. Tamron's recent SP (Super Performance) lens introductions have received accolades and high praise from leading photographic magazines and websites for their outstanding, best-in-class performance. Tamron has garnered international acclaim for its extensive line-up of professional and consumer lenses.
Optical Product Line-up:
Interchangeable lenses for SLR cameras, digital camera lenses, video camera lenses, lenses for automotive applications, IP and CCTV lenses, lenses for long wavelength infrared cameras, ultra-precision optical components, and more.