Hensel WiFi Remote App Releases for Android Devices
Published: January 16 2017
Categories:
Hensel WiFi Remote Control now also for Android!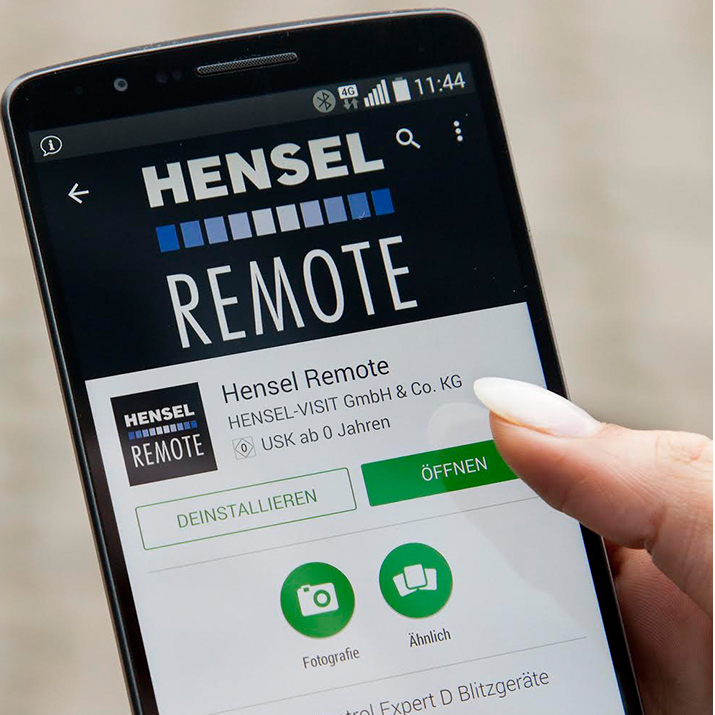 Now Android users can also be happy! Initially, the App was only available to users of iPads and iPhone, but now the new Android version significantly extends the number of users and allows a completely new level of remotely controlling equipment.
The App offers a convenient, bi-directional WiFi remote control for the fast Hensel Expert D compact flash units. It allows direct control of all important functions like flash power, modeling light, and sync mode.
Several devices can be controlled individually or in user defined groups of up to 12 devices. All settings can be saved, individually named, and retrieved again. Pictures of the set-up can also be saved together with saved settings. When used with certain flash units, additional information is displayed, e.g. flash duration time at selected power level. Another advantage: there is no need for an extra router.
Since September 2016, all Expert D compact flash units come with integrated WiFi module at no additional charge. For older Hensel flash units, an inexpensive manufacturer retrofit option is available.
The "Hensel control" App is purposely designed in a straightforward and user-friendly fashion that supports intuitive handling. Currently, the App is available in an iOS version for iPhone and iPad, and also for Android (from Version 4.1). Additional OS and Windows versions will follow, just like the integration of other Hensel units.
Whether on location or with extensive studio set-ups, this WiFi remote control allows all users really convenient and safe handling of lighting equipment and is thus a noticable assistance for any photographer. The updating option for existing equipment once again proves the investment protection characteristic of the brand "Hensel".
Hensel WiFi Remote control overview:
App for iOS and Android
Bi-directional function – instant feedback of all settings
Direct control of up to 12 FLASH UNITS, no separate router required
Flash units can be controlled individually or globally
Saving of all settings plus pictures of set-ups for quick allocation and repeating
Display of all controlled flash units' flash duration times
Up to 50m range at direct control
The App is free of charge and readily available
Created in Germany
Dowload the app via:
Android: https://play.google.com/store/apps/details?id=eu.hensel.android.flashcontroller
iTunes: https://itunes.apple.com/de/app/hensel-remote/id1015330415