Hensel Foris Wins PLUS X Innovation Award 2017
Published: February 06 2017
Categories: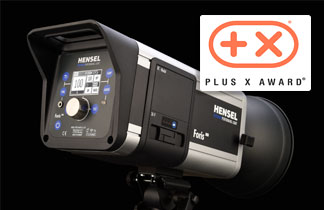 The Foris has won the prestigious PLUS X Innovation Award 2017 in the categories of Innovation, High Quality, Design, Ease of Use and Functionality. We are delighted about this award and are working with even more enthusiasm to complete these new devices!
The Porty A, which was launched more than 20 years ago, started the boom of network-independent, battery-operated flash units for professional photographers. It made it possible for demanding users to set up a comfortable and professional quality lighting system without the need for a socket - a real revolution. Shortly afterwards, the Hensel Porty Compact was one of the first professional compact flash units with rechargeable batteries. Today, the Porty L 1200 is one of the most popular battery flash generators on the market; It is a great pleasure to see how many outstanding images our customers around the world create.
The current Porty L 1200 is characterized by the fact that it not only makes a good impression outside of the studio, but thanks to an optional power supply it can be converted into a real studio generator, with real continuous operation and max 2x 650W modeling light. This is still a rare virtue and makes the Porty L particularly versatile.
Building on our experience and using the latest technologies, we are working on the next generation of universal compact flash units. Compact flash units that work not only on location, but also in the studio without compromise.
As a system that meets the needs of critical users, no matter where they use their flash units, this series of Hensel compact flash units still under development, is called "Foris" and is characterized by the following highlights:
Modular system with replaceable battery AND pluggable power supply
Network-independent work with 36V lithium high-performance rechargeable battery
Light, proportional LED modeling light (40W), faster flash sequence and unlimited flash capacity with network module
Best performance data in both operating modes thanks to true hybrid technology through adapted power supply modules
TTL flash control
Integrated Wi-Fi remote control and radio synchronization
Can be switched to long burn times for optimal HyperSync ® OPERATION
Sturdy metal housing and durable components
Development and production in Germany
The new Hensel Foris flash units use user-replaceable power supplies, which are adapted to the respective current source (LI-AKKU or NETZ) and offer an optimized efficiency. As a result, they not only use the battery performance very efficiently, but also offer faster flashing times and a bright, automatically proportional modeling light. The cooling system has also been designed for the respective application, which allows for trouble-free continuous operation with first-class performance when connected to the mains.
The processing and design of the Hensel Foris flash units are manufactured under the most extensive use of metal in Germany, all components are designed for the highest quality and longest service life. The design stems from the hand of a renowned industrial designer using a straightforward approach and avoiding unnecessary elements which hinder the user in his activity.
With the Foris Blitz devices, Hensel will once again revolutionize the light market. For the first time, photographers will receive compact flashes based on real hybrid technology and thus offer the best possible performance both indoors and outdoors: the system for all tasks.
Completion of the Foris series is scheduled for mid-2017.