Flash from the Past: Kodak Instamatic Cubes!
Published: May 09 2013
Categories:
Hey all you hipsters: Hold off on doing The Twist, The Pony or whatever new Mod dance move you saw on the Ed Sullivan show. Kodak's got a bright new cube that surely isn't for squares...
It's new. It's now. It's flash cube
Flash cube? Flash cube!
Only with the newest Instamatic cameras.
Four full powered flashes in one tiny cube.
Tired of your single use flash bulb fizzling out on your dance party? This multi-use flash cube offers up to four, you heard it, four flashes per cube. After each flash the little cube automatically rotates quicker than you can do The Jerk. The perfect companion for your Instamatic Camera, Kodak flash cubes are bound to make your swingin' party really pop.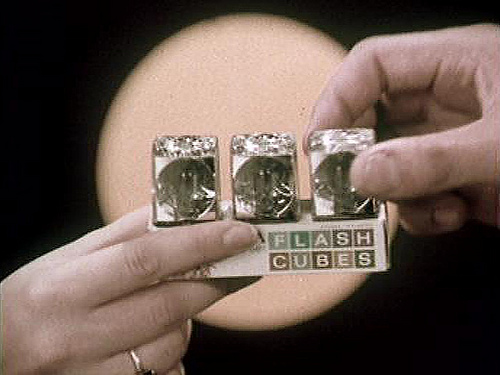 everybody's doing it
Flash forward to the present time and on-camera flash doesn't seem to be all that impressive. In fact we complain about it so much that it makes me wonder why they still blowout exposure so easily. For its time, the flash cubes were pretty innovative and must have been seen as a miracle considering you would have to waste a bulb after every shot. Just another reason why you should be thankful that we live in a digital age.
Bonus video of a slightly Creepy Mark Hamill: The nerf-herder turned Jedi came all the way from Tatooine just to take your picture with his new Kodak camera. Too far to get that bird's eye view young padawan? With just a flick of the switch: Bam, telephoto.
Looking for Kodak Film? Click here