Hacking Vulnerability on Wifi Enabled Canon Cameras
Published: August 14 2019
Categories:

With the advancement of technology from cell phones to cameras, we now have the convenience to send photographs to our cellphones directly from our cameras. With our cameras being able to connect to our phones and computers wirelessly, our cameras are also susceptible from hacking. Luckily this hack was found from White Hat Hackers who brought it to Canon's attention first. Now that this information is public, Canon has been working towards solving this issue to protect fellow photographers from being affected by this vulnerability.

Ransomware on a DSLR Camera | Latest Research from Check Point
So far Canon has provided the update to protect users from malware for the Canon EOS 80D and will be updating their security for other models along the way.

80D Firmware Update: https://www.usa.canon.com/internet/portal/us/home/support/details/cameras/eos-dslr-and-mirrorless-cameras/dslr/eos-80d/eos-80d?subtab=downloads-firmware
There have been no reported cases of this vulnerability from being exploited and used in the real world yet including other manufacturers like Sony, Nikon, Panasonic, etc. Now that this info is out there, the company that found this hack has been working quickly with Canon to protect users from being targeted. Until then Canon suggests that users:
Ensure the suitability of security-related settings of the devices connected to the camera such as the PC, mobile device, and router being used.

Do not connect the camera to a PC or mobile device that is being used in an unsecure network, such as in a free Wi-Fi environment

Do not connect the camera to a PC or a mobile device that is potentially exposed to virus infections

Download the official firmware from Canon's website when performing a camera firmware update.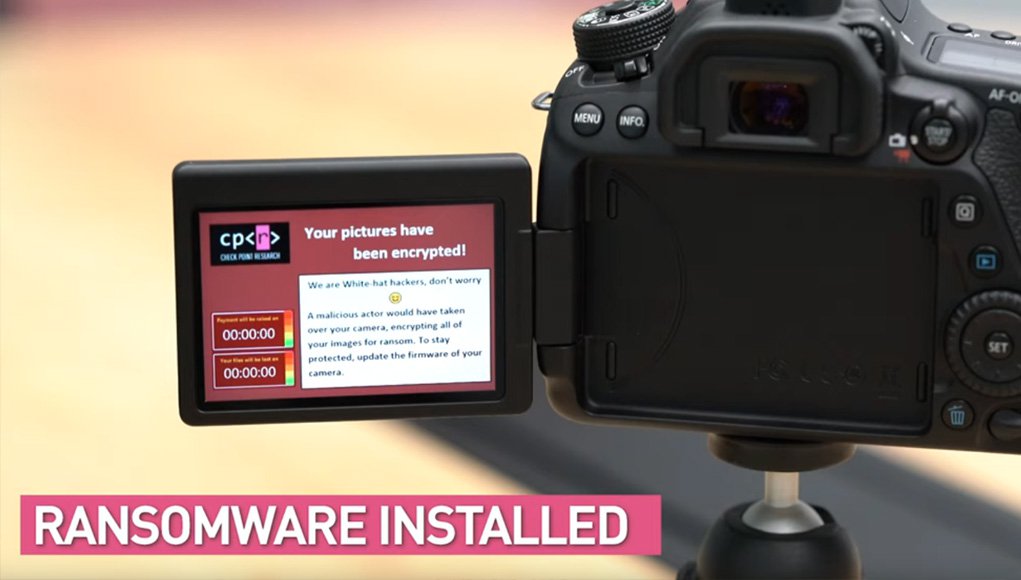 Image of the Ransomeware Installed
Not all hackers are inherently bad, we typically experience the negative affects of hackers due to the constant attempts of phishing, hacking, including ransomware. Luckily there are those who hack to protect users called White Hat Hackers that look for flaws and notify the respective companies to show these cracks to work preemptively. Be sure to thank any White Hat Hackers if you know any! We're sure they could use a coffee or two!

To find out more from Canon hit the link to see their Personal Service Announcement:
https://global.canon/en/support/security/d-camera.html