Unique Photo Booth #337 at PhotoPlus Expo 2016
Published: October 18 2016
Categories:
The PDN PhotoPlus International Conference + Expo is the largest photography and imaging show in North America, attended by over 21,000 professional photographers, photography enthusiasts, videographers, students, and educators from around the world. PhotoPlus features over 100 educational seminars, Photo Walks and Master Classes, the Official Portfolio Review presented by the Palm Springs Photo Festival, the Lucie Technical Awards, and over 250 exhibitors displaying thousands of the latest products and services for you to touch, try, and compare.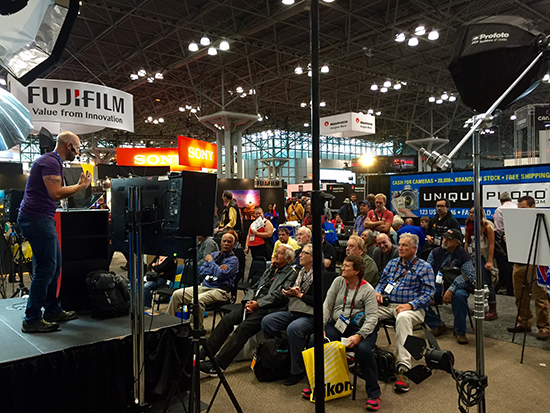 John Ricard giving a free lecture at Unique Photo Booth at PPE 2015
This year, the show takes place from October 20th to the 22nd at the Jacob Javits Convention Center in New York City. Unique Photo will be among the hundreds of Exhibitor's attending the show. You can find us at booth #337 behind Canon along the main aisle. We've got a plethora of show deals, we'll have a number of cameras and gear in hand, as we will also be taking orders and trade-ins on location. We have a main stage with ample seating for our guest presenters who will be offering free photography lectures throughout the duration of the Expo. Feel free to float through and listen in.We have a fantastic lineup of presenters this year, featuring big names such as Rick Friedman, Hanson Fong, Robert Harrington, Benjamin Lowy, and more!
For a full list of presenters, show deals, brands, and schedule, visit : https://www.uniquephoto.com/photoplus
The Expo attendee pass cna be purchased from the official PhotoPlus Expo page here.