Stalking and Shooting the Northern Lights with Dr. Bill Gutsch (Free Seminar/Lecture)
Published: March 02 2016
Categories: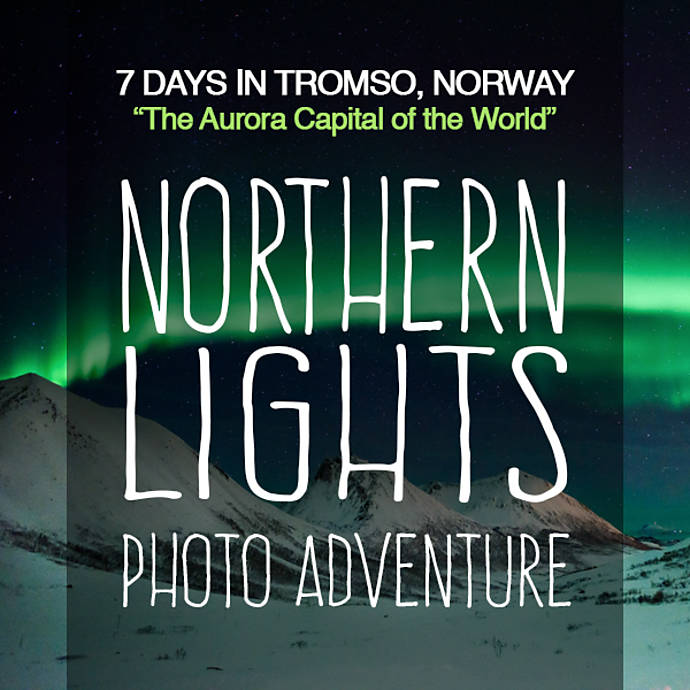 Hi, Mike Zawadzki from Unique Photo making a quick post here. You may have seen some of my lens/camera reviews in the past, but today, I am briefly writing about what has become one of my favorite photographic adventures and experiences, photographing the Northern Lights (Aurora Borealis)
Many American tourists haven't heard of Tromsø, Norway, and even fewer have bothered to make the voyage deep into the Arctic Circle to visit Tromsø. I know I used to be in that category, but now, Tromsø is a place that I personally hold a deep affinity for. Tromsø is a small city with a population of around 72,000 people, located 217 miles north into the Arctic Circle. It has a mild climate with an average year-round temperature of 37° F. While this may not seem immediately 'mild,' when you see Tromsø on a map, you will probably agree that 37° F is a surprisingly high temperature relative to the 69.6828° N latitude.
A contrasting mix of modern European architecture and centuries-old buildings fill the center of town, which sits adjacent to water, providing a scenic view, no matter the time of day. I compare Tromsø to Hoboken, NJ because of the upscale dining establishments, hip cafes, and diverse selection of bars. Tromsø also happens to be arguably the best city in the world to use as a home base for Northern Lights hunting. People travel to other parts of the world in search of the Aurora Borealis, including Fairbanks, Alaska or Iceland. Someday, I hope to travel to these, and many other places, as well. However, in a lecture at Unique Photo presented by world renowned astrophysicist, Dr. Bill Gutsch, I learned that Tromsø was the most convenient location for viewing the Northern Lights. This is why I decided to make my first voyage to Tromsø in November 2015. I returned shortly after in February 2016 for another week, because of how much I enjoyed my first time.
From October 28th to November 5th, 2016, Unique Photo will again be embarking on a seven-day photographic adventure to Tromsø in order to view and capture the Northern Lights. During our excursion, we will be teaching an intensive photography workshop with group lectures, helpful positive critiques, and individual lessons tailored to each attendee's personal skill level in photography. Dr. Gutsch and Terence Murtagh, another world-renowned astronomer, will be with us to explain how the Aurora Borealis phenomenon occurs. They will also navigate our group to the best locations for viewing and photographing. Their intense knowledge of space weather and meteorology, combined with the sheer experience of being in Tromsø over 100+ times combined, will give our group the highest possible chance of seeing the Northern Lights.
If you're already convinced, and just dying to sign up, you can do so here. However, I know this isn't a typically impulse decision, so we will also be hosting a FREE lecture by Dr. Gutsch at our New Jersey Superstore on March 19th, 2016. This is a great opportunity for anyone who wants to learn about the Northern Lights, and also for those who may be interested in signing up for our trip, but have more questions before making a commitment. Here is the link to sign up for Dr. Gutch's FREE lecture. Whether you are a seasoned photographer looking to capture Aurora shots for the first time, an aspiring hobbyist photographer, or don't even consider yourself a photographer yet, I sincerely hope you will considering joining us on this special trip. Every level of photographer will be able to capture stunning images of the Northern Lights. Before sitting in on one of Dr. Gutsch's lectures, I didn't think I would ever be in the Arctic Circle witnessing, and documenting one of the Earth's most incredible natural displays.
Words simply don't do justice to the brilliant display of the Northern Lights, so I have included a gallery of my favorite images. If you want to see these images in person, Unique Photo will be displaying many of them as large 24 x 36" prints during Dr. Gutsch's lecture. Two time-lapse videos that I made during my first excursions are embedded below the gallery as well. I am really looking forward to our next trip, and already counting down the days until October 28th. Hopefully I will be seeing many of you at Dr. Gutsch's lecture, and perhaps some of you right by my side, photographing in the Arctic.
-Mike Zawadzki
Sign up for Dr. Gutsch's FREE Lecture https://www.youtube.com/watch?v=nlXS1Xnzb8I https://www.youtube.com/watch?v=M8MsGwDllpo