NEW OLYMPUS TG-820 iHS IS TOUGHER ON THE OUTSIDE AND SMARTER ON THE INSIDE FOR INCREDIBLE IMAGE QUAL
Published: February 07 2012
iHS Technology Brings Intelligence, High-Sensitivity and High-Speed Performance to Active Families and Adrenaline Junkies Alike So They Can Focus on Fun
CENTER VALLEY, Pa., February 7, 2012
– The Olympus digital camera line-up for spring features a next-generation Olympus TOUGH compact that sets a new benchmark for Waterproof, Shockproof, Freezeproof, Crushproof and Dustproof performance. Combining proven durability with superb image quality courtesy of the new iHS (Intelligent, High-Sensitivity and High-Speed) family of technologies, the
Olympus Tough TG-820 iHS
has both brains and brawn. iHS harnesses the power of a new 12-megapixel BSI (Back-Side Illuminated) CMOS sensor and the TruePic VI image processor (originally developed for DSLR cameras) to dramatically improve low-light performance, speed up camera response time, enhance scene and subject recognition and double zoom magnification without losing image quality. Whether you're using it at a neighbor's pool party or snorkeling near a tropical reef, out-and-about at your local park or hiking Yellowstone, the Olympus Tough TG-820 iHS is the perfect travel companion for active families and adventurers looking for a camera that delivers outstanding image quality with a worry-free guarantee. Advanced iHS technology ensures that even people with an action-packed lifestyle can capture brilliant photos and 1080p Full HD Videos, no matter how fast their subject is moving or how poor the lighting is.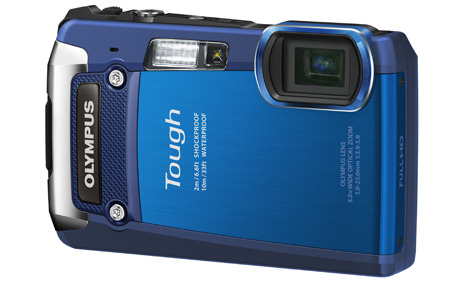 iHS powers a number of new Olympus features that take all the work out of capturing difficult shots. A blazing quick autofocus and HDR Backlight Adjustment takes a collage of separate photos and blends them into one perfectly exposed image regardless of difficult lighting. Multi-Motion Movie IS (Image Stabilization) records virtually blur-free videos even when you're moving. The versatile lens on the Olympus Tough TG-820 iHS pulls out wide or zooms in twice as close with its 10x Super-Resolution Zoom that digitally extends the range of the optical zoom with nearly no loss of image quality. Capture beautiful images and videos effortlessly; Enhanced iAuto enables the camera to automatically detect 34 different scenes (portrait, landscape, macro, etc.) While the new imaging technology delivers optimal results with fast-moving subjects, night scenes and other tricky shots, the Olympus Tough TG-820 iHS is also Waterproof to 33 feet, Shockproof to 6.6 feet, Freezeproof to 14 °F and even Crushproof to a weight of 220 pounds*1. Focus on fun, without worrying about damaging your camera's high-grade components like the OLYMPUS 5x Wide-Angle Zoom Lens (28 mm-140 mm*2). The 3.0-inch, 1,030,000-dot HyperCrystal III LCD offers super high-resolution with scratch-resistant, anti-reflective coatings for added protection and better visibility in bright and low light. When you're back from your adventures, the camera's HDMI Control makes playback a breeze. Simply connect the camera to an HDTV with an optional HDMI cable and use your HDTV's remote to control playback functions and navigate the camera's menus from the comfort of your couch. *1 Waterproof according to IEC standard publication 529 IPX8. Shockproof figures equivalent to MIL Standard (Olympus test conditions). Freezeproof according to Olympus test conditions. *2 35 mm camera equivalent.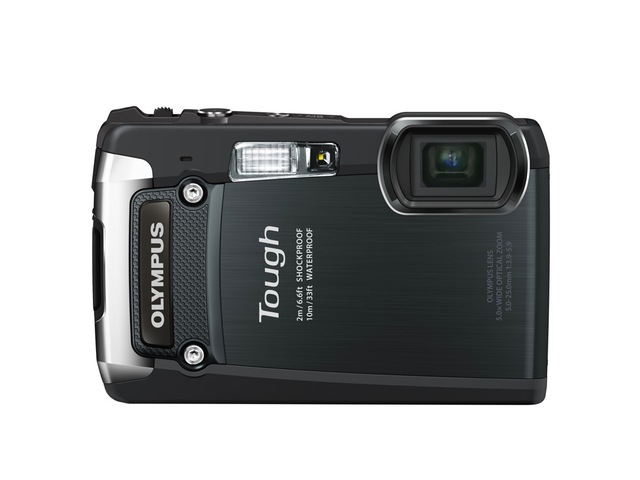 U.S. Pricing and Availability
The
Olympus Tough TG-820 iHS
will be available in March and ships with a Wrist Strap, USB Cable, A/V Cable, USB-to-AC Adapter (F-2AC), Lithium-Ion Battery (LI-50B), Quick Start Guide, Instruction Manual on CD-ROM, a software CD-ROM featuring [ib] (Windows) and OLYMPUS Viewer 2 (Win/Mac), and a Warranty Card. Estimated Street Price: $299.99 (Available in Silver, Black, and Blue) For a complete list of specifications, visit the Olympus website:http://olympusamerica.com/cpg_section/product.asp?product=1592 ABOUT OLYMPUS IMAGING AMERICA INC. Olympus Imaging America Inc. is a precision technology leader, designing and delivering award-winning products for consumer and professional markets.