How to Get the Best Fashion Photos
Published: March 02 2014
Categories: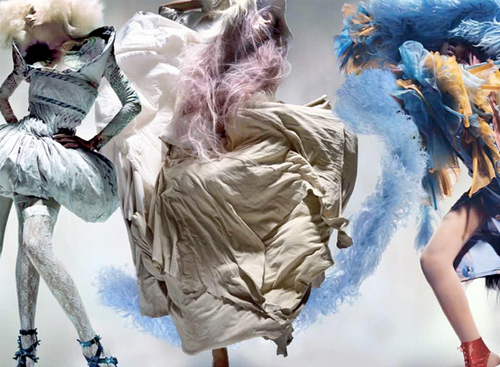 Capturing riveting fashion photos is not just about being technically proficient with the camera. Along with technical knowledge, one also needs to possess the right amount of photographic dexterity, an in-depth knowledge of the world of fashion, and a vision to make your photos speak to the audience. You should project your models as confident and self-assured beings and your photographs must always contain a sense of assertiveness.
Get Inspired
Skim through an adequate number of fashion magazines before getting your models to pose before the camera. This would assist you in picking up some valuable tips or get a profound insight into the current fashion trends. It could also serve as inspiration before you actually embark upon your fashion shoot. It usually suffices to employ "broken down" poses or angular body shots, as they bring about a certain edginess to the shoot and also help in lengthening the semblance of the models.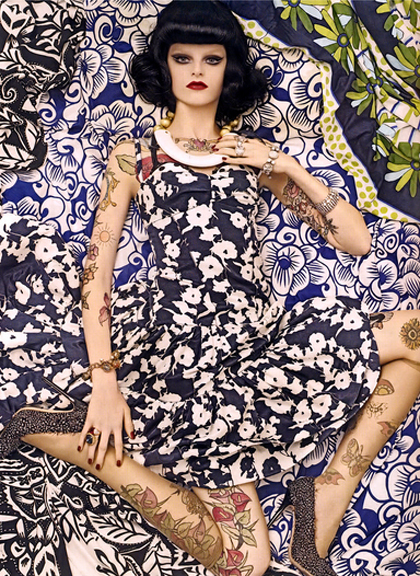 Photo Credits - Steven Meisel
Shoot in a studio
Although outdoor locations can be great for adding dimension to your fashion shots, it can be difficult for beginners to balance lighting among other factors like weather. Studios provide you with complete control over lighting and enable you to stabilize other hindrances that generally seem to crop up during shoots. While shooting in a studio, it's essential to meter all sections of the shooting environment prior to commencing the shoot in order to ward off any unnecessary shadows. Use a handheld light meter for this purpose instead of the standard meter that comes in your camera, as it gives a more precise reading. If renting out a professional studio is too expensive, then you can duplicate a studio ambiance within the confines of your home by adopting a few simple tricks. First and foremost, vacate a large space in a room that is equipped with big windows, and attach a white sheet, net, or fabric across it. This produces an effect similar to a homemade soft-box on a glistening sunny day, which in turn is perfect for soft, even light.
At times the theme or outfits that have to be captured demand an outdoor location. This is when you need to carefully select the appropriate exterior setting so that it complements your shoot and helps your pictures tell a story.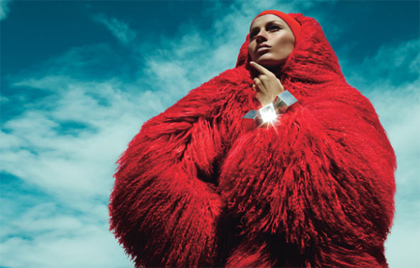 Photo Credits - Mert & Marcus
Experiment with your shots
Enhance your photos by getting creative and experimenting with your shots. You could do this by changing your normal point-of-view position while shooting and finding varied new and innovative angles to achieve a full exposure of the attire. Certain ways of experimenting with your point-of-view and angles could be by scaling a ladder, getting low, playing with an inclined angle, or walking right up to the subject. Always keep the theme of your shoot in mind and accordingly create a composition to fortify it.
Shoot in manual mode
Selecting the AV mode on your camera while shooting portraits might be easier, but you get much more control over your shoot if you opt for the manual mode. The manual mode allows you to decide on the shutter speed and aperture range, letting you obtain a more accurate exposure for you lighting setup. Shooting on manual mode also allows better control of depth of field, so you can have every aspect of your subject from the tip of the nose to the faint strands of stylized hair comes into focus or just one part in focus while the rest is blurred.
For anybody who chooses fashion photography as their career, it is imperative that they rise above the mundane and repetitive style of images captured by most other photographers in the profession. Hence, in order to carve a niche for yourself and stand out in the crowd, it's important that you carve your own style.
Featured Image - Photo Credits - Nick Knight