Droid Does Nikon: Coolpix S800?
Published: August 21 2012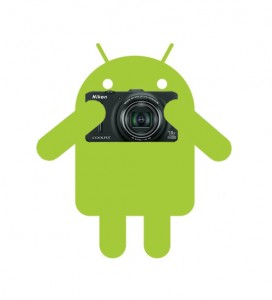 Although my negative opinion on phone photography has mostly changed, I just can't get used to pressing an imaginary button to take a picture. As phone technology progresses, the device has become similar to a dog that behaves like a cat. It can play games that make the N64 look like Atari and can practically do your taxes, but it's becoming less about making a damn call. Perhaps its the natural progression of things for all electronic devices...
With Photokina around the bend there are a lot of rumors flying around, some sources seem to have a strong sense that Nikon will release an android-based camera. Dubbed the Nikon Coolpix S800, this point and shoot probably won't look like anything special, but under the hood it will be an android device without all the phone hullabaloo. The camera will probably run on the 2.3 build of Gingerbread, have GPS functionality for geotagging, and wi-fi capability for sharing on the go. Most importantly it will access to the apps on Google Play Store. This is a no-brainer for apps like Instagram and Camera 360...you can take pictures, run then through a filter and post them straight to wherever you'll get the most likes. Plus you can also try to beat your high score on temple run while you wait for the perfect lighting.
Criticism is already high: Why not put phone functionality? Why not run Jellybean? Why not put this in something more powerful? Why not Zoidberg? All this and the damn thing hasn't even been announced.
Hypothetically speaking, if they were to make it a phone they would have to deal with increased pricing, licensing issues for global connectivity and who knows what the carrier would bloat it with. You'll see a promising new gadget at CES and when it's finally released you get something crippled by bloatware. Not that we wouldn't expect Nikon to have some apps up their sleeve. The Nokia Pureview 808 is a getting stellar reviews and all sorts of awards, but is it selling well with its high price tag and sub-par OS?
Sure, the newest version of Android has been pretty amazing on my Galaxy S III, but my oh my does that battery flatline quickly should you start juggling apps. Having a less powerful processor and an older version of android like the tried and true Gingerbread would be much less demanding on your battery for those times when you want to...you know, take pictures.
Having an android based camera should be exciting for the hack-community. If Nikon decides to release an open system, the ability to program a streamlined workflow with one button could be a reality. The thought of unlimited customization is the reason why people think they should be putting this technology in much more powerful DSLRs. Starting off with a small point and shoot is a smart baby step into unknown territory. If it flops, they're not really losing a whole lot...it's just going to be another point and shoot.
As far as competition, there's really nothing out yet. Polaroid had announced a similar "smart-camera" early this year and although it was supposed to be released in April, there hasn't been much chatter since. If it performs anything like the ill-fated Z340 camera, they might have another klunker on their hands. It's only a matter of time before Samsung or Panasonic join in on the craze.
Smartphone cameras are doing a pretty good job at killing the point and shoot market. Seeing an attempt in utilizing this popular technology might actually do some good. We'll have to see when this camera, and I'm sure many others like this, will be announced at September's Photokina...
Perhaps we'll be seeing this sooner than later, Nikon plans to have an announcement August 22nd. These recently leaked pictures might also more proof in the pudding. That is, if these were not photoshopped by someone with a lot of time on their hands. Stay tuned.