Sony Unveils the QX100 and QX10 Lens-Style Cameras
Published: September 04 2013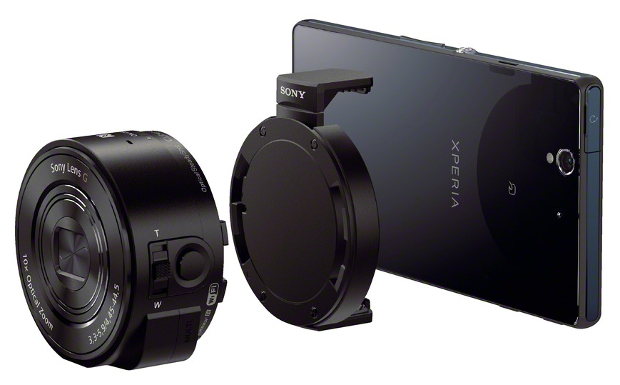 Sony is attempting to stir the pot in the mobile wars by bringing high-quality optics to your phone or tablet with these two innovative "Lens-Style Cameras". It's been pretty difficult for Sony to keep the rumor sites at bay, but here they are finally: Two modules that look like lenses...However these unassuming lenses are stuffed with a camera sensor, processor, microSD slot and wireless connectivity.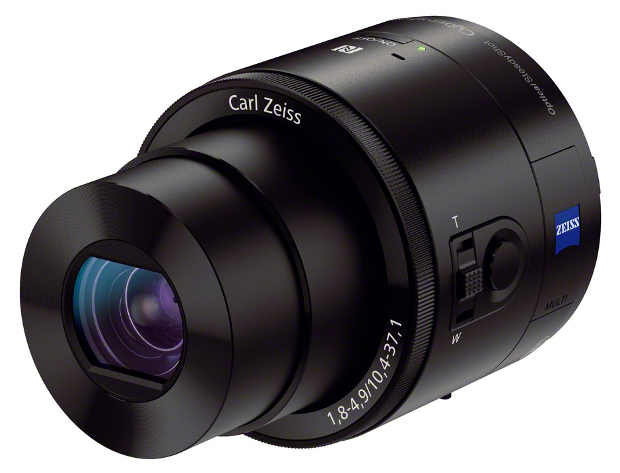 The DSC-QX100 is the bigger one of the bunch featuring a 20.2MP 1-inch sensor (same as RX100 II!), Carl Zeiss® Vario-Sonnar T* f/1.8-4.9 with 3.6x zoom and manual control ring.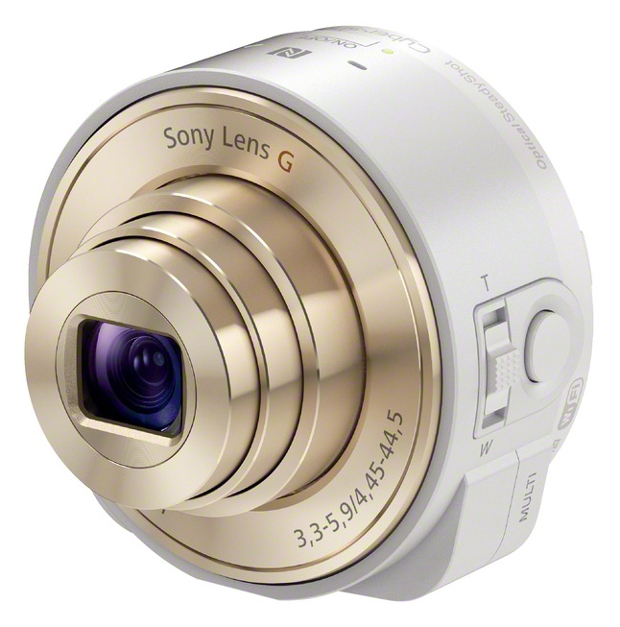 The smaller, less expensive version is QX10 and features a 18.2MP 1/2.3-inch sensor and f/3.3-5.9 lens with 10x zoom.
Both feature built-in Optical SteadyShot Stabilization and are made to work with Sony's PlayMemories App which allows live-view and control through iOS and Android smartphones. The QX100 and QX10 will go for $500 and $200 respectivitely and should be available by the end of the month.
Press Release:
New Sony QX Series "Lens-Style Cameras" Redefine the Mobile Photography Experience New Concept Cameras Link Flawlessly to Smartphone, Offering High-Zoom, Stunning Quality Images and HD Videos for Instant Sharing NEW YORK, Sept. 4, 2013 – Merging the creative power of a premium compact camera with the convenience and connectivity of today's smartphones, Sony today introduced two "lens-style" QX series cameras that bring new levels of fun and creativity to the mobile photography experience. The innovative Cyber-shot® DSC-QX100 and DSC-QX10 models utilize Wi-Fi® connectivity to instantly transform a connected smartphone into a versatile, powerful photographic tool, allowing it to shoot high-quality images and HD videos to rival a premium compact camera. It's an entirely new and different way for consumers to capture and share memories with friends and family. With a distinct lens-style shape, the new cameras utilize the latest version of Sony's PlayMemories Mobile™ application (available for iOS™ and Android™ devices, version 3.1 or higher required) to connect wirelessly to a smartphone, converting the bright, large LCD screen of the phone into a real-time viewfinder with the ability to release the shutter, start/stop movie recordings, and adjust common photographic settings like shooting mode, zoom, Auto Focus area and more. For added convenience, the app can be activated using NFC one-touch with compatible devices. Once pictures are taken, they are saved directly on both the phone and the camera*, and can be shared instantly via social media or other common mobile applications. "With the new QX series cameras, we are making it easier for the ever-growing population of 'mobile photographers' to capture far superior, higher-quality content without sacrificing the convenience and accessibility of their existing mobile network or the familiar 'phone-style' shooting experience that they've grown accustomed to," said Patrick Huang, director of the Cyber-shot business at Sony. "We feel that these new products represent not only an evolution for the digital camera business, but a revolution in terms of redefining how cameras and smartphones can cooperatively flourish in today's market." The new compact, ultra-portable cameras can be attached to a connected phone with a supplied mechanically adjustable adapter, or can be held separately in hand or even mounted to a tripod while still maintaining all functionality and connectivity with the smartphone. They can also be operated as completely independent cameras if desired, as both the DSCQX100 and DSC-QX10 cameras have a shutter release, memory card slot and come with a rechargeable battery. Premium, Large-Sensor QX100 Camera The Cyber-shot DSC-QX100 camera features a premium, high-quality 1.0 inch, 20.2 MP Exmor® RCMOS sensor. Identical to the sensor found in the acclaimed Cyber-shot RX100 II camera, it allows for exceptionally detailed, ultra-low noise images in all types of lighting conditions, including dimly lit indoor and night scenes. The sensor is paired with a fast, wide-aperture Carl Zeiss® Vario-Sonnar T* lens with 3.6x optical zoom and a powerful BIONZ® image processor, ensuring beautifully natural, detail-packed still images and HD videos. As an extra refinement, the DSC-QX100 sports a dedicated control ring for camera-like adjustment of manual focus and zoom. Several different shooting modes can be selected while using the camera including Program Auto, Aperture Priority, Intelligent Auto and Superior Auto, which automatically recognizes 33 different shooting conditions and adjusts camera settings to suit. High-Zoom Cyber-shot QX10 model Boasting a powerful 18.2 effective megapixel Exmor RCMOS sensor and versatile 10x optical zoom Sony G Lens, the Cyber-shot DSC-QX10 camera allows mobile photographers to bring distant subjects closer without sacrificing image quality or resolution, a common problem in smartphones. It's also extremely portable and lightweight - weighing less than 4 oz and measuring about 2.5"X2.5"x1.3", it's a great tool for travel photography. Additionally, the camera has built-in Optical SteadyShot image stabilization to combat camera shake, keeping handheld pictures and videos steady and blur-free. It has Program Auto, Intelligent Auto and Superior Auto modes to choose from, and will be available in two different colors – black and white. Pricing and Availability The new Cyber-shot DSC-QX100 and DSC-QX10 lens-style cameras will available later this month for about $500 and $250, respectively. The cameras and a range of compatible accessories including a soft carry case and dedicated camera case attachment for Sony Mobile phones like the Xperia™ Z can be purchased at Sony retail stores (www.store.sony.com) and other authorized dealers nationwide. Please visit www.blog.sony.com for a full video preview of the new Sony Cyber-shot QX Series cameras and follow #SonyCamera on Twitter for the latest camera news.