Canon Refreshes the PowerShot Line: ELPH 130 IS, A2600 and A1400
Published: January 07 2013
[caption id="attachment_15902" align="aligncenter" width="480"]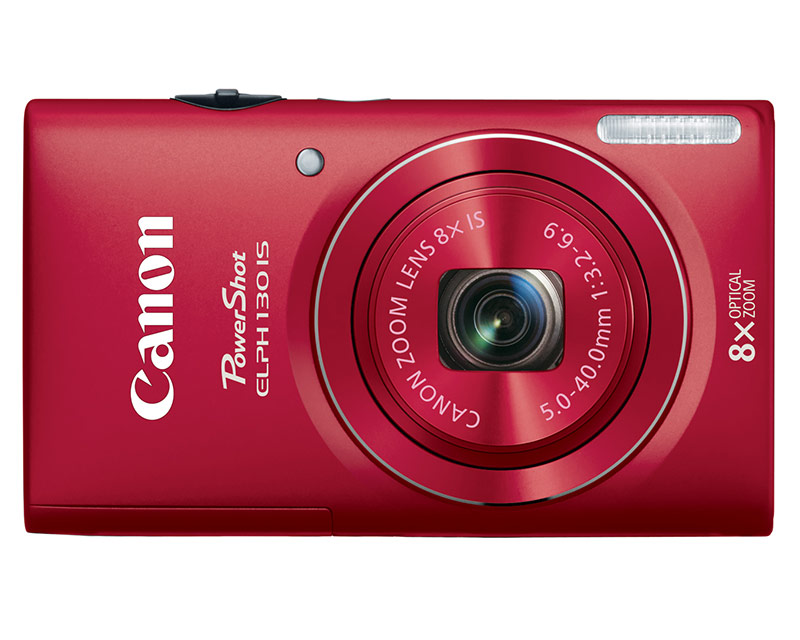 Canon PowerShot ELPH 130IS[/caption]
Along with the Powershot N, Canon has spruced up some of their other point and shoots to keep up with current sway of technology. On the ELPH front is the new 130 IS which maintains it's small, but powerful nature with the addition of WiFi. Being able to share images wirelessly seems to be the big thing this year. Canon offers two ways to do this: You can create a pseudo-network drive that can connect to any computer, tablet, or phone OR you can use the their Camera Window app that supports both iOS and Android. Full specs include: 6MP sensor, 8x zoom 28mm f/3.2-6.9, Digic 4 image processor, 3 inch 461-dot LCD, Eco Mode for 30% better battery life, Intelligent IS, and HD video. The Powershot ELPH 130 IS is priced around $200 and will come in red, green, or grey.
[caption id="attachment_15903" align="aligncenter" width="480"]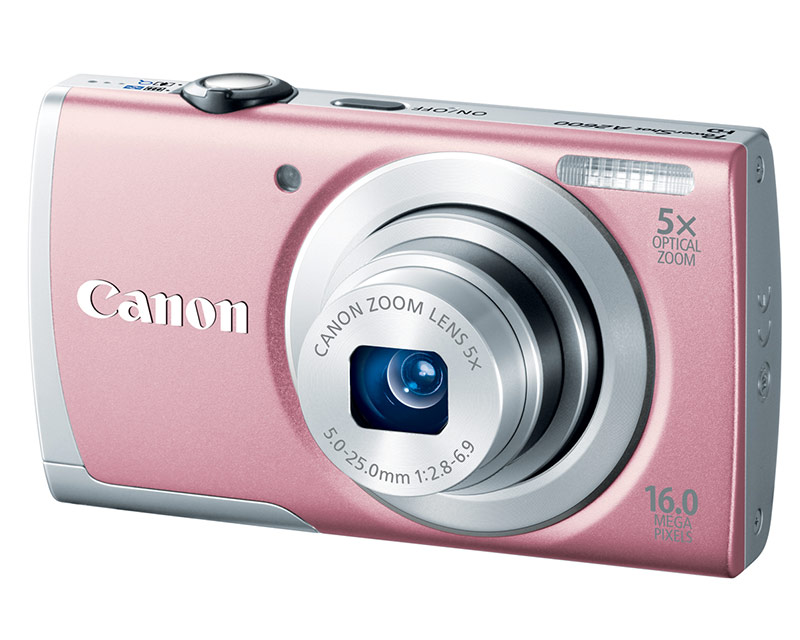 Canon Powershot A2600[/caption]
Canon is even giving some love to their lower-end point and shoots by intruding the A2600 and A1400. The upgrades aren't too substantial except for the Eco Mode found in all of the compact cameras that Canon will be introducing this year. It basically dims LCD light after 2 seconds and then puts the camera into sleep mode after 8 seconds which is said to boost up to 30% battery life. Both Cameras have similar specs (16mp ccd sensor, 5x28mm, 3" LCD, 720p video, silly scene modes...) with the exception that the A1400 has an optical viewfinder and is powered by AA batteries. This is great for those on the go, but everyone knows how quickly these little cameras burn through batteries... The A2600 will retail for $150 while the A1400 is yours for around $100. All of the Powershot cameras listed are set to start shipping in February of this year.
[caption id="attachment_15901" align="aligncenter" width="480"]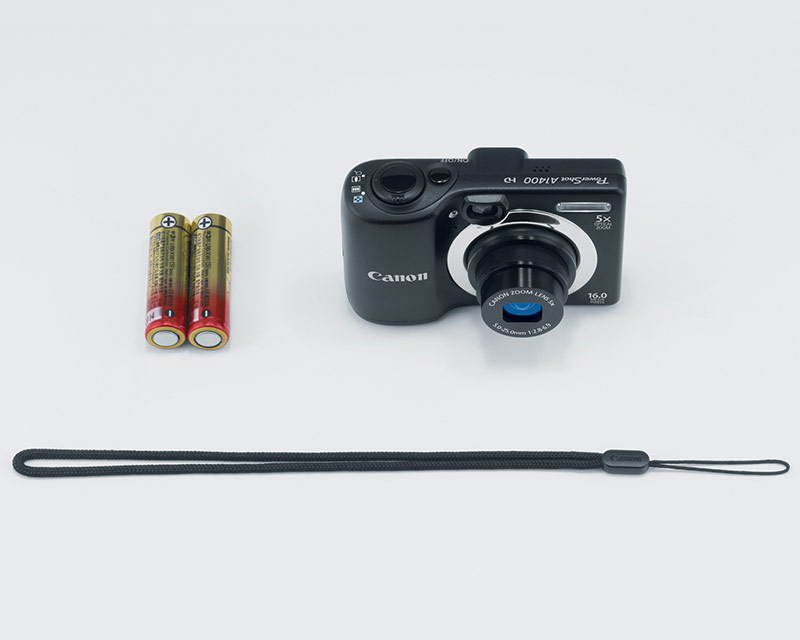 Canon Powershot A1400[/caption]
Press Release:
New Canon PowerShot Cameras Help Capture High-Quality Images With Simplicity
LAKE SUCCESS, N.Y., January 7, 2013 – Canon U.S.A., Inc., a leader in digital imaging solutions, today announced the PowerShot ELPH 130 IS, A2600, and the A1400 digital cameras to capture emotions and memories to share in stunning quality. To give consumers a simple, yet enhanced image sharing experience, Canon's built-in wireless functionality has evolved with new options that help make posting on social networking sites easy. Also for users who are constantly on the move, each of the new camera models are outfitted with ECO Mode, a new feature that provides approximately 30 percent longer battery life when enabled, allowing them to shoot more photos for a longer amount of time.
"Our new PowerShot models have advanced features that give photographers an enhanced high-quality imaging experience allowing them to fulfill their day-to-day photography needs, express their vision and tell their story with ease, at a great value," said Yuichi Ishizuka, executive vice president and general manager, Imaging Technologies & Communication Group, Canon U.S.A."
PowerShot ELPH 130 IS Digital Camera
The wireless functionality built into the PowerShot ELPH 130 IS digital camera is easy and intuitive and provides users with more connectivity options. With the download of the free Canon CameraWindow app from an Android™ or iOS® app store, users can connect to both iOS or Android™ smartphones and tablets to wirelessly transfer photos and videos from their camera to their device. This camera also has the ability to connect directly to social networking sites using Canon's iMAGE GATEWAY, making photos easily accessible and ready to share. In addition, the PowerShot ELPH 130 IS digital camera has the ability to connect to computers and select PowerShot cameras with wireless functionality, making it possible for images to be available in various locations. And for even more connectivity options, photos can be printed using PictBridge on select Canon printers, including the new PIXMA MG6320 or PIXMA MX922 Wireless Photo All-In-One printers.
To make connecting easy, a new wireless history menu lists the last three connections used for uploading and sharing images. For users who want to share their images with friends and family, the advanced wireless functionality with social networking sites such as Facebook, Twitter and YouTube lets users comment directly from the camera. In addition, users can share images and directly comment to Facebook groups, so the effort of first sending the images to a smartphone, and then posting to Facebook is no longer necessary.
Additionally, with features such as an ECO Mode to help conserve battery life, an 8x-Optical Zoom with 28mm wide-angle lens, and 16-megapixel sensor with a DIGIC 4 Processor, the PowerShot ELPH 130 IS digital camera is a stylish, versatile and easy-to-use camera with advanced technologies for a great shot any time. Adding to its appeal, the camera also features Smart AUTO, which provides an effortless way to get great images in many situations. The 3-inch LCD screen and Intelligent IS also makes photographing easy, with a compact and sleek design. The PowerShot ELPH 130 IS digital camera will be available in a variety of stylish colors: red, grey and silver and is scheduled to be available in February for an estimated retail price of $199.99.
PowerShot A2600 Digital Camera
The PowerShot A2600 digital camera is an ideal user-friendly camera that creates high-quality images. It features a 16-megapixel sensor and 5x-Optical Zoom 28mm wide-angle lens to capture memories that last a lifetime. To make shooting simple, Smart AUTO automatically recognizes and chooses the best settings for 32 common shooting scenarios. 720p HD video is also available with a dedicated movie button to make memories come alive in vivid, lifelike detail. For users that are accustomed to the hustle and bustle of daily life, but looking to treasure those busy moments, the PowerShot A2600 digital camera also comes equipped with a new ECO mode that assists with battery conservation by turning off the 3.0 inch LCD screen when idle. In addition, Digital IS reduces the effect of camera shake and subject movement to help produce crisp, clear images. The PowerShot A2600 digital camera is scheduled to be available in February in five color options: black, silver, red, blue and pink, for an estimated retail price of $149.99.
PowerShot A1400 Digital Camera
With an optical viewfinder, 16-megapixel sensor with a DIGIC 4 Processor, the PowerShot A1400 digital camera gives even the novice photographer the ability to capture spectacular images with ease. The 28mm wide-angle lens with 5x optical zoom aids in capturing great shots from a distance. The PowerShot A1400 digital camera is also equipped with HD Video, and ECO Mode that gives users a camera that is full of features, yet easy to use and economical, allowing for a high-quality imaging experience at a great value. In addition, the PowerShot A1400 digital camera is powered by two AA batteries, allowing for easy replacement whether you are away on an overseas vacation or spending the weekend camping. To make it possible to capture the most cherished moments, the PowerShot A1400 digital camera features Digital IS to help reduce the effects of camera shake and subject movement and a help button that gives users answers to common questions they may have about the camera's many high-quality functions. For even more imaging options, the PowerShot A1400 digital camera includes scene modes such as fisheye effect, toy camera effect and monochrome that give users creative freedom. The PowerShot A1400 digital camera is scheduled to be available in February for an estimated retail price of $109.99.
For more information, and a full list of product specifications, visitwww.usa.canon.com/powershot.