Photographing Namibia with Michael Downey
Skill Level:

Everyone
Join Open Sky Senior Tour Leader Temu Nana and Unique Photo's own Michael Downey as photo instructor on a two-week exploration of one of southern Africa's most incredible countries. Designed by and for photographers, we'll capture Namibia's incredibly clear night sky, best landscapes, and wildlife in the right light, at the right time. From the Skeleton Coast to the Salt Pans, to the villages of the Himba and the massive dunes of Sossusvlei, to remarkable Etosha National Park and more, Namibia is unlike any place on the planet and we can't wait to share with you!

Included: Comprehensive pre-departure information, accommodations in luxury lodges and hotels, meals as indicated in the itinerary, special permits for after-hours access to sites, all gratuities, plus a complimentary travel wallet and personalized travel notebook with your final documents. Scroll down for all details!

Please note that airfare is NOT included with this registration. Our tour operator partner can assist you with booking flights.
Group is limited to 12 participants. Don't delay in reserving your seat!
Available Dates
There are currently no upcoming classes.

Namibia Tour Highlights:

• Morning and afternoon shoots at Kolmanskop, a diamond-mining town now reclaimed by the desert.
• 3 nights exploring Etosha National Park, world famous for its enormous saltpan, attracting incredible wildlife at close quarters.
• An afternoon shoot with the Himba tribe, one of the last truly nomadic tribes in southern Africa.
• Sunrise at Sossusvlei, some of the most spectacularly beautiful dunes in the world.
• Sunrise visit and shoot at Deadvlei, one of the most striking photographic opportunities in southern Africa.
• Cross Damaraland to visit Twyfelfontein, rock carvings over 5,500 years old designated a UNESCO World Heritage Site.
• Access to sites late night and/or early morning that require special permissions.
• Some of the most spectacular night skies on Earth and an itinerary specifically chosen to include the darkest skies of the month.
• Unique Photo's own Michael Downey as photo instructor.
• Senior Tour Leader Temu Nana (who did several weeks of scouting in country) as your personal trip leader.

Included with Registration:

• Guided sightseeing throughout the itinerary.
• Private vehicle/s with pop-up roofs, each with an English-speaking driver/guide as described in the itinerary.
• All accommodations as described in the itinerary.
• Meals as noted in the itinerary (B = Breakfast, L = Lunch, D = Dinner).
• A Destination and Travel Information Packet – including a recommended reading list– to assist with pre-departure planning.
• Open Sky Expeditions Senior Tour Leader and Photographer Temu Nana as your personal host throughout.
• A complimentary travel notebook for each traveler (or alternative gift for past travelers).
• Gratuities to all guides, drivers, and wait staff for group meals.

Comments from Travelers on previous programs with Michael and Temu:

"Just as Wendy and I have said that we will tour anywhere that Temu goes, we will always check to see what trips Michael is taking." – Hap M.

"Michael was terrific. I was thrilled he was there and I learned a lot for him both camera & computer. A sweet, helpful & lovely person. A real asset to the tour!" – Karen S.

"OMG - Temu was born to be a tour leader! He was a pleasure to travel with & did everything he possibly could to smooth the way for us. His communication skills are top notch. I look forward to taking another trip with him in the future, because I know we'll be in good hands." – Wendy M.

"You guys are simply the BEST. Thank you for an amazing, one-of- a-kind, never-to- be- forgotten, awesome, experience." – Sally S.

Early Bird Special (Ends ?? 2018): $7,495 per person double occupancy or $7,945 for single occupancy.
Regular Fee (Effective ?? 2018): $7,995 per person double occupancy or $8,445 single occupancy.

Deposit: You may reserve a seat with a $900 deposit. Please call Temu at 212-441- 0024.

Final Payment & Cancellation Terms:
Final payment will be due 90 days before departure (by March 18th 2017). All cancellations of confirmed reservations are subject to a $300 per person administrative fee.

Additionally, cancellations received between 61 & 90 days before departure will be assessed a 25% cancellation fee of the total tour cost per person. For cancellations received between 60 and 46 days before departure, the fee increases to 50% of tour cost. For cancellations received between 45 and 31 days before departure, the fee increases to 75% of tour cost. Cancellations received within 30 days of departure are non-refundable. Trip Cancellation Insurance is recommended.

Rates apply with a minimum of 10 travelers. For each traveler under 10, a small group supplement of $50 will be added to the cost. A minimum of six travelers is required to run this program.

??: Depart Home

Saturday, June 17: Arrive Windhoek, Namibia | WINDHOEK
Arrive to Windhoek and check into Olive Grove Guesthouse. A light lunch will be made available, if needed, before taking time to rest and relax. In the afternoon, we'll take in the city of Windhoek, exploring the central business district as well as the outlying township area. Dinner will be at a classic Windhoek institution, Joe's Beerhouse.
Accommodations: Overnight at Olive Grove Guesthouse in Windhoek. (L, D)

??: Windhoek | LUDERITZ
Take an early morning flight to Luderitz, arriving an hour later on the southwestern coast. We'll tour the small, unusual town, continuing out to Diaz Point to learn a little about local history. After enjoying lunch along the waterfront, we'll check-in to our hotel and rest for a short time before making our way to Kolmanskop for the first of two shoots. The deserted diamond-mining town, now reclaimed by the desert, offers nice light in both the afternoon and the (usually) foggy mornings. We'll return to the hotel for dinner.
Accommodations: Overnight at Nest Hotel in Luderitz. (B, L, D)

??: Fish River Canyon | SOSSUSVLEI
We will enjoy a leisurely breakfast at our lodge before heading out for a morning view over Fish River Canyon. We'll then begin to make our way northwest, through the Zaris Mountains, to the dune field around Sossusvlei. Time permitting, we'll see Sesriem Canyon on arrival before checking into the only lodge located inside the National Park. We'll rest and relax at our lodge, having an early dinner in preparation for our sunrise shoot the following day.
Accommodations: Overnight at Sossus Dune Lodge near Sossusvlei. (B, L, D)

??: SOSSUSVLEI
We'll rise early in the morning to make our way to the small salt pan known as Deadvlei, arriving just before sunrise to capture the morning light contrasting with the white salt pan, orange dunes, and black camel thorn trees (long since dead from lack of water). It's a striking place to shoot and we'll spend several hours here, watching the light change as the morning lengthens. Following our morning shoot, we'll have breakfast and return to the lodge to rest for the remainder of the morning and early afternoon. After lunch, we'll slowly return to Deadvlei, stopping to photograph several of the large dunes en route. We'll enjoy sundowner drinks and a sunset shoot of Deadvlei and Sossusvlei before returning to the lodge for a late dinner.
Accommodations: Overnight at Sossus Dune Lodge near Sossusvlei. (B, L, D)

??: Sossusvlei Dunes | SWAKOPMUND
Following breakfast, we'll continue our exploration of the western side of Namibia by making our way to the coast and turning north to the towns of Walvis Bay and Swakopmund. We'll stop to photograph flamingos and other shore birds at the salt works around Walvis Bay before continuing the short distance up to Swakopmund. We'll check-in to our hotel, relax for a few hours, and enjoy dinner at a local restaurant, The Jetty 1905.
Accommodations: (B, L, D)

??: SWAKOPMUND
Today you'll have the option of enjoying free time in the morning, or joining one of two optional excursions (extra cost): a 2.5-hr small-plane flight up the Skeleton Coast or an exploration of some of the Namib desert's smallest inhabitants. Regardless of your choice for the morning, lunch will be included at a local restaurant before making our way south to Sandwich Harbor for an afternoon shooting around the dunes that plunge directly into the ocean. Return to our hotel in the evening and enjoy dinner at your leisure.
Accommodations: Overnight at Strand Hotel in Swakopmund. (B, L)

??: Swakopmund | PALMWAG DESERT
Following breakfast, we'll begin to make our way up the Skeleton Coast, viewing a shipwreck en route, before turning inland and making our way to the UNESCO World Heritage Site of Twyfelfontein. Upon arrival, we'll have lunch and photograph the rock carvings—between 2,000 to 6,000 years old—set among the striking landscape of Damaraland. We'll then continue north to our lodge for the next two nights in the Palmwag Desert.
Accommodations: Overnight at Palmwag Lodge in the Palmwag Desert. (B, L, D)

??: PALMWAG DESERT
We will depart early for a half-day rhino-tracking excursion in the hopes of finding and photographing the increasingly rare desert black rhino. It's also possible we'll see desert elephants and lions, all of which are uniquely adapted to survive in this environment. After lunch at the lodge, we'll have time to rest and relax before heading out on another game drive until just before dinner.
Accommodations: Overnight at Palmwag Lodge in the Palmwag Desert. (B, L, D)

??: Palmwag Desert | Opuwo | WESTERN ETOSHA
After breakfast we'll begin a drive due north through the changing landscapes of Kunene until we reach the city of Opuwo. This small town is the part-time hub for the Himba tribe, one of the last truly nomadic people in southern Africa. Upon arrival in Opuwo, we'll enjoy lunch at a local lodge before going off road to visit one of the nearby Himba villages. We'll have an opportunity to visit and photograph the villagers, and learn about their traditional way of life. Following our shoot, we'll return to the vehicles and begin to make our way east and south, skirting the western edge of Etosha National Park and overnighting at a lodge very close to the western gate, complete with wildlife of its own!
Accommodations: Overnight at Hobatere Lodge in Western Etosha. (B, L, D)

??: Western Etosha | CENTRAL ETOSHA
Today begins several days of game drives and wildlife shoots! We'll enter the western gate of Etosha shortly after breakfast, making our way very slowly to the central area of Etosha, near Okaukuejo. We'll enjoy a quick lunch and then head out for more game drives, ending at sunset as we return to our lodge for the next two nights. Following dinner, keep an eye out for nocturnal wildlife at the lodge's well-lit watering hole!
Accommodations: Overnight at Okaukuejo Lodge in central Etosha. (B, L, D)

??: CENTRAL ETOSHA
Enjoy morning and afternoon game drives with lunch and a short break in between. We will spend the whole day shooting amongst the plentiful wildlife around the gigantic salt-pan that comprises the main portion of Etosha National Park. We'll finish at sunset and return to the lodge for dinner and more night viewing around the watering hole.
Accommodations: Overnight at Okaukuejo Lodge in central Etosha. (B, L, D)

??: EAST ETOSHA
Today we will explore the area from central to east Etosha, again on game drives all day. We'll enjoy lunch at Halali Lodge and continue throughout the day to the eastern gate, exiting at sunset and driving the very short distance to our lodge for the evening. After some rest and refreshment, we'll gather for dinner.
Accommodations: Overnight at a Mushara Lodge in eastern Etosha (B, L, D)

??: East Etosha | OKONJIMA
Following a relaxed morning, we'll begin to make our way south and west on some of Namibia's major highways, arriving to our lodge in the early afternoon. We'll enjoy lunch en route and arrive to the lodge in time for an afternoon game drive in the reserve. Okonjima Lodge is the site of the AfriCat Foundation, maintaining habitats and conducting research specializing in cheetah and leopard. With luck, we'll have a chance to photograph some of their big cats!
Accommodations: Overnight at Okonjima Lodge in Okonjima. (B, L, D)

??: Okonjima | FLIGHT HOME
Our final morning together will include a possible early-morning game drive and a visit to a local market before getting on the road and making our way to the airport in Windhoek in time for your international flights home.
Accommodations: (B)

??: Arrive Home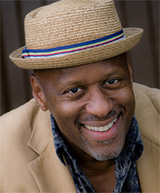 Michael Downey is a photography instructor based in the New York City area. His passions are photography, travel and teaching and he is fortunate enough to share all three enthusiastically! He is the Head Instructor at Unique Photo, Inc. and teaches several curriculums there regularly. He also leads photo excursions to domestic locations throughout New York City, Boston, Washington D.C. as well as international destinations such as Central America, Europe and Africa. Michael has a patient and encouraging teaching style which fosters self expression through photography. All students experience a sense of ruthless compassion.
"Sometimes I photograph to learn, other times I photograph to teach, I always photograph to appreciate."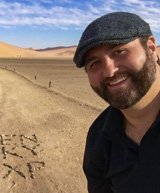 Temu Nana was born in Detroit, MI to a Pakistani father and Canadian mother. He had the good fortune to travel extensively as a child and has lived for short periods in Saudi Arabia, England, Italy, and Greece. His career in the travel industry began as a Tour Manager and Cruise Director for small-ship, luxury, educational cruises, where he met and worked with Open Sky Expeditions President Alex Ros. Temu had the good fortune to work with—and learn from—expert field staff, and has led dozens of tours on five continents: Africa, Europe, the Americas, and Asia. He is equally comfortable conducting tours in cultural or natural history, though his first passion—and inspiration to pick up a camera, with which he instantly fell in love—is the natural world. Over the last eight years he has become a prolific, skilled photographer who feels very lucky to constantly have beautiful and varied subjects in front of his lens. After spending a month in Namibia for dedicated scouting and trip development, Temu is very excited to share what has quickly become one his favorite destinations in the world!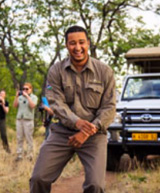 Derek Jacobs completed his guiding courses—flora, fauna, current affairs, geology, tracking, elephant studies, snake studies, and ornithology, to name a few—and began guiding in Namibia, Botswana, and Victoria Falls over 12 years ago. In the years since, he has continued to learn and have a passion for working in the field, strengthening an already deep love for his country and all the animals and people in it! Derek loves to share the beautiful place he calls home and can't wait to see you there!
Do I need to be an experienced photographer to participate?
No. The trip is intentionally structured to accommodate travelers with varying levels of photography experience. Beginners are welcome. The only requirement is that you bring a camera with adjustable settings (a DSLR would be ideal, but anything more than a point-and-shoot camera only capable of automatic mode will do).

I am an experienced photographer; will beginners "cramp my style"?
They certainly won't. The group is small enough that you will have plenty of one-on-one time with our instructor, Michael Downey. Moreover, prior to departure we'll send out a questionnaire asking everyone about their prior photography experience and what they are looking to get out of the trip. This will factor into the final stages of planning and we'll make sure to attend to everyone's needs.

Is this a tour? A photography workshop? What is it?
Well, it is more a hybrid of the two--a combined tour & photo workshop. We have taken what would on its own be an amazing tour and carefully structured it with photography in mind. Dedicated workshop time, best times of day & sufficient time for photography in each place, tour content in each location, etc., have all been thoughtfully taken into consideration. Both the instructor Michael Downey and OSE's Temu Nana, a photographer himself, will be on hand throughout the tour, as well as an experienced Namibian guide.

Do I need a visa to go to Namibia? Is is safe there?
Yes, U.S. citizens need a visa to enter the country and it can be obtained easily on arrival. Namibia is a generally a very safe country, especially for tourists. Rates of violent crime are quite low, with the only real concern being petty theft, mostly in the larger cities.

What's the weather like in Namibia on the tour dates?
At that time of year, the weather is usually ideal. Temperature-wise, it is very comfortable. While our itinerary will take us to places varying in climate, it will average between 70-75°F during the day, and dip down to between 45-50°F at night. Please note that we plan to be out late at night and early in the morning, during the coldest parts of the day. Dressing in layers is recommended, and you should pack for variable climate.
Unique University® is the highly acclaimed education component of Unique Photo®, NJ's only camera and video superstore. There is over 2000 sq. ft. of learning space, including our start-of-the art, 1000 sq. ft. main presentation hall. Unique University's mission is to help our visitors "Create Better Pictures" by providing photography education for beginners to pros. With events daily, it is the place where photography groups such as local camera clubs, ASMP, PPA and others meet. We have a full curriculum of classes and seminars from world famous speakers such as Art Wolfe, Rick Sammon, Michael Yamashita, Tyler Stableford, Lindsay Adler, and Will Crockett. We offer photography experiences to such places as the Prudential Center for Seton Hall Men's Basketball, Meadowlands Horse Racetrack, Lakota Wolf Preserve, NJ Jackals Baseball, Rutgers Football, Botanical Gardens, Festival of Ballooning, and much more. Our technical classes include such topics as basic D-SLR photography, lighting techniques, Adobe Photoshop, Elements, and Lightroom, macro photography, composition, editing and printing, wedding photography, HDR photography, working with speedlights, how to use social media, digital organization, one-on-one instruction, and much more.
FAQ UNIVERSITY
Where are classes held?
Unless stated otherwise, classes are held in the Unique University classroom within the Unique Photo SuperStore (123 US Highway 46 West, Fairfield, NJ 07004).

What should I bring to class?
You're encouraged to bring your camera and a notebook and pen to most classes. Some classes will require additional equipment, so please check the class descriptions.

Will lunch or refreshments be included?
Lunch and refreshments are not provided for any classes under 6 hours unless noted.

How do I register for a class?
You can register online, in-store at the concierge, or by phone at either 973-377-6454 or 973-377-2007. Please note that you will need to provide payment information.

Can I register at the door?
For most classes, you're free to register at the concierge desk prior to the start of the class. Please note that there are some classes that offer "Early Bird Special" rates and others that have limited seating, so it would be in your best interest to register prior to the dates of such classes.

I wanted to register for ______ class, but it is now sold out. Is there a waiting list?
Please contact us at 973-377-6454 or university@uniquephoto.com with the following information: your name, phone number, email address, and the class name and date.

My question has not been addressed here. Is there someone I can contact?
Please contact us at 973-377-6454 or university@uniquephoto.com with any additional inquiries.

Unique University Class Cancellation Policy
- Classes costing less than $99 may be canceled up to 48 hours in advance for a full refund. For classes costing $100 or more, advanced notice of seven days before the class is necessary for a full refund.
- Requests for cancellation made after these deadlines will be awarded store credit in the amount paid for registration towards a future Unique University seminar or workshop.
- Cancellations made within 24 hours of the beginning of a class will not be honored and no refund or credit will be given.
- Cancellations of any class utilizing models will be subject to a cancellation fee of 50% of the purchased price (up to $100).
** Attention American Express cardholders: If you cancel a registration for a class costing $100 or more, there will be a 3% cancellation fee deducted from your refund or store credit.
Upcoming Classes & Events