Morocco: A Visual Feast 11-Day Photo Journey with David Wells
Skill Level:

Everyone
Hone your photography skills alongside professional photographer David Wells in one of the most visually striking settings on the planet, through thoughtfully-crafted workshops in Morocco's Imperial Cities and a magical expedition to the Sahara Desert via the Atlas Mountains. Open Sky Expeditions Senior Tour Leader and Photographer Temu Nana will act as our personal host throughout.

Included: Comprehensive pre-departure information, accommodations in deluxe hotels and private desert camps, meals as indicated in the itinerary, and a complimentary travel wallet and personalized travel notebook with your final documents. Scroll down for all details!

Please note that airfare to and back from Morocco is NOT included with this registration. Our tour operator partner can assist you with booking flights (which currently vary from $750 - $900 round-trip from New York depending on which airports you fly into/out of, and if you participate in either extension).
Please call Alex at 212-441-0024 if you'd like to sign up by phone or place a $900 deposit.
*Pricing is subject to change after certain dates. Please refer to the "REGISTRATION RATES" section of the description below for details.
*Seating is limited to 12 participants. Don't delay in reserving your seat!
*U-Rewards points will not be earned on this registration.
1 for $6,480.00 2+ for $5,795.00
Available Dates

Morocco Tour Highlights:

• Photography workshops & one-on-one guidance by travel photography veteran and photo instructor David Wells.
• Three nights in Fes, the largest and most intact medieval city in the Arab world, at the lovely Algila Fes boutique hotel.
• Three nights in storied Marrakech, meeting point of caravans for centuries, at the Riad Al Rimal boutique riad.
• Five-day expedition through the stunning Atlas Mountains to the sublime Sahara Desert.
• Open Sky senior Tour Leader & photographer Temu Nana as your personal host.
• Stay at a private luxury camp in the dunes of the Sahara.
• Tour the UNESCO-protected 11th century Kasbah of Ait Ben Haddou.
• Take in a beautiful & varied landscape: golden dunes, snow-capped mountains, imposing gorges & fortified ksars.
• Experience Marrakech's magical Djemma el Fna at dusk, when the square comes alive.
• Travel with our top-rated English-speaking Moroccan guide, Moulay Hassan.
• Enjoy exquisite Moroccan fine dining.
• Relax with logistically-seamless, hassle-free travel, with tipping included & much more (see tour inclusions).

Included with Registration:

• 6 nights in Morocco's most impressive Imperial Cities: 3 nights at Algila Fes in the heard of Fes' ancient medieval medina, and 3 nights at Riad Al Rimal, nestled excellently in Marrakech's ancient medina.
• 5-day expedition into the Sahara Desert & through the Atlas Mountains, with one night at the Kasbah Hotel Chergui in Erfoud, one night in a private luxury desert camp in the dunes of Erg Chebbi, one night at the Xaluca Dades Hotel in the Dades Valley, and one night at Ksar Ighnda by Ait Ben Haddou.
• Photography workshops by internationally-acclaimed photographer & photo instructor David Wells, who will also accompany all of our excursions including the five-day trip into the desert, providing hands-on individual guidance throughout.
• Complete program of tours and excursions as described in the itinerary.
• Open Sky Expeditions Senior Tour Leader and Photographer Temu Nana as your personal host throughout.
• A top English-speaking Moroccan guide for all of our excursions and the desert expedition.
• All meals as noted in the itinerary (B = breakfast, L = Lunch, D = Dinner).
• Gratuities to all guides, drivers, and wait staff for group meals.
• A detailed Destination & Travel Information Packet—including a recommended reading list—to assist with planning prior to departure.
• A complimentary travel wallet and personalized travel notebook with your final documents.

Comments from Past Morocco Trips:

"Our trip to Morocco was absolutely flawless. Moulay was a delight, and so interesting and informative. He really let us into the Muslim world. Temujin keep everything so organized, and running smoothly. He was also funny, and charming. Morocco was a very Magical and visual place, especially for photographers. David was excellent, and even the best of us all learned from him." - Tom

"The country is beautiful; the guide, tour operator and photographer were awesome." - Joanne

"I had a wonderful time and would recommend this trip very highly for the diversity of the experiences, exposure to Moroccan culture, and wonderful staff." - Margaret

"It was the trip of a lifetime for me and John. It couldn't have been better. Thank you for everything!" - Wendy

"Travel companies make itineraries and reservations. Open Sky makes magic! Thanks for a FANTASTIC trip!" - Carol

Early Bird Rate (Ends March 31st 2019): $5,295 per person double occupancy or $5,980 single occupancy
Regular Fee: $5,795 per person double occupancy or $6,480 single occupancy

Deposit: You may reserve a seat with a $900 deposit. Please call Alex at 212-441-0024.

Final Payment & Cancellation Terms:
Final payment will be due 60 days before departure. All cancellations of confirmed reservations are subject to a $300 per person administrative fee.
Additionally, cancellations received between 61 & 90 days before departure will be assessed a 25% cancellation fee of the total tour cost per person. For cancellations received between 60 and 46 days before departure, the fee increases to 50% of tour cost. For cancellations received between 45 and 31 days before departure, the fee increases to 75% of tour cost. Cancellations received within 30 days of departure are non-refundable. Trip Cancellation Insurance is recommended.

** These rates are based on current inclusions & will apply only with a minimum of 10 travelers on the program. A small group supplement of $75 will be added for every traveler under 10, with the minimum being 6 travelers (i.e. for 9 travelers, consider an additional $75 per person; for 8 travelers, consider an additional $150 per person, etc...). The program is limited to 12 participants.

Saturday, November 9, 2019
: Depart Home (Depart the U.S. on your overnight flight/s to Morocco)
Sunday, November 10
: Arrive Fes, Morocco
• Arrive in Fes and transfer on arrival to our boutique hotel in the heart of the medina for three nights: the Algila Fes.
• Join your fellow travelers and photography instructor, David Wells, for welcome drinks and an orientation at the hotel.
Accommodations: ALGILA FES
Monday, November 11
: FES: Photo Workshops & Excursion
• Morning photography workshop with David at the hotel.
• We'll then begin our exploration of fascinating Fes, said to be the most complete medieval city of the Arab world, still retaining the look and feel of the era. Following a panoramic view of the city, our expert guide will lead us head first into a sense-stimulating walk through the oldest part of the medina—across food and spice markets, handicraft quarters, auction markets and colorful souks. As we navigate the maze of narrow lanes, we'll take our time to savor fantastic photography opportunities, including stops at the ancient tanneries, the Attarine Medersa, and by the ancient Kairouine Mosque. A fine lunch will be served at a restaurant in the medina.
• Gather for dinner tonight at a restaurant near the hotel, with an opportunity to practice night street photography en route.
Accommodations: ALGILA FES | Breakfast, Lunch, Dinner Included
Tuesday, November 12
: FES: Excursion & Photo Workshop
• Set out at dawn this morning for photos in beautiful morning light.
• Continue for a visit in of Fes El Jdid ("new Fes," dating from the 14th century)—including a view of the Royal Palace and a stroll in the Jewish Quarter (mellah)—and then onto a pottery workshop to meet local artisans and learn about the production of traditional Moroccan tiles.
• By special arrangement, we will meet this afternoon with a well-known local photographer from Fes to join him on a photo shoot inside a humble family's home in the medina.
• Time permitting, David will continue a second part of his workshop at the hotel after the shoot.
• Enjoy the remainder of the day at leisure to explore and dine independently.
Accommodations: ALGILA FES | Breakfast, Lunch Included
Wednesday, November 13
: Fes | JOURNEY SOUTH THROUGH THE ATLAS MOUNTAINS | Erfoud
• Well prepared by our two half-day photography workshops, we'll depart south towards the Sahara Desert via the Atlas Mountains together with David, Temu, and our expert Moroccan guide. On our beautiful journey we'll pass a remarkable diversity of landscapes.
• We begin with a short stop in Ifrane— a charming ski resort reminiscent of the Swiss Alps—accessible by road though one of the most fertile and well-cultivated valleys in Morocco.
• Continue for lunch at Midelt, at an altitude of 5,000 ft.
• Drive on through magnificent cedar, pine, and oak forests to reach the Saharan plateau before ascending up to the High Atlas for exceptional views of date palm valleys, fortified mud-brick villages, and varied geological formations.
• En route, observe lifestyles unchanged for centuries: nomadic shepherds living in black tents and moving seasonally between mountain and desert with their herds of goat and sheep.
• In the last leg of the journey, pass through Tafilalet country, home of the current royal family, and follow the legendary Ziz valley along a deep canyon down to Erfoud, gateway to the Sahara and our home for the night.
Accommodations: KASBAH HOTEL CHERGUI | Breakfast, Lunch, Dinner Included
Thursday, November 14
: ERFOUD | TISSERDMINE OASIS | SAHARA DESERT
• After breakfast, transfer to 4x4s for a thrilling ride into the Sahara Desert towards the massive dune field of Erg Chebbi, where a sublime sunset excursion in the dunes awaits this afternoon.
• En route, stop to admire the fascinating fossils (trilobites) and other minerals of the region.
• As we approach the dunes, visit a family of nomads living in the desert, and continue on to the Tisserdmine Oasis for a private BBQ lunch under the shadow of palm trees (one of several oases in the area where films have been shot).
• Sunset camel ride in the dunes with stops to capture amazing photographs of the shifting sands in the late afternoon
light. • Arrive at our private luxury desert camp at dusk, welcomed by local Gnawa musicians who will celebrate with us throughout the evening.
• Special Dinner in our private desert camp.
• Stargazing, star photography and "light painting" session after dinner.
Accommodations: PRIVATE DESERT CAMP | Breakfast, Lunch, Dinner Included
Friday, November 15
: SAHARA DESERT | TODRA GORGE | DADES VALLEY
• Early risers can watch and photograph the sunrise over the sand dunes before breakfast.
• After driving out of the dunes by 4X4, continue by bus through a desert of stones and lunar landscapes towards the magnificent Todra Valley, passing through beautiful green oases inhabited for millennia.
• At Todra, take in spectacular views along a narrow canyon ending in striking gorges, and see its oasis as well as the old fortified villages in the valley.
• Continue to Dades to explore and photograph its imposing gorges and sheer rock formations.
• Evening recap, dinner, and overnight at the Xaluca Dades Hotel.
Accommodations: XALUCA DADES | Breakfast, Lunch, Dinner Included
Saturday, November 16
: DADES VALLEY | SKOURA OASIS | AIT BEN HADDOU
• After several action-packed days, enjoy a morning at leisure. Sleep in, relax, and/or use this time to download and sort through photos, meet one-on-one with David, etc.
• Around midday, set off westward towards the beautiful Skoura Oasis, where a Berber family will graciously welcome us into their humble home for lunch (and wonderful photography opportunities!).
• Continue in the afternoon across a spectacular barren region—where many movies have been filmed—to the UNESCO World Heritage Site of Ait Ben Haddou, one of the most beautiful displays of Berber architecture. Take a guided tour of the impressive 11th-century Kasbah, and enjoy time to explore and photograph this wonderful place in late afternoon light.
• Dinner and overnight at beatiful Ksar Ighnda hotel, a short drive from the site.
Accommodations: KSAR IGHNDA | Breakfast, Lunch, Dinner Included
Sunday, November 17
: Ait Ben Haddou | ATLAS MOUNTAINS CROSSING | MARRAKECH
• Cross the beautiful High Atlas Mountains this morning, through stretches of desert and farmlands, passing picturesque rock formations and remains of historical Kasbahs en route. The road zigzags higher to Tizi N'tichka pass (7500 ft), snow covered in winter, and then descends into cultivated terraces of pine and oak forests as it leads towards Marrakech. We'll make several photo stops and have lunch en route.
• Early to mid-afternoon arrival in Marrakech, for check-in at our hotel for the last three nights: Riad Al Rimal.
• In the late afternoon, those interested can join Temu and David for our first walk into magical Djemma el Fna Square at sunset, precisely when it comes alive with snake charmers, dancers, story tellers, food vendors, musicians, and more.
Accommodations: DAR SILSILA | Breakfast, Lunch Included
Monday, November 18
: MARRAKECH
• Optional sunrise walk in the medina, followed by one-on-one time with David through breakfast and mid-morning.
• Our excursion today will feature Marrakech's ancient medina, including a guided walk through its dizzying lanes, artisan areas, souks, the Ben Youssef Medersa, and the excellent Photography Museum—where we will be personally welcomed by the Director and also enjoy lunch on its breezy terrace (which has one of the best views in the city).
• After lunch, join the Museum's director on a private visit to an amazing 16th-century apartment he is restoring in the medina.
• The remainder of the day is at leisure to explore independently. Those interested can join us on our second photography outing into the magical central Square at sunset.
• An optional night street photography walk will be offered in the medina.
Accommodations: DAR SILSILA | Breakfast, Lunch Included
Tuesday, November 19
: MARRAKECH
• Morning excursion to visit and photograph some of Marrakech's most important monuments, including the Bahia Palace (before crowds arrive), the crumbling remains of the 16th-century Badia (with its new photography exhibit) and the 11th-century Koutoubia mosque.
• After a visit and demonstration at a local spice shop, the remainder of the day is officially at leisure. Nonetheless, you may join a number of options in the afternoon, such as:
• A visit to Yves St. Laurent's beautiful Majorelle Gardens followed by lunch at the nice on-site cafe.
• A "shopping expedition" in the souks.
• A relaxing afternoon massage/hammam at a highly-rated spa in Marrakech.
• Or, simply more independent time to explore and photograph in the souks.
• Enjoy a special final dinner and slideshow tonight at a beautiful locale near the hotel.
Accommodations: DAR SILSILA | Breakfast, Dinner Included
Wednesday, November 20
: Marrakech | Fly Home
• Morning transfer to the Marrakech Airport for your flights back home.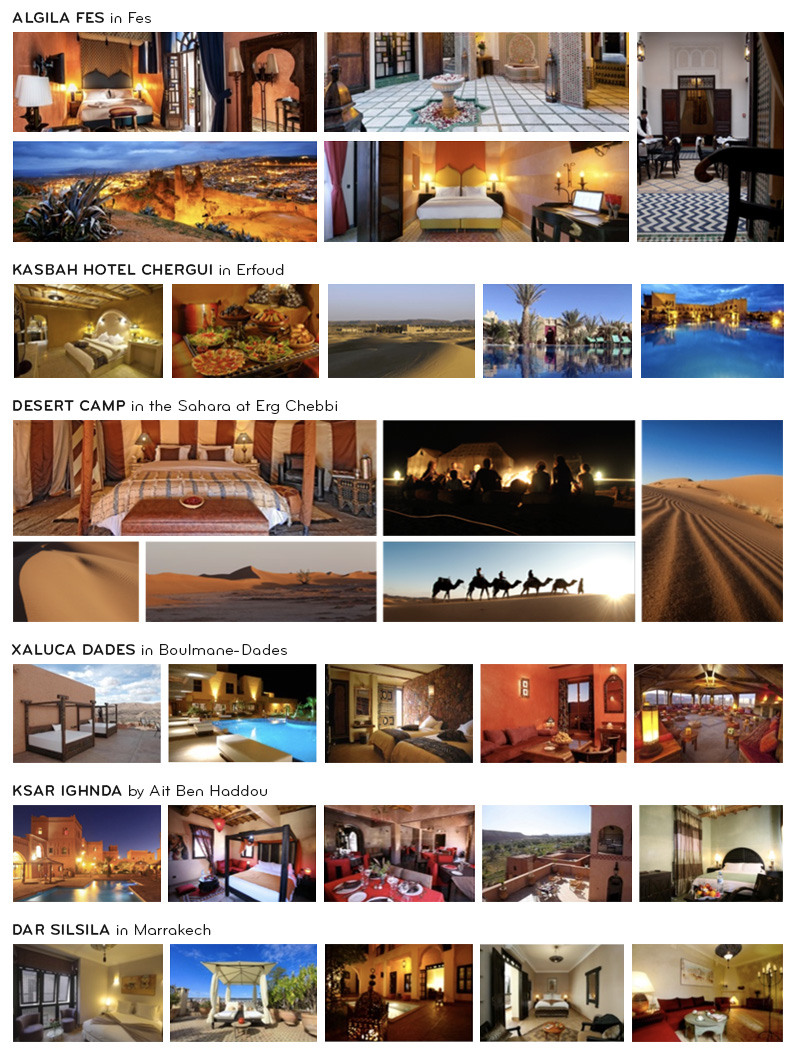 OPTIONAL 1-NIGHT PRE-TRIP EXTENSION to CASABLANCA:
Travelers interested in seeing Morocco's largest city can fly in one day early and stay overnight in Casablanca before transferring to Fes to meet the group.
Schedule as follows:
November 8 - Depart U.S.
November 9 - Arrive Casablanca and transfer to city on arrival. Overnight at the newly opened Imperial Hotel.
November 10 - Morning city tour of Casablanca's main highlights including the awe-inspiring Hassan II mosque, the largest on the continent and one of the grandest in the world. After lunch, transfer to Fes in the afternoon (breakfast and lunch included).

Additional $365 per person double occupancy or $465 for single occupancy.
Requires minimum of 6 travelers participating.
OPTIONAL 2-NIGHT POST-TRIP EXTENSION to ESSAOUIRA:
Beautiful, laid-back Essaouira on the coast serves as a wonderful counterpart to the buzz of Marrakech for those who can stay an extra two days. The pace is intentionally relaxed, with more time at leisure to photograph and explore the whitewashed medina (encased in an old Portuguese fort).
Schedule as follows:
November 20 - Late morning drive to Essaouira. After an independent lunch, take a leisurely guided walking tour of Essaouira, ending with a photo session by the port at sunset. Overnight at VILLA DE L'O. (Breakfast Included)
November 21 - Enjoy a final day intentionally flexible to explore relaxed Essaouira at leisure, meet with David Wells, and/or follow up on any interests from the previous or on Morocco in general. Enjoy a Farewell Dinner tonight at the whimsical Caravan Café restaurant. (Breakfast, Dinner Included)
October 18 - After breakfast at the hotel, transfer back to Marrakech for flights back home. *Note: A transfer to the Casablanca Airport is also possible; a small supplement may simply apply depending on final group size. (Breakfast Included)

Additional $645 per person double occupancy or $880 for single occupancy.
Requires minimum of 6 travelers participating. Add $50 extra for 4 or 5 travelers.

Tour Leader
David H. Wells
is a freelance documentary photographer and photo-educator based in Providence, Rhode Island. He specializes in intercultural communications and the use of light and shadow to enhance visual narratives. He has received two Fulbright fellowships, a grant from Nikon/N.P.P.A. and a fellowship from the Pennsylvania Council on the Arts.
His work has been in over fifty exhibitions and he has taught workshops at the International Center for Photography in NYC and at the Maine Media Workshops.
In 2011 he was featured in Photo District News as one of "The Best Workshop Instructors." He has exhaustive experience leading photography tours, including our last two years in Morocco to great success.
Tour Director
Temu Nana
was born in Detroit, MI to a Pakistani father and Canadian mother. He had the good fortune to travel extensively as a child and has lived for short periods in Saudi Arabia, England, Italy, and Greece. While managing a restaurant in NYC, a meeting with Open Sky Expeditions President, Alex Ros, led him to the travel industry, where he worked for several years on small-ship, luxury, educational cruises as a Cruise Director or Tour Manager. Temu had the good fortune to work with—and learn from—expert field staff, and has led dozens of tours on five continents: Africa, Europe, the Americas, and Asia. He is equally comfortable conducting tours in cultural or natural history, though his first passion—and inspiration to pick up a camera, with which he instantly fell in love—is the natural world. Over the last six years he has become a prolific and skilled photographer. Temu joined both our 2013 & 2014, and took over as senior tour leader on this trip in 2015. He looks forward to returning this year with you, and getting amazing shots along the way!
Expert Local Tour Guide
Mr. Moulay Hachem
is a brilliant, eloquent, exceedingly gracious gentleman who is undoubtedly one of the best guides in Morocco. Originally from a large oasis in south-eastern Morocco (in the Tafilalet Region, home to over 1.5 million palm trees, which we'll have the pleasure of visiting with him), Moulay spent the bulk of his childhood and school years in the cosmopolitan capital city of Rabat. In 1989 he graduated from Mohamed V University with a degree in Linguistics, and shortly thereafter became a professional tour guide in 1991—a job he has been doing with great pleasure ever since. Throughout his 23 years in the profession, Moulay has accumulated extraordinary experience leading all types of travelers to just about every corner of the country, including many groups from reputable academic organizations and even international dignitaries. It's a privilege to explore Morocco with someone so experienced and yet so personable, modest and genuinely interested in your satisfaction. We have no doubt you will love Moulay!

Do I need to be an experienced photographer to participate?
No. The trip is intentionally structured to accommodate travelers with varying levels of photography experience. Beginners are welcome. The only requirement is that you bring a camera with adjustable settings (a DSLR would be ideal, but anything more than a point-and-shoot camera only capable of automatic mode will do).

I am an experienced photographer; will beginners "cramp my style"?
They certainly won't. The group is small enough that you will have plenty of one-on-one time with our instructor, David Wells. Moreover, prior to departure we'll send out a questionnaire asking everyone about their prior photography experience and what they are looking to get out of the trip. This will factor into the final stages of planning and we'll make sure to attend to everyone's needs.

Is this a tour? A photography workshop? What is it?
Well, it is more a hybrid of the two--a combined tour & photo workshop. We have taken what would on its own be an amazing tour and carefully structured it with photography in mind. Dedicated workshop time, best times of day & sufficient time for photography in each place, tour content in each location, etc., have all been thoughtfully taken into consideration. Both the instructor David Wells and OSE's Temu Nana, a photographer himself, will be on hand throughout the tour, and our excellent local Moroccan guide Moulay will also join us for all sightseeing.

What photography topics will be covered?
Making exceptional travel photographs requires skills in many different types of photography, from street photography to still-life work to portraits. In a typical day of travel, a photographer may shoot busy markets, quiet buildings, open landscapes, or close-up nature. The best travel photographers are versatile in their skills and fluid in their process, using minimal gear to achieve maximum results. In this tour, David plans to explore the following topics needed for good travel photography:

• Composition • Stopping action vs showing motion • Framing and scaling • Portraying people • Being in the right place at the right time • Varying the time of day • Understanding light • The traveling photographer's camera and bag • Basics of flash • Panning • Night photography & light painting • Thoughts on tripods • Using the appropriate lens • Using a camera on manual mode: working with Aperture, Shutter Speed, ISO, etc.

Do I need a visa to go to Morocco? Is is safe there?
No, Americans or EU citizens do not need a visa to go to Morocco, and yes, it is safe. (In relative terms, compared to the rest of North Africa and the Middle East, it is very safe!) Morocco's young and progressive king responded judiciously to largely peaceful demonstrations in 2011 during the height of the Arab Spring and has arguably emerged with even stronger domestic support. While Morocco remains a complex country with unique issues to work through, it is undeniably the most stable in the region. Its brand of Islam is also one of the least restrictive, especially in the cities, and Moroccans are very friendly. For example, it usually doesn't take long before a local reminds Americans with pride that Morocco was the first country to formally recognize U.S. independence in 1777.

What's the weather like in Morocco on the tour dates?
At that time of year, the weather is usually ideal. Temperature-wise, it is very comfortable. While summers can be oppressively hot and winters can get quite cold at night, our itinerary averages highs in the mid 70's and lows in the low 50's °F. Precipitation-wise, light rain is a slight possibility in or west of the Atlas Mountains this time of year, but it is still infrequent and less probable than in winter. In the Sahara, precipitation is rare in early November, and the risk of sandstorms is also much lower than in spring.
Unique University® is the highly acclaimed education component of Unique Photo®, NJ's only camera and video superstore. There is over 2000 sq. ft. of learning space, including our start-of-the art, 1000 sq. ft. main presentation hall. Unique University's mission is to help our visitors "Create Better Pictures" by providing photography education for beginners to pros. With events daily, it is the place where photography groups such as local camera clubs, ASMP, PPA and others meet. We have a full curriculum of classes and seminars from world famous speakers such as Art Wolfe, Rick Sammon, Michael Yamashita, Tyler Stableford, Lindsay Adler, and Will Crockett. We offer photography experiences to such places as the Prudential Center for Seton Hall Men's Basketball, Meadowlands Horse Racetrack, Lakota Wolf Preserve, NJ Jackals Baseball, Rutgers Football, Botanical Gardens, Festival of Ballooning, and much more. Our technical classes include such topics as basic D-SLR photography, lighting techniques, Adobe Photoshop, Elements, and Lightroom, macro photography, composition, editing and printing, wedding photography, HDR photography, working with speedlights, how to use social media, digital organization, one-on-one instruction, and much more.
FAQ UNIVERSITY
Where are classes held?
Unless stated otherwise, classes are held in the Unique University classroom within the Unique Photo SuperStore (123 US Highway 46 West, Fairfield, NJ 07004).

What should I bring to class?
You're encouraged to bring your camera and a notebook and pen to most classes. Some classes will require additional equipment, so please check the class descriptions.

Will lunch or refreshments be included?
Lunch and refreshments are not provided for any classes under 6 hours unless noted.

How do I register for a class?
You can register online, in-store at the concierge, or by phone at either 973-377-6454 or 973-377-2007. Please note that you will need to provide payment information.

Can I register at the door?
For most classes, you're free to register at the concierge desk prior to the start of the class. Please note that there are some classes that offer "Early Bird Special" rates and others that have limited seating, so it would be in your best interest to register prior to the dates of such classes.

I wanted to register for ______ class, but it is now sold out. Is there a waiting list?
Please contact us at 973-377-6454 or university@uniquephoto.com with the following information: your name, phone number, email address, and the class name and date.

My question has not been addressed here. Is there someone I can contact?
Please contact us at 973-377-6454 or university@uniquephoto.com with any additional inquiries.

Unique University Class Cancellation Policy
- Classes costing less than $99 may be canceled up to 48 hours in advance for a full refund. For classes costing $100 or more, advanced notice of seven days before the class is necessary for a full refund.
- Requests for cancellation made after these deadlines will be awarded store credit in the amount paid for registration towards a future Unique University seminar or workshop.
- Cancellations made within 24 hours of the beginning of a class will not be honored and no refund or credit will be given.
- Cancellations of any class utilizing models will be subject to a cancellation fee of 50% of the purchased price (up to $100).
** Attention American Express cardholders: If you cancel a registration for a class costing $100 or more, there will be a 3% cancellation fee deducted from your refund or store credit.
Unique Photo
11/09/19 Sat 12:00AM
Unique Photo
123 US Highway 46 West
Fairfield, NJ 07004
Upcoming Classes & Events