Introduction
A tripod is a portable three-legged frame or stand that gives stability to the camera. When shooting at slow shutter speeds, this camera accessory ensures that the images are blur-free even with shaky camera movements. The basic job of a tripod is to provide stability in low light conditions and also at low shutter speeds. It also proves useful to support heavy camera and lens combinations. They are designed to decrease the vibration produced by the mirror of the camera. A tripod, as mentioned earlier, features three legs of which the central one is used to provide extra stability. Nowadays, a great number of tripods are available that serve the needs of both amateur and professional photographers.
Purpose of the Guide
It can be a daunting task to decide from the large number of makes and models of tripods. This tripod buying guide explores the different features offered by a tripod. It also provides a basic difference between tripods, minipods and monopods.
What are Tripods?
Tripods are a part of photography equipment that provide stability to the camera. They can be found in various shapes and sizes but have the same basic design. It has three legs that support a plate, to which the camera and lens can be attached. Generally, tripod legs have some smart mechanism to extend them. Some types of tripods also have pivoted legs that allow photographers to angle them outwards and get extra support. When choosing a particular tripod, make sure that they work best for the photographer's usage profile. Let us check out some common types of tripods.
Types of Tripods
Tabletop Tripod
These are compact, lightweight and sturdy tripods. They are perfect for shooting close-ups, self-timer shots and night scenes. Photographers can get many benefits of a full-sized tripod when shooting with a digital still or video camera. These tripods are light and compact enough to fit easily in a camera bag.
Compact Travel Tripods
These tripods are most popular with hikers, vacationers and travelers. They provide a stable shooting platform for almost all kinds of cameras and lenses. However, they are perfect for point and shoot cameras, consumer digital SLRs, moderate sized video cameras and camcorders.
Large Heavy Duty Tripods
These tripods weigh 11 to 30 lbs with load capacities ranging from 50 to 100 lbs. They are ideal for industrial and astronomical photographers, sports photographers and videographers.
Monopods
They are not as stable as tripods but are capable of supporting the camera and holding it up. They are a flexible alternative to tripods when hiking, camping or shooting at events.
Features of Tripods
When buying a particular tripod, it is necessary to check the different features it provides and how it will prove useful to the photographers. Let us check out the most common features of tripods.
Center Column
The center column of the tripod is at the lowest and locked tight. It proves useful in certain areas of photography, such as macro photography, which requires fine adjustment. Macro photographers benefit from them when they are doing horizontal and vertical shooting.
Integral Heads
Some types of tripods come with integral tripod heads that are useful to have a hassle free shooting experience. They are perfect for photographers who are looking for budget tripods with better flexibility and stability.
Leg Locking Mechanism
With this feature, photographers can easily extend and lock the tripods. There are two basic methods of this locking system, one with a twist grip and the other with a spring-loaded lever. The twist grip lock system is considered the safest, while the spring-loaded lever is very easy to grip and quick to use.
Quick Release Feature
It is a small removable platform that screws into the camera's tripod socket. It can be easily fixed and detached from the head of the tripod. Most tripods come with this feature to allow photographers to attach a second camera or accessory to it.
Bubble Levels
This feature helps to level the tripod on its platform correctly when shooting landscapes, architecture, etc. It is adequate to shoot most stationary subjects with a single bubble level on the tripod head. However, two levels on the tripod head allow photographers to align the tripod and camera during vertical and horizontal shooting.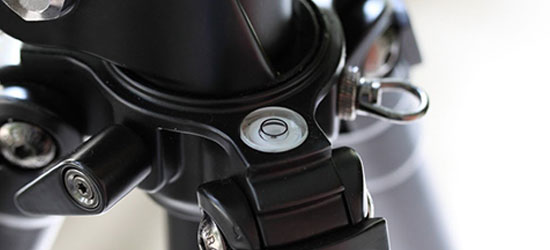 Many tripods feature a bubble level to help with correctly stabilizing the shot.
Leg Braces
These are the adjustable cross members that connect the tripod legs together at its bottom. This increases the stability of the tripod when its fully triangulated structure is locked in position with a knob or lever. This feature proves useful on lightweight tripods, as it enhances the rigidity of its narrow diameter legs when they are fully extended.
Utilities of Tripods
There are many different types of tripods available these days. Among these, pocket tripods are ideal for those who want to shoot impromptu family group photos. These compact tripods support small, light cameras and are best for shooting self-portraits, group shots, and party photos. Tabletop tripods are best suited for group photos or other situations where the camera can be positioned on a flat surface. Apart from self-portraits and group shots, these tripods can be used for shooting macro, close-up or nature and travel photography. Travel tripods support compact and small SLR cameras. They are, as the name suggests, ideal for travel photography. Another tripod type, medium duty tripods, support medium format cameras. They are best for wildlife, wedding, macro and sports photography.
Top 5 Manufacturers
It is necessary for photographers to determine the best suited tripod that matches their requirements. In order to choose the suitable tripod, they need to have some knowledge about the different manufacturers that provide them. Let us check out some of the leading manufacturers that offer the best quality tripods and related camera accessories.

Vanguard is a global leader in high quality photo and video accessories. These include tripods, monopods, ball heads, camera bags and cases.

Manfrotto is known for manufacturing a wide range of cameras and lighting support equipment with the latest technology. Its extensive range of camera tripods and heads, lighting stands and accessories, are preferred among professional photographic theatre, film, live entertainment and video markets.

Bogen Imaging, now known as Manfrotto Distribution, is a renowned company that offers many different types of photographic tripods and camera accessories. It caters to all types of photographers including amateur, serious enthusiast as well as professional photographers.

SIRUI is a well-known photographic equipment company that specializes in products such as tripods, ball heads and related accessories. Its photographic equipments are developed with high quality and advanced technologies.

meFOTO is a leading company that offers several types of camera tripods including tripod kits, monopods, travel tripods and many more.
Terminology
Center Column:

It is the centre rod of the tripod that is used for fine adjustment.

Integral Heads:

It provides flexibility and stability when shooting photos.

Leg Locking Mechanism:

It allows photographers to extend and lock the tripods. There are two types of leg locking mechanism namely, twist grip and spring-loaded lever.

Quick Release Feature:

It is mostly used to connect another camera or accessory to the tripod.

Bubble Levels:

It helps to balance the tripod such that it stays levelled on the platform while shooting scenic views.

Leg Braces:

These are adjustable cross members that increase the stability of the tripod when it is in the locked position.