Fujifilm SP-2 Instax SHARE Smartphone Printer - Silver
Fujifilm
Product #:

FJD62511
Manufacturer #:

16522232
UPC:

074101029925
Fujifilm SP-2 Instax SHARE smartphone printer
Print photos from Smartphone/Tablet
Print pixels of 800 x 600 dots and 320 dpi
New laser exposure system
Features new filters and templates
Consists of black and white/sepia filters
Reprint button for additional copies
Upload to social networking sites
Equipped with a rechargeable battery
Free instax SHARE app from android / iOS
Color: Silver
Overview
Print Photos with an image size of 2.4 x 1.8 inches from either your smartphone or tablet device with the Fujifilm SP-2 Instax SHARE Smartphone Printer - Silver. It features black and white, as well as sepia filters for printing your pictures in any tone you like. For creative enhancement, you can also choose from a wide range of templates. To print additional copies, you can always hit the Reprint button. Share your pictures on various social networking sites by downloading the Instax SHARE app for Android and iOS devices. This printer is battery-operated, which makes it portable and easy to use.
Quality Comparison with SP-1 Printer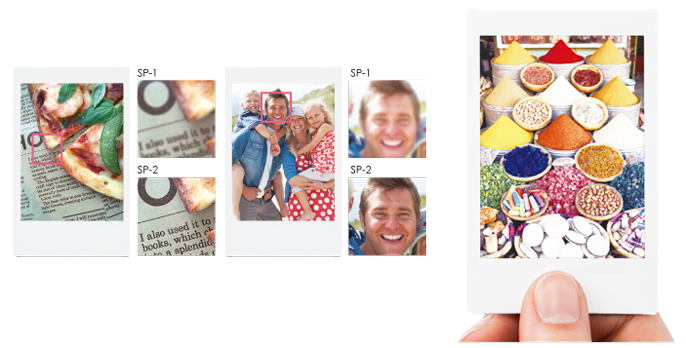 Product Reviews
There are no reviews for this product.
Specifications
Brand
Fujifilm - fujifilm
Detailed Specifications
Picture Size:
62mm x 46mm

Picture Size:

Refers to the various resolutions a camera can take and its maximum print size.

Max. Power Consumption:
2W

Max. Power Consumption:

Maximum power consumption that a scanner uses.
Printer Specifications
Maximum Printer Resolution:
320dpi

Maximum Printer Resolution:

The maximum size of a print with optimum quality.
Physical Specifications
Dimensions:
89.5 mm x 131.8 mm x 40 mm (excluding projections)

Dimensions:

The measurements of an object.

Weight:
250 g (without battery and film pack)

Weight:

The physical weight of the item without packaging.

Color:
Silver

Color:

The color of the item.
Recording Data
Image Formats:
JPEG & PNG

Image Formats:

The types of files that a particular camera produces. All cameras output JPEG images, but some of the more sophisticated models will shoot in RAW mode. RAW Image Formats will vary based on manufacturer.
Film Specifications
Film Type:
Fujifilm Instant Color Film instax mini (available separately )

Film Type:

Refers to the development process by which the particular film uses. The most common are black and white, color negative (C-41), and color reversal (E-6)

Film Size:
86mm x 54mm

Film Size:

Refers to the format of the film being used. (35mm, 120, 4x5, etc...)
Detailed Specs
Power Supply:
NP-45S (1 piece)

Power Supply:

A device that supplies electric power.
In The Box
Fujifilm SP-2 Instax SHARE Smartphone Printer - Silver
You May Also Like
Instax Film
Product #: FJF66422

Our Price: $29.00

Product #: FJF66423

Our Price: $42.50

Product #: FJF66425

Our Price: $71.75
Holiday Deals
Product #: FJF0835

Our Price: $12.00
Batteries
Product #: FJDX4132

Our Price: $42.99