Mylio: Manage. Organize. Protect.
Published: November 18 2014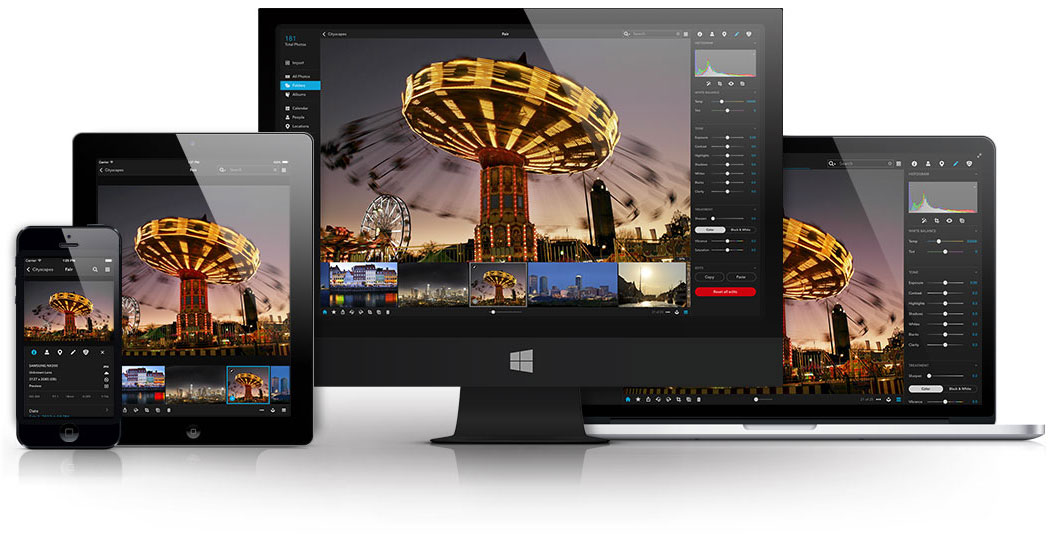 The next-generation photo management system is here. Mylio, developed by MyLO, is perhaps the biggest news of this season for photographers. Given the number of pictures we click since we went digital, an efficient way to store and organize huge digital libraries has become a need, and something that troubles every photographer. Mylio solves exactly that problem. Not only does it create a backup for all the pictures, whether they are on the computer or your hard disk, it also makes multiple copies of the pictures automatically. What's more, Mylio gives you unfailing privacy. You and only you can access the pictures. Once these pictures are organized with Mylio, they can be accessed from all devices, with or without the cloud.
Mylio provides an extremely user-friendly interface, and looks just the same on all the devices. Mylio is extremely fast: it can keep the work of a lifetime, thousands of pictures without making your devices slow! It has been developed keeping in mind the existing software packages that are extensively used by photographers, and complements Lightroom, Photoshop, and Aperture workflow. In addition, it can import photo albums from all the major social-media platforms like Facebook, Flickr, and iPhoto. Think about all the conveniences, and you will find Mylio is just the thing that will simplify your storage problems.
Paid subscriptions of Mylio are available in the United States and Canada. A free trial version is also available. The software system is compatible with Windows, iOS, and Macintosh platforms.
Here's The Press Release :
NEW YORK – October 29, 2014 - More than1.3 trillion* photos will be taken this year. Keeping up with all those pictures is a challenge for everybody, professionals and amateurs alike. For the first time, Mylio offers a complete solution for taking care of your pictures … for your life and the life of your images. Mylio addresses four core needs common to all photographers:
Everything: Bringing your pictures together, from Facebook, Flickr, SD cards, your camera roll, computers, and hard drives, into a common place where you can work, organize, and share them.
Everywhere: Automatically replicating your pictures to your phone, notebook, and tablet, you can work on your pictures wherever you are, even when there is no Internet access.
Always: Mylio automatically protects your pictures so that they are safe, even if your computer is stolen, your phone is lost, or your house burns down. Mylio allows you to decide whether your protection includes the cloud or operates independently.
Powerful and Simple: Even with hundreds of thousands of pictures, Mylio is fast when viewing and searching. Best of all, Mylio provides powerful editing, even with RAW files, while presenting a simple and elegant interface that works equally well on tablets, phones, and computers.
"We recognized a growing need for photographers and consumers to protect, access, and share all their photos everywhere they go, and on every device they own," explains David Vaskevitch, CEO of MyLO, creators of Mylio. "We formed a unique team of world-class software developers, designers, and photographers to build a solution that satisfies this need and allows people to enjoy their photos again."
Mylio is the complete digital solution for people who have a large library of digital content that they need to organize, protect, and access at any given moment, anywhere they go. Whether these photos and videos represent a livelihood or just irreplaceable moments in our lives, Mylio is designed to provide total access to the files and peace of mind to their owners.
*According to the Worldwide Digital Image 2014–2018 Forecast: The Image Capture and Share Bible, February 2014, IDC #246469
Pricing and Availability
Mylio is available immediately with three subscriptions plans designed to fit the different needs of photographers:
Mylio Basic Plan ** – JPG only, simple editing, threedevices, up to 50,000 images, $50 / year.
Mylio Standard Plan –JPG and RAW, full editing, fivedevices, up to 100,000images, $100 / year.
Mylio Advanced Plan – Multi location, workflow, 10 Devices, up to 500,000 images, $250/ year.
Photographers may try Mylio using a free trial plan, which supports up to 1,000 files on three devices.
Mylio is available at photo specialty retailers across the U.S. and can also be downloaded at www.mylio.com. For a list of Mylio retailers or more information, go to www.mylio.com.
Mylio supports personal computers running OSX 10.8 or later and Windows 7 & 8, iPads, iPhones and iPod Touch running iOS 7 or later and coming in 2015, Android tablets and phones.
About MyLO Development, LLC
A team of passionate photographers, developers and storytellers at MyLO Development, LLC created Mylio. Founded in 2012, MyLO is a privately held company located in Bellevue, Washington.
** Mylio Basic Plan will be available December, 2014