Advertise With Unique Photo
The Unique Photo affiliate program provides our partners with the opportunity to earn money through advertising the Unique Photo brand and product line. There is ZERO cost to join, commissions are paid monthly and there is full reporting on all of your sales. Monthly commissions begin at a rate of 2%, with higher rates possible depending on performance.
Begin earning money today!
In order to use Commission Junction you must sign up with Commission Junction.
How does Commission Junction work? As a Commission Junction member you are able to advertise products sold on Unique Photo's website. If a visitor of your website visits the advertised product on your website and purchases it, the transaction will be successfully record on your account.
Need assistance with setting up your first product link? *View our tutorial* - it is very easy and only takes a few minutes to follow through!
Commission Junction Tutorial
This is a brief tutorial only on how to set up Commission Junction for your website. There are many more options available but are not part of the goal for this tutorial. If you are in need of more assistance or have any questions please contact us.
NOTE: This tutorial has last been reviewed in March 2013. If you discover any inconsistencies with the tutorial to what you experience please inform us of this so we can update this tutorial.
Before you are able to continue with these steps you must be logged in on Commission Junction's website.
Step 1
Click "New Links" at the top of the page.

Step 2
Choose any advertisement banner image, rectangle image, or skyscraper image, or choose any text from the list. We will choose the second one that was available at this time of writing. Click on "Get Code" to get the code to put on your website.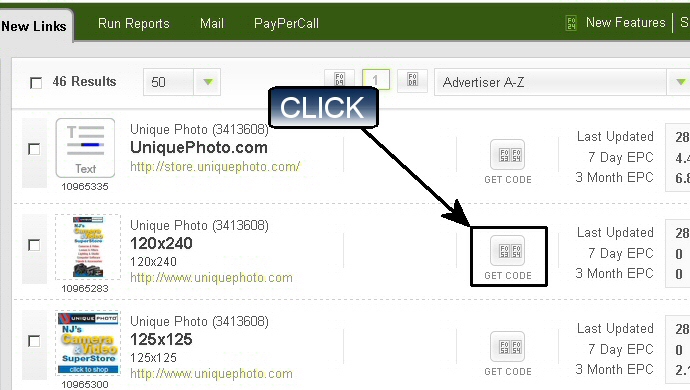 Step 3
In the "Destination URL" text box replace the text with the location of the product page. You can find a product page by searching for the product you want on Unique Photo's website, and look at the top of your screen to find the location.
We have chosen the Nikon D4 FX-Format DSLR Body (LOCATION: http://www.uniquephoto.com/product/nikon-d4-fx-format-dslr-body-25482/), which is currently popular and in stock at this time of writing.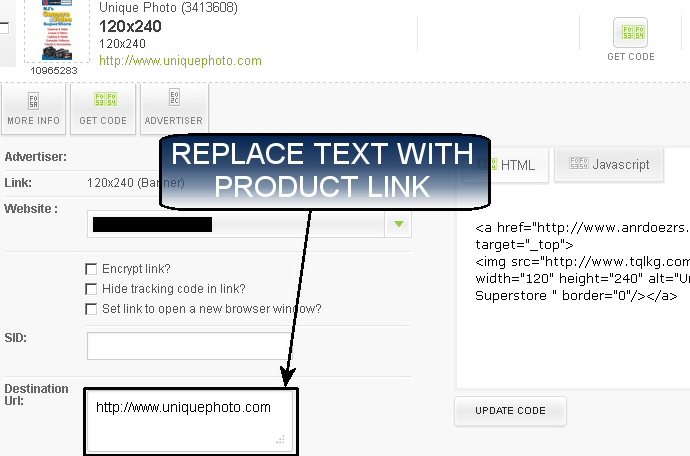 Step 4
Click the "Update Code" button.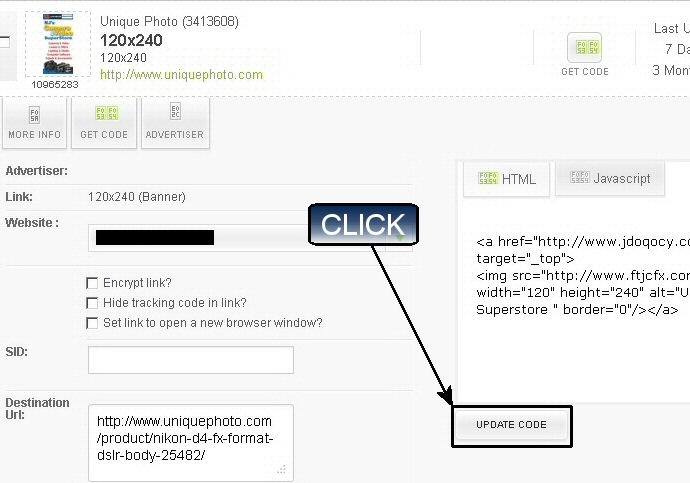 Step 5
Select all of the text in the above box and put it on your website. There should be a clickable image or clickable text that directs to the product page you specified in the "Destination URL" text box.