Digital Learning Lab
Digital Photo Manipulation and picture editing made easy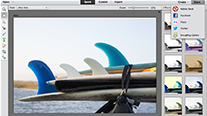 Adobe Photoshop Elements 12
Learn the basics of digital imaging and photo manipulation with our Digital Learning Lab. Here, we teach you the basic principles of editing your digital photos with popular picture editing software like Adobe Photoshop Elements 12, Photoshop CS5, Lightroom 5, Premiere Pro, and Final Cut Pro. For anyone who harbors a desire of becoming a professional photographer, learning how to edit and manipulate your photos is one of the most important skills to learn. Make your photos really stand out while learning essential skills in photo manipulation from our expert and accommodating veteran instructors. See below for currently available classes.
Class Code: UUU334

Instructor:

Skill Level:

Everyone

Join Adobe Certified instructor Blake Taylor for this hands-on class that will introduce you to Adobe Lightroom CC!

By following a photographic workflow, you'll first learn how to import digital photos into Lightroom - from there, you'll learn different ways to manage your photos as well as learn how make one-click adjustments all the way to making more advanced adjustments using the controls that Lightroom offers. You'll also experiment with Lightroom's non-destructive environment by enhancing a variety of photos by working within Lightroom's Library and Develop modules. By the end of the class, you will have a much stronger working knowledge of the program and be ready to apply what you learned to your own photos.

*Seating is limited to 13 students.
*Our digital lab has MAC desktops. If you'd prefer to bring your own laptop, please let us know ahead of time by emailing university@uniquephoto.com.