MeFOTO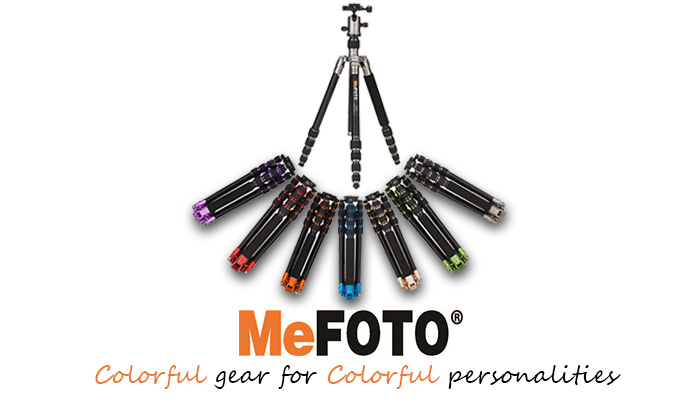 MeFOTO is one of the leading producers of a massive range of colorful and imaginative camera accessories. Consistently delivering the best travel tripods in a large variety of colors and styles, MeFOTO prides itself on the durability of its products. MeFOTO provides a 3-year warranty on all its monopods, tripods and other accessories. The company even offers to extend the warranty by two additional years for users in the United States of America who register their products with MeFOTO's website.
MeFOTO produces lens filters to help photographers get the best out of their cameras and lenses. Enlisted under the brand series 'Lens Karma' and 'Wild Blue Yonder', these filters feature cutting-edge technology. They are made of Asahi glass with multiple protective coats so that the lens is protected from possible scratches and damage. Their solid aluminum frames, available in five colors and eight sizes, ensure that the occasional bump doesn't damage the lens either. These screw-in filters are designed to eliminate the need of excessive photo correction.
MeFOTO as a brand is renowned for the camera equipment it delivers. Famous for producing the greatest variety of multipurpose travel tripods, monopods and smartphone adapters, MeFOTO produces the best of the lot in the camera equipment industry. Their products are listed under six categories namely DayTrip, BackPacker, RoadTrip, GlobeTrotter, WalkAbout and SideKick360. DayTrip features the best mini travel tripod kits from MeFOTO while BackPacker is a series of professional, full-scale tripod kits in many colors. The RoadTrip series features the best extremely compact, lightweight portable tripods while the GlobeTrotter series has the best portable tripods that can be used with large cameras and big lenses, but can also be converted into monopods. The WalkAbout series features high-end monopods that convert to walking sticks to fit your needs. The SideKick360 is a series of smartphone adaptors that take phone photography to the next level. You can choose any of the models from this massive variety available on Unique Photo and have it delivered to your doorstep.
Showing results for my store:
Fairfield, NJ More stores
Include additional location stock results
Product #: BNR4006 | Manufacturer #: BMBPABLK

Load Capacity: 8.8 lb
Max Height: 61.6"
Min Height: 15.4"
Folded Length: 15.4"
Leg Sections: 5
Weight: 3.7 lb
Two-Angle Locking Leg Positions
Arca-Type Q0 Ball Head with QR Plate
Separate Ball and Pan Locks
Deluxe Carry Case & Dust Bag

Product #: BNR4014 | Manufacturer #: BMRTPROCSLV

6 in 1 compact tripod
Acts as a Tripod, Monopod, Boom Pole, Seflie Stick, High Hat, and Tabletop Tripod
Convertible Arca Style Quick Release Plate
Quick Release Plate holds both Cameras and Phones
2 Section Column adds height yet folds down small
All Metal Leg Lock
Built In Tool allows for on location conversions.

Product #: BNR4017 | Manufacturer #: BMRTPROASLV

6 in 1 Tripod
Can be used as a Tripod, Monopod, Boom Pole, Selfie Stick, High Hat, Tabletop Tripod
Convertible Arca Style Quick Release Plate
2 Section Column that adds height but folds down small
All Metal Leg Lock
Built in tool to allow for on locaton conversions