Photograph the Americas Cup Race Up Close on the Hudson River
Product #:

UUU510
Manufacturer #:

510
America's Cup racing will return to New York for the first time since 1920 with Louis Vuitton America's Cup World Series racing on May 7-8, 2016. The New York event is one of six events planned during 2016, each featuring thrilling, high-speed competition, as six America's Cup teams, with the top sailors in the world, vie for points that count towards the final competition for the 35th America's Cup in 2017.
On Friday, May 6th, Instructor Mike Zawadzki will hold a seminar at Unique Photo from 6:00pm - 7:00pm. He'll go over camera settings and shooting tips in preparation for the race on Sunday.
On Sunday, May 8th, you'll have a chance to capture the excitement and action from the waters on our own private yacht! The Jewel is set to sail along the Hudson River and remain as close to the race as possible. This is an amazing opportunity to capture shots from different vantage points and spectate the finals.
UPDATE (5/4/16): Due to the high security measures that have been put in place for the race, the Captain has changed The Jewel's point of departure from Lincoln Harbor in Weehawken, NJ to New York's Skyport Marina.
We apologize for this inconvenience, but we have now secured a shuttle that will take us from Unique Photo to Sky Point Marina and back, free of charge. If you'd like to reserve a seat for the shuttle, please email us at [email protected]. Seating is limited, so please email ASAP. Otherwise, we will assume that you'll be meeting everyone at the marina on your own.
• The Jewel will depart from Skyport Marina (2430 FDR Drive Service Road E, New York, NY 10010).
• Shuttle from Unique will leave promptly at 9:30am.
• We will board The Jewel at the marina promptly at 12:00pm.
• Shuttle will depart from the marina, after the race, at approx. 4:30pm and return to Unique.
• Parking is NOT included for those meeting up at the marina.
• Some food and drinks will be provided. Cash bar is available for those interested.
ABOUT AMERICA'S CUP
|
Photos and information courtesy of acws-newyork.americascup.com.
The Louis Vuitton America's Cup World Series is the first stage of competition in the 2017 America's Cup. It began with three events in 2015 and continues through 2016. Featuring all of the America's Cup teams racing in foiling, wingsailed, one-design AC45F catamarans, the circuit is an early opportunity to put points on the board that carry forward into the next stage of the competition. Overall ranking position in the Louis Vuitton America's Cup World Series determines the starting points score of the teams in the Louis Vuitton America's Cup Qualifiers in 2017.
The Louis Vuitton America's Cup World Series uses high point scoring in a series of fleet races (2-3 races per day depending on conditions). On Saturday, a win is worth 10 points, 2nd place earns 9 points and so on. On Super Sunday, the points awarded are doubled with a win worth 20 points, 2nd place collecting 18 points, and so on. Points earned across all of the Louis Vuitton America's Cup World Series events in 2015 and 2016 determine an overall ranking that is used to award bonus points heading into the Louis Vuitton America's Cup Qualifiers in May 2017.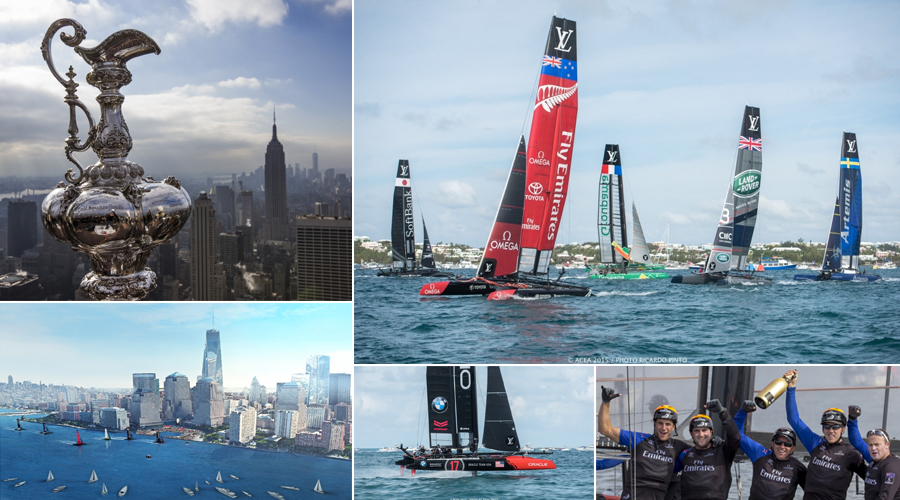 Product Reviews
There are no reviews for this product.