Nissin Di866 Mark II Professional Speedlite For Sony DSLR Cameras
Nissin
Product #:

NIS866S
Manufacturer #:

ND866MKII-S
UPC:

438574866233
- Dedicated Shoe Mount TTL Flash
- GN: 198' (ISO100 at 105mm)
- Recycles in 0.1-5.5 Seconds
- Wireless TTL Slave or Master
- Power Variable From 1/1 to 1/128
- X-Terminal & USB Port
- Built-In Sub-Flash
- Covers 24-105mm (18mm w/W-A Diffuser)
- Flash Duration 1/300 to 1/30000 Sec.
- Full Nissin USA Warranty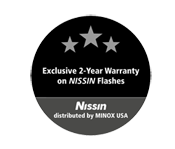 Overview
The Nissin Di866 Mark II Professional Speedlite for Sony DSLR Cameras has a quieter operation. A new transmission motor significantly reduces the operating noise, the volume level (70dB or less) is achieved. The high performance wireless sensors cover the distance of 25 meters (direct remote sensing range). The high-sensitivity sensors and multi-lamp lighting can be performed easily at various locations. The metal hot shoe mount can be easily installed and reduces the chance of damage caused by installation. The color display will automatically follow the camera angle in different positions. The interface gives user friendly operation by using six different icons representing different menus Auto, TTL, Manual/Av, Multi, Wireless TTL (Master/Remote) and Customer Setting.
Various Functions TTL, Manual/Av, Multi Flash
TTL: Supporting Canon E-TTL/E-TTL II , Nikon i-TTL/i-TTL-BL and Sony ADI/P-TTL. Flash light is automatically controlled by the camera but the flash exposure value can be compensated.
Manual: Flash power can be adjusted manually at 22 levels, from full power to 1/128 power at every 1/3 stops. The appropriate distance to the subject is shown in the display in accordance with the aperture value set on the camera.
Av priority: The flash light can be automatically controlled by the photo sensor built-in the flash unit instead of
TTL metering. The F. Stop can be set from F1.4~F16. The distance at the F-stop set on the flash and camera is shown in the display.
Multi Flash: The power ratio can be set from 1/8 to 1/128
The best solution for off camera flash technique
The Di866 Mark II Wireless TTL system support Canon/Nikon/Sony wireless TTL system. Di866 Mark II can be used jointly with Canon, Nikon and Sony original flash as either Master and Remote (Slave). The Di866 Mark II also supports digital (pre-flash system) and analogue (film type cameras flash and/or studio flash under both of Manual and Av. priority mode. Multi-Flash: Repeating flash for multi-exposure image in one frame. The power ratio can be set from 1/8 to 1/128.
Sub-Flash
The Di866 Mark II provides an extra small flash (GN12) below the main flash. This small flash gives a fill-in light while bouncing the main flash. Bouncing the light may shadow the underside of face, and this fill-in flash brightens up the shadow. The power ratio of Sub-Flash can be set from 1/1 to 1/128.
Auto Zoom
Auto Zoom covers 24~105mm focal range. Light diffusing panel covers wide 18mm (35mm format).
My TTL
TTL exposure level is accurately calibrated for standard balance in accordance with Nissins standard. If any adjustment is however required, or if you like to set your own preferable level, it can be adjust for about +3Ev. ~-3Ev. by every 1/3 step.
Quick Loading Battery Compartment
The Di866 Mark II has battery magazine system same as Di866 professional and Di466. A convenient battery magazine provides all four AA-size batteries slot in the same direction, so that the batteries can be correctly inserted without fail even in the poor light condition.
External Service Box
External Power Pack Socket: Di866 Mark II supports Nissin Power Pack PS 300.
X terminal: Di866 Mark II has X-terminal socket for flash synchronization.
USB Service Port: Di866 Mark II provides a USB port to update the latest firmware.
Rear Curtain Sync and High Speed Shutter
In Rear curtain sync., the flash fires just before the rear curtain closed. By using this function at slow shutter speed, a moving subject will appear with such moving marks behind. High speed sync. is recommended for daylight flash photography
The Nissin Di866 Mark II Professional Speedlite is compatible with the following Sony DSLR Cameras:
Sony ALPHA: 100 / 200 / 230 / 290 / 300 / 330 / 350 / 380 / 450 / 500 / 550 / 580 / 700 / 850 / 900
Sony ALPHA: SLT A33 / SLT A55V
Product Reviews
There are no reviews for this product.
Specifications
Detailed Specifications
Auto F Stop Range:
F1.4-F16

Auto F Stop Range:

The F-stop range used in an automatic aperture priority mode.

Bounce Capability:
Yes--90 tilt

Bounce Capability:

The ability to direct a flash to bounce on ceiling or nearby wall. Bounce and swivel flash heads allow more creative flash techniques and lighting effects.

Custom Functions:
Wireless Remote flash Slave: Slave Digital Slave / Film Slave, [Advanced] Sub-Flash Allowed, Wireless TTL Master / Remote, 4 Channels, 3 Groups (A, B, C)[RMT, RMT2 for Sony], Modes: Off/ TTL/ Manual, TTL Flash Ratio Adjustable

Custom Functions:

Programmable buttons on a camera that can be used for various custom functions.

Camera Mount:
Shoe mount dedicated flash

Camera Mount:

The trace or base where the camera is fixed or secured to eliminate vibration.

Compatible Cameras:
74(W) x 134(H) x 110(D) mm / 2.9(W) x 5.3(H) x 4.3(D) inches

Compatible Cameras:

This is the compatibility of a camera with a certain device or software.

Vari-Power:
22 levels from full power to 1/128 in 1/3 stop steps

Vari-Power:

This is a device that permits variable power output. This is often used to control flash power output of a flash head in f/stop increments.

Off Camera Capability:
Yes--X-terminal socket for flash synchronization; USB port

Off Camera Capability:

This is the off-camera capability of a flash unit. A common feature on flash units is a slave function which fires in-sync with another flash.

Type (Multi):
Nissin Di866 Mark II Professional Speedlite for Sony DSLR Cameras

Type (Multi):

This is the type of product.
Tripod Detailed Specifications
Swivel Capability:
Yes--90 swivel to the right; 180 swivel to the left

Swivel Capability:

This is the swivel capability of the tripod head. Some tripod can only pan horizontally, while some tripods with ball-heads can be angled.
Brand
Brand:
Nissin
Brand:
Nissin
Manuals
In The Box
- Nissin Di866 Mark II Professional Speedlite For Sony DSLR Cameras

- Soft Pouch

- Flash Stand With Tripod Screw

- 1-Year Limited Warranty