Nikon NIKKOR Z 40mm f/2 (SE) Lens
Product #:

NKL20121
Manufacturer #:

20121
UPC:

018208201211
Vintage design: Iconic design features checked knurling, a contrasting silver band and retro NIKKOR logo and typeface, mimicking the look of the lenses once used on Nikon's classic FM film cameras.
Camera compatibility: Compatible with Full Frame / FX format and APS-C size / DX format Nikon Z series mirrorless (on APS-C size cameras, the lens has a field of view of 60mm*).
Compact and lightweight: Just 1.8 inches long and weighing only 6 ounces. Always ready to go as a main walk-around lens.
Close Focusing: Focus as close as 0.96 ft. from your subject to reveal the smallest details, ideal for food shots and much more.
Beautiful background blur: Shallow depth of field of f/2 is enhanced by the lens' 9 rounded blade diaphragm, creating a natural bokeh effect.
OVERVIEW
A stylish, full-frame 40mm prime lens with a vintage design. Unique checked knurling, contrasting silver
band, retro NIKKOR logo and typeface, all with the versatile 40mm view, fast f/2 maximum aperture, excellent subject/background separation and natural soft bokeh. Classic styling elevates the look of any Z camera.
Our fast 40mm prime with a cool retro design.
This special edition of our 40mm f/2 prime is more than a lens—it's a shooting style. Fast. In-the-moment. Improvisational. Its compact size and tactile feel make it a smooth operator, and its classic styling elevates the look of any Z camera. Combine that with the great low-light performance, beautiful bokeh and a natural angle of view of the original lens, and you've got a 40mm prime that really is special.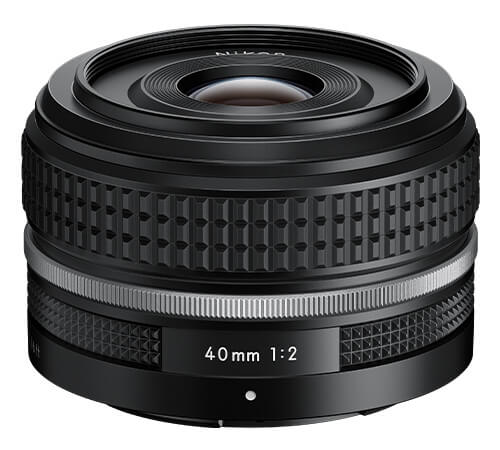 An Iconic take on a small, fast, versatile lense.
40mm f/2 (SE) has an iconic design mimicking the look of the lenses once used on Nikon's classic FM cameras.
Stylish point of view on any Z series camera.
A full-frame standard prime, the NIKKOR Z 40mm f/2 (SE) works—and looks—great on any Z series camera. On full-frame/FX format cameras like Z 6II and Z 5, it covers the sweet spot between 35mm and 50mm. On APS-C size/DX format cameras like Z fc, Z 50 and Z 30, it delivers a 60mm* field of view.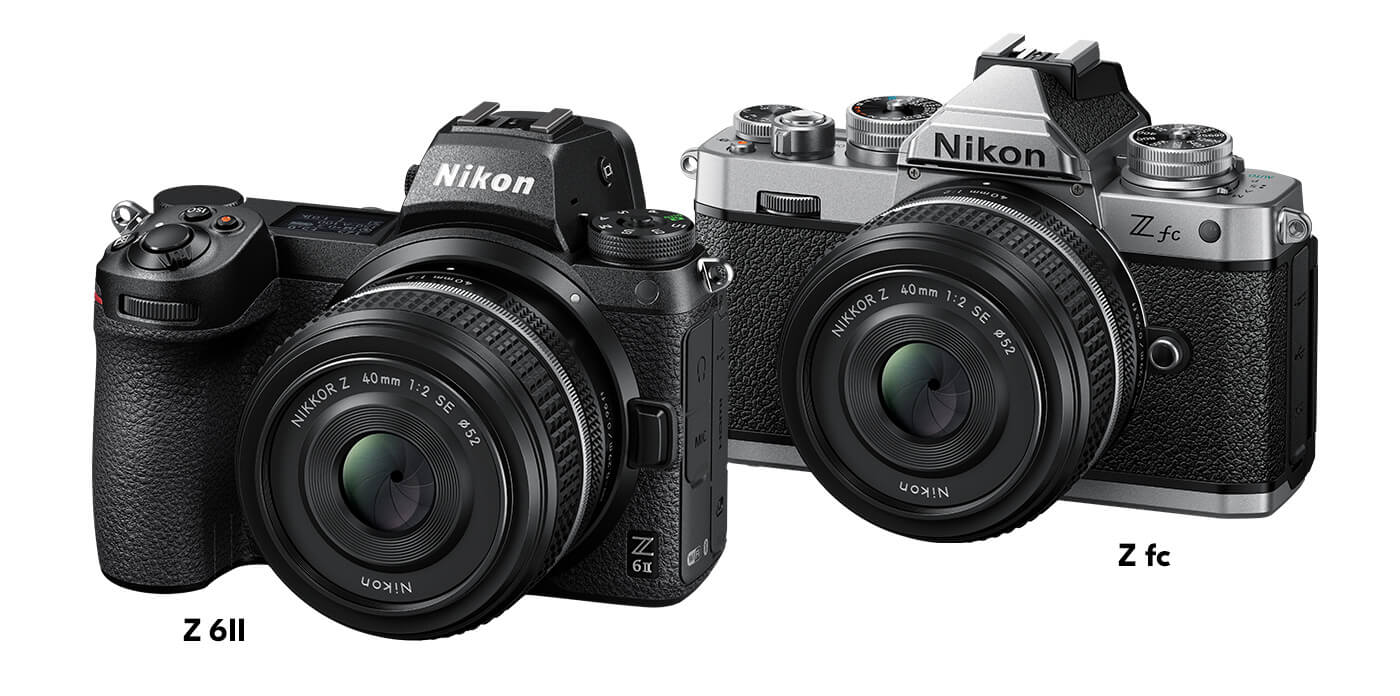 Dramatic depth.
Make your subject stand out against a beautifully blurred background. The shallow depth of field of f/2 is enhanced by the lens' 9 rounded blade diaphragm, creating a natural bokeh effect.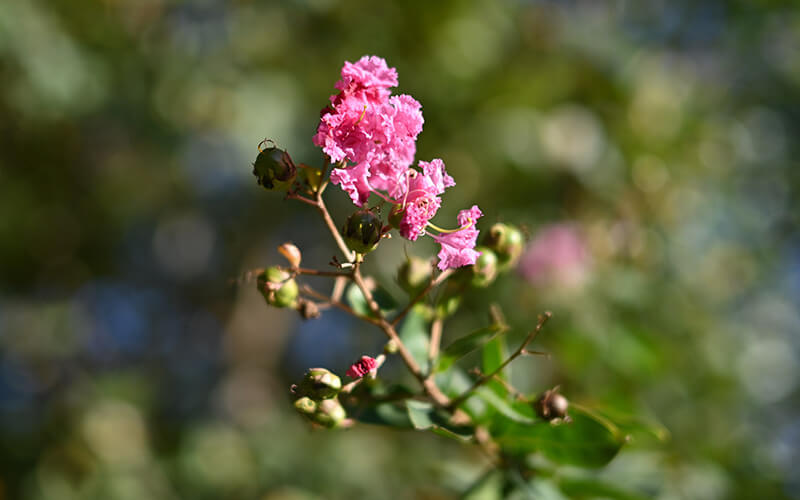 Nothing weighing you down.
At just 1.8 inches long and 6 ounces, you'll forget the lens is even there. It doesn't extend or retract, so it's always ready. Take it wherever you go as your main walk-around lens or as a lightweight second lens.
Great for video.
With its natural field of view, suppressed focus breathing, near-silent autofocus and a 9-rounded-blade iris that can be smoothly opened and closed using the click-less control ring, the NIKKOR Z 40mm f/2 (SE) is outstanding for videos of all types, from vlogs to cinematic films.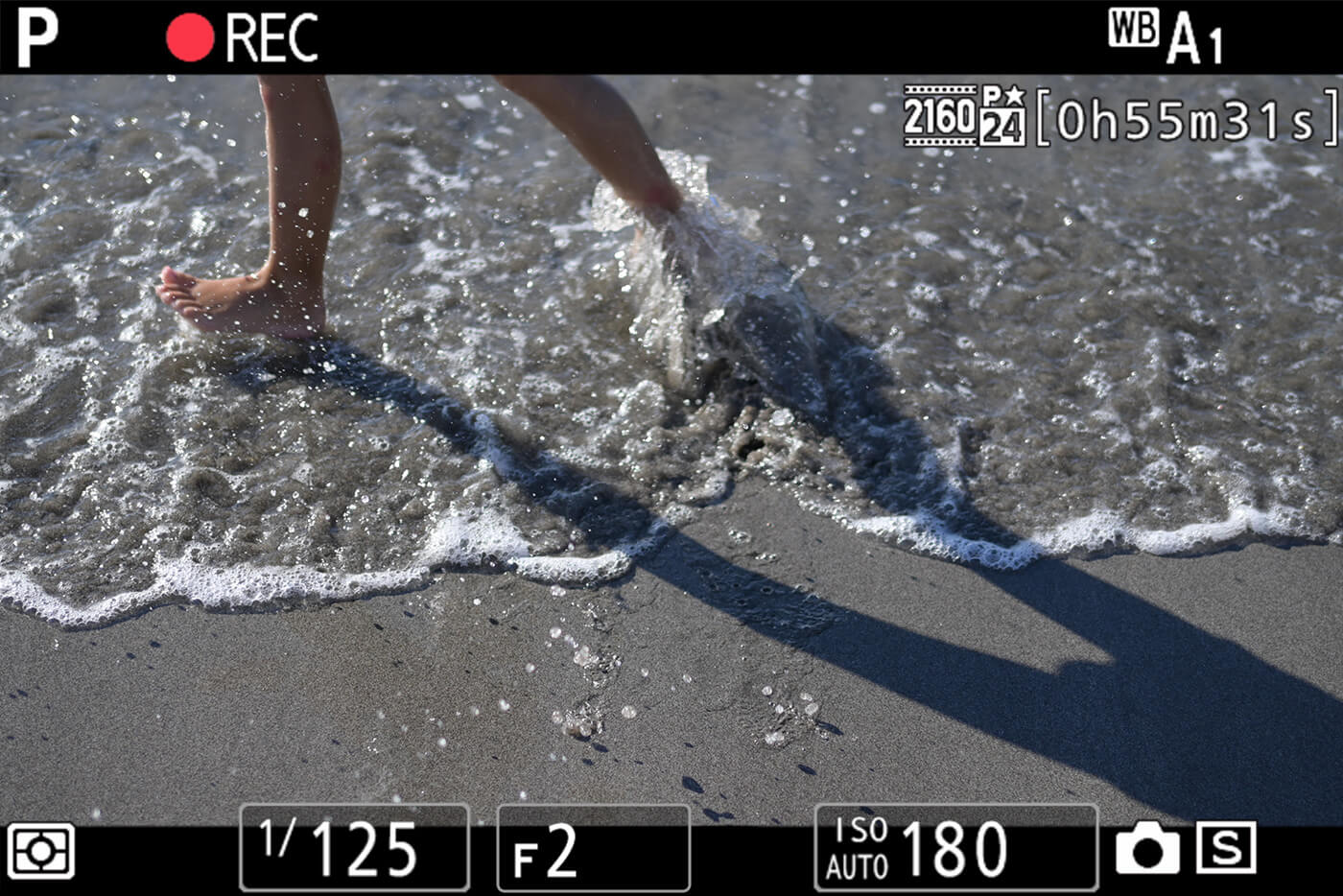 Fast, reliable focus.
A new high-torque stepping motor operates at blazing fast speeds in near silence, whether using Eye-Detection AF or continuous subject tracking.
Customizable control.
The smooth click-less control ring can be customized for the way you shoot. Use it for precise manual focusing or to adjust aperture, ISO or exposure compensation.
Dust and drip resistant.
The lens barrel and all moving parts are designed carefully considering dust- and drip-resistant performance with sealing that prevents dust and water droplets from entering the lens.*
Technology
Aspherical Lens

A lens with a curved, non-spherical surface. Used to reduce aberrations and enable a more compact lens size. Aspherical lenses minimize coma and other types of lens aberrations, even when used at the widest aperture. They are particularly useful in correcting distortion in wide-angle lenses and help contribute to a lighter, more compact design by reducing the number of standard (spherical) elements necessary. Aspherical lens elements correct these distortions by continuously changing the refractive index from the center of the lens.

Super Integrated Coating

Nikon Super Integrated Coating is Nikon's term for its multilayer coating of the optical elements in NIKKOR lenses.

IF Lens

A NIKKOR lens in which only the internal lens group shifts during focusing. Thus, IF NIKKORS do not change in size during AF operation, allowing for compact, lightweight lenses capable of closer focusing distances. These lenses will be designated with the abbreviation IF on the lens barrel.

Stepping Motor

NIKKOR Z lenses use a stepping motor for fast, accurate, smooth, quiet autofocus with reduced wobbling. This quiet drive system makes the lenses ideal for use when shooting video.

Electromagnetic Diaphragm Mechanism

An electromagnetic diaphragm mechanism in the lens barrel provides highly accurate electronic diaphragm or aperture blade control when using auto exposure during continuous shooting.
Product Reviews
There are no reviews for this product.
Specifications
Brand
Nikon - nikon
Lens Specification
Lens Min. Focus Distance:
11.4" / 29 cm

Lens Min. Focus Distance:

The shortest distance that a lens can focus.

Lens Filter Size:
52 mm

Lens Filter Size:

The size of the filter that fits the lens.

Dimensions:
2.8 x 1.8" / 70 x 45.5 mm
Minimum Aperture:
f/16

Minimum Aperture:

How wide a lens can be opened.

Diaphragm Blades:
9, Rounded
Optical Design:
6 Elements in 4 Groups
Image Stabilization:
No
Weight:
6 oz / 170 g
Focal Length:
40mm

Focal Length:

Focal Length

Angle of View (diagonal):
57°

Angle of View (diagonal):

Area of a scene that a lens covers or sees. Determined by the focal length of the lens

Maximum Aperture:
f/2

Maximum Aperture:

How wide a lens can be opened.

Focus Type:
Autofocus

Focus Type:

The type of focus of the lens from full manual control to auto focus.

Mount Type:
Nikon Z

Mount Type:

This is the mount type for the lens to attach to the camera body.
In The Box
Nikon NIKKOR Z 40mm f/2 (SE) Lens
Nikon LC-52B 52mm Snap-On Front Lens Cap
Nikon LF-N1 Rear Lens Cap
You May Also Like
Holiday Deals
Product #: NKD1632

Our Price: $1,146.95 After $200.00 Instant Savings
Nikon Z50
Product #: NKD1634

Our Price: $756.95 After $100.00 Instant Savings

Product #: NKD1633

Our Price: $896.95 After $100.00 Instant Savings