Personal One-on-One Instruction with Michael Downey
Product #:

UUU006
Manufacturer #:

UUU006
UPC:

UUU006
Head Instructor at Unique Photo, Michael Downey is available for the following one-on-ones:
Understanding Your DSLR / Mirrorless Camera (Buttons & Functions, Exposure & Metering, Composition & Photographing)
Travel/Vacation Photography
Night Photography
The Art of Seeing
HDR Photography
Sports Photography
Photoshop Elements
Canon's Digital Photo Professional
DxO Optics Pro
Nik's Suite of Software
PhotoMatix Software
Portrait Professional Studio

* Each session can be 1 or 2 hours.



Michael Downey is available to instruct: Understanding Your DSLR / Mirrorless Camera (Buttons & Functions, Exposure & Metering, Composition & Photographing), Travel/Vacation Photography, Night Photography, The Art of Seeing, HDR Photography, Sports Photography, Photoshop Elements, Canon's Digital Photo Professional, DxO Optics Pro, Nik's Suite of Software, PhotoMatix Software, Portrait Professional Studio

Understanding Your DSLR: Buttons & Functions: Your instructor will review all of the main buttons on your camera and what they are used for to create an image. After the exterior of the camera is throughly taught, the internal camera functions are then explained in detail to help you have a better understanding on how to use your DSLR. Some examples your instructor will review are the following: Aperture Priority, Shutter Priority, ISO, Fstop/Aperture and Shutter Speed. These will help you take your camera off automatic and prepare you to enter the world of controlled manual settings.

Understanding Your DSLR: Exposure & Metering: Understanding the basics of exposure and metering are the building blocks to becoming a good photographer. Your instructor will teach you these fundamental basics of photography such as the relationship between f-stops and shutter speeds, as well as understanding the positives and negatives of ISO/ASA sensitivity with your image sensor.

*Michael is not limited to these specific topics. He is available to go over anything you may need to learn.





Michael's areas of expertise/specialties are travel photography, HDR photography, real estate photography, sports photography, basic photography, and DSLR instruction.





Michael studied Drawing, Painting, Color Design, Sculpting and of course Photography as an architecture major at the University of Bridgeport . Photograph stayed with him and he later completed the color photography program at The International Center of Photography. In October of 2002 Michael opened Michael Downey Photography specializing in portrait, wedding and corporate photography. His clients include Bank of America, AT&T, Telcordia, as well as scores of local and regional businesses. Michael started teaching photography in 2004. His students include elementary school students, girl and boy scouts, and children with special needs . He has also taught for Active Older Adults (AOA) and corporations requiring photographic skills. Michael Downey also leads photographic excursions to local and distant locations. The local annual trips include New York City, Washington D.C. and Boston. His excursion group has also been to San Pedro, Belize with bird watching photo studies, and treks to the Mayan ruins of Altun Ha. Other trips have included the Yucatan Peninsula with Chicken Itza and Tulum as well as Nice, Paris, and Monte Carlo.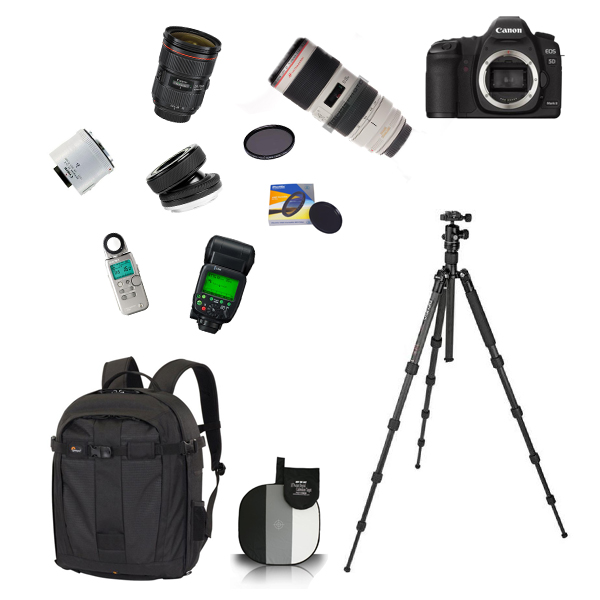 Here is a sample of the main equipment Michael Downey utilizes:
1. Camera: Canon EOS 5D Mark II
2. Lens: Canon 24-70mm 2.8
3. Lens: Canon 70-200 2.8
4. Lens: Lensbaby Composer Pro
5. Circular Polarizer Multicoated Filter
6. Neutral Density Glass Filter
7. Canon Tele Extender EF 2x
8. Lighting: Canon 600 Speedlites
9. Sekonic L-358 Flash Meter
10. PhotoVision 14" Pocket Digital Calibration Target
11. Tripod: Benro Travel Angel C-269 with B1 Ball Head
12. Bag: Lowepro ProTrekker 300 AW










Watch Michael's Story on Video


Product Reviews
There are no reviews for this product.
Specifications
Brand
Brand:
Unique Photo