Canon XA60 Professional UHD 4K Camcorder
Product #:

CNV2157
Manufacturer #:

5733C002
UPC:

013803350104
1/2.3" CMOS Sensor, DIGIC DV 6 Processor
On-Screen Display Time Stamp Recording
Up to UHD 4K30 Video Recording
USB Type-C Output with UVC Support
Record $K in XF-AVC and MP4 Formats
Mini-HDMI Video Output
Integrated 20x Optical Zoom Lens
Infrared, Optical Image Stabilization
Dual SD Relay and Simultaneous Recording
Dual XLR and Mic/Line Audio Input
3.5"
SD/SDHC/SDXC (UHS-I)
Viewfinder Type:

Built-In Electronic (LCD)
1/2.3"
Image Sensor Type:

1/2.3"-Type CMOS Sensor
None
3.6mm-73.4mm
35mm Equivalent: 29.3mm-627mm
f/1.8 to f/2.8
OVERVIEW
Shoot high quality 4K UHD video with the compact XA60. The camera delivers outstanding oversampled HD, advanced autofocus, a Canon 20x optical zoom lens, HD livestreaming with UVC1 via a USB-C connection to a PC or Mac and can capture footage for recording or sharing later in either XF-AVC or MP4 formats.
Compact professional 4K UHD camcorder
Capture stunning 4K UHD and Full HD images thanks to a 4K 1/2.3" type CMOS sensor and DIGIC DV6 image processor. Oversampled HD delivers Full HD images from the 4K sensor.
On-Screen Display (OSD) "Time Stamp" Recording
New to XA-Series cameras, the OSD recording embeds date, time, timecode, and other data into your original camera files effectively "time stamping" the information into each frame of video, a requirement for legal and law enforcement videographers.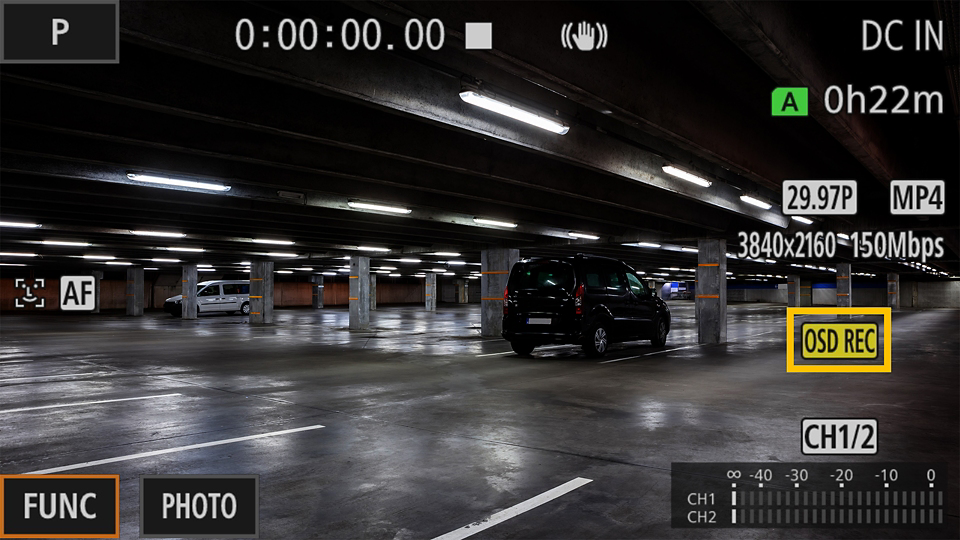 UVC Livestreaming
Stream HD video directly from the camera via UVC1 to a PC or Mac computer.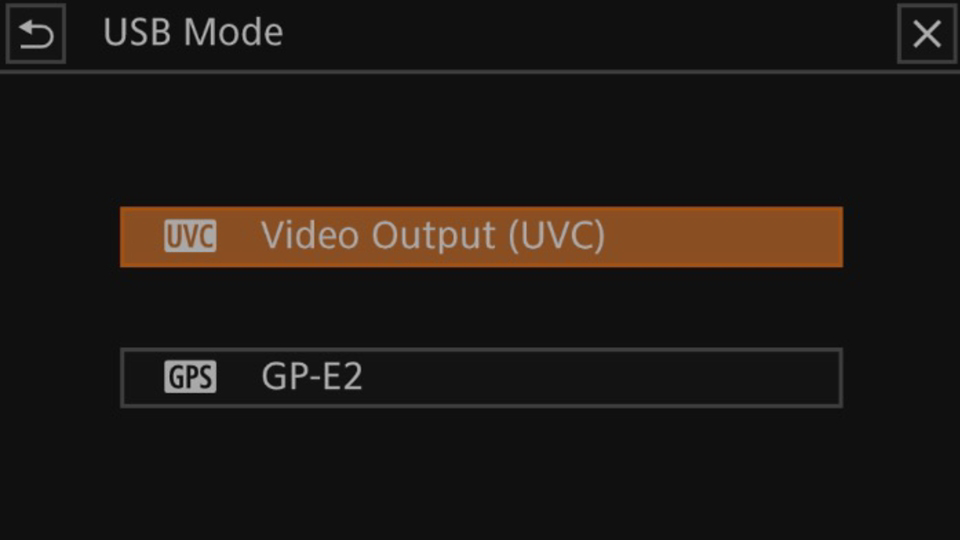 Professional audio controls
Two XLR terminals on a detachable handle plus 4-channel linear PCM bring a suite of pro audio options.
4K 20x optical zoom lens
The Canon lens covers a 29.3mm wide angle (35mm equivalent) with a powerful 612mm reach. Digital zoom boosts the 20x optical zoom to 800x magnification. To minimize camera shake, the camera provides Canon's Dynamic IS 5-axis image stabilization.
Fast, precise focusing with face detection
Adjustable focusing speeds and advanced Hybrid AF system provide fast and precise focusing. Use the ultra-bright high-resolution 3.5-inch LCD display to set focus by touching the AF point on the screen. Face Detection AF and Face Tracking are available while Manual Focus is set via the focus/zoom ring.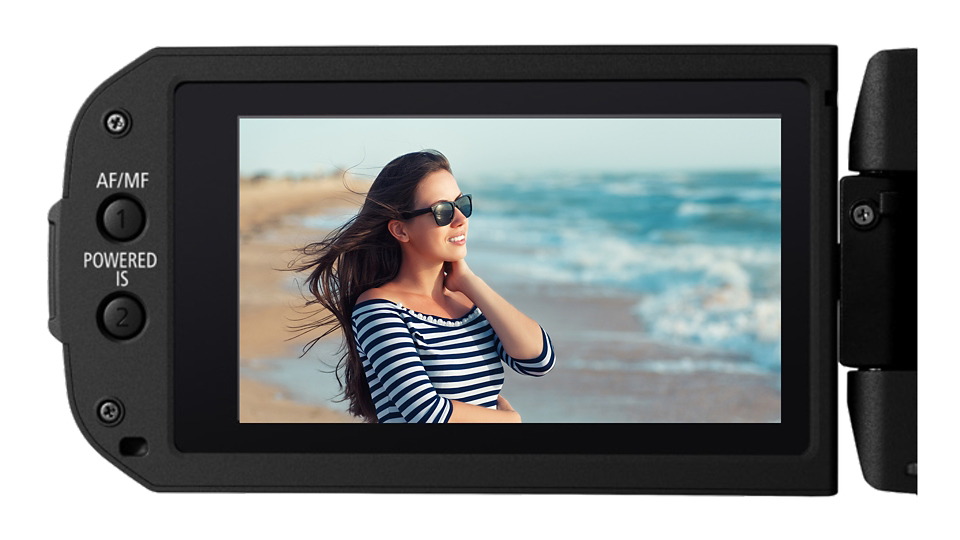 XF-AVC and MP4 for flexible recording
Choose from XF-AVC or MP4 recording formats. Record XF-AVC 4K UHD 160Mbps at 30P and Full HD 45Mbps at 60P/60i/30P/24P. For smaller files, record MP4 in 4K 150Mbps at 30P/24P and Full HD 35Mbps or 17Mbps at 60P/30/24P.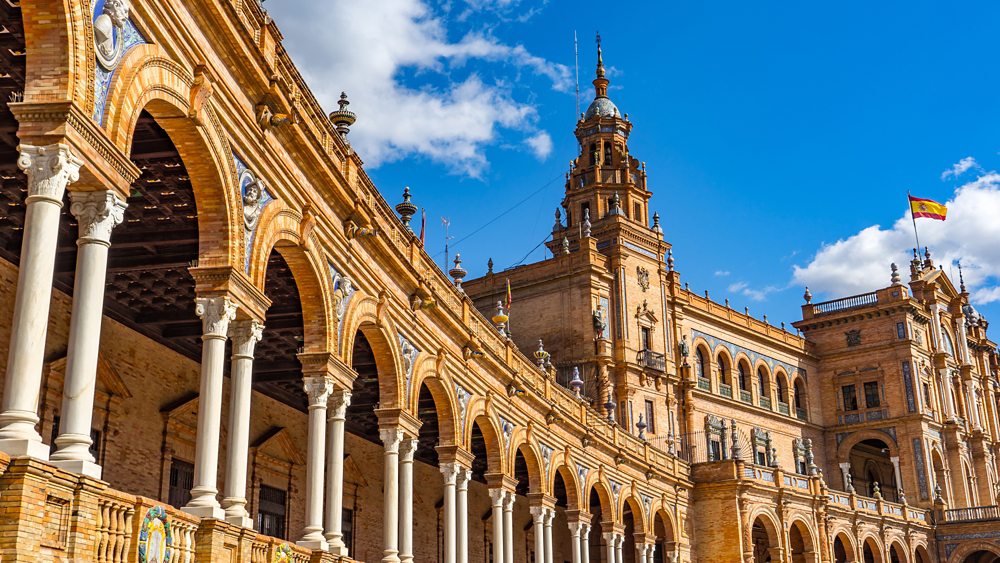 Professional input and output
Output options include simultaneous backup and relay recording via dual SD cards and Infrared mode. Record Slow Motion in Full 5x HD or Fast Motion in 4K/Full HD up to 1200x. Color match with other Canon cameras using the custom picture menu.
Product Reviews
There are no reviews for this product.
Specifications
Brand
Canon
Display & Viewfinder
Screen Size:
3.5"

Screen Size:

The size of the screen listed by height and width.

Viewfinder Resolution:
1,770,000 Dot
Display Type:
Articulating Touchscreen LCD

Display Type:

The type or brand of the screen.

Monitor Resolution:
2,760,000 Dot

Monitor Resolution:

A measurement of the LCD Monitor's resolution not by width by height, but rather the total amount of dots.
Detailed Specifications
Compatible Media:
SD/SDHC/SDXC (UHS-I)

Compatible Media:

A storage medium that is compatible with your portable device, in a form that can easily be removed or accessed by a PC such as a type of memory card that is compatible with your camera.
Physical Specifications
Dimensions:
Without Protrusions: 7.2" x 4.3" x 3.3"

Dimensions:

The measurements of an object.

Weight:
Body Only: 1.6lbs
With Battery, Handle, and Recording Media: 2.5lbs

Weight:

The physical weight of the item without packaging.
Flash Attributes
Built-in Flash:
No

Built-in Flash:

A flash that is embedded or part of the camera. Built-in flashes are found in both DSLR and Point & Shoot cameras. Although practical because of their small size and ease of use, built-in flashes are often ineffective and/or unflattering as a main source of light.
Interface
Memory Card Slot:
Dual SD Slots
Viewfinder Specifications
Viewfinder Type:
Built-In Electronic (LCD)
Power System
Battery Type:
Canon BP-8 Series

Battery Type:

The type of battery for a device. Some cameras use single use alkaline while others use rechargeable lithium batteries.
Focusing Control
Focus Modes:
Automatic
Manual Focus

Focus Modes:

The types of focus modes an item has.
Camera Attributes
Audio Recording:
MP4: 2-Channel 16-Bit AAC Audio
MP4: 4-Channel 16-Bit LPCM Audio
Image Stabilization:
Optical in Integrated Lens
Digital
Image Sensor Size:
1/2.3"

Image Sensor Size:

Refers to the actual physical size of the imaging sensor in the camera. A sensor that has the same dimensions as a 35mm frame of film is considered to be "full" frame. Other smaller sensor sizes are described in terms relative to a "full" sized sensor. (e.g. an APS-C 1.5x crop sensor)

Electronic Shutter:
Electronic Global Shutter

Electronic Shutter:

Blades or a curtain of some type of cover that controls the time during which light reaches the film or a sensor.

Image Sensor Type:
1/2.3"-Type CMOS Sensor
White Balance Mode:
2000 to 15,000K
Operating Temperature:
32 to 72°F (0 to 40°C)
Recording File Format (Video):
H.264/MP4/XF-AVC:3840 x 2160 at 23.98p/24.00p/29.97p [150 Mb/s]
1920 x 1080 at 23.98p/24.00p/29.97p/59.94p [17 to 35 Mb/s]
1280 x 720 at 59.94p [8 Mb/s]
Camera Body Weight:
1.6lbs
Lens Specification
Lens Min. Focus Distance:
Wide: 0.4"
Entire Zoom Range: 23.6"

Lens Min. Focus Distance:

The shortest distance that a lens can focus.

Lens Filter Size:
None

Lens Filter Size:

The size of the filter that fits the lens.

Focal Length:
3.6mm-73.4mm
35mm Equivalent: 29.3mm-627mm

Focal Length:

Focal Length

Maximum Aperture:
f/1.8 to f/2.8

Maximum Aperture:

How wide a lens can be opened.

Focus Type:
Auto
Manual Focus

Focus Type:

The type of focus of the lens from full manual control to auto focus.
In The Box
With Purchase
XA60
HDU-1 Handle Unit
PD-E1 USB Power Adapter
BP-820 Battery Pack
Lens Hood
Mic Holder
With a Rental
Canon XA60 Camcorder
Battery (Canon BP-820)
Power Cable
Handle with Audio Controls
Eyecup
Carrying Case
58mm UV Filter
Lens Hood