Sony's Firmware Updates for the a9, a7III, & a7RIII! (v5.0 & v3.0)
Published: April 19 2019
Categories:
We spoke with Gene Everett from Sony about what's in store for the new firmware updates to the Sony a9 firmware v5.0, a7III and a7RIII v3.0. Here's a few things that have been implemented for these updates!
For the a9 firmware update v5.0, the autofocusing has been improved significantly integrating a new AI autofocusing engine that's constantly computing it's autofocusing over 60 times per seconds.
The new AI automatically prioritizes Eye-AF at the half press of the shutter or can be set with the AF-ON button. The a7Riii & a7III will not be able to do as many calculations as the a9 but rest assured, the algorithm has been implemented in the firmware 3.0 for them as well. That means that the autofocusing system will be able to detect and focus on the human eye even if the subject is looking down, partially blocked in the frame, turning or backlit.
The a7RIII & A7III are first to get the Animal Eye-AF feature for their firmware v3.0. Unfortunately, the Animal Eye-AF will not come with the firmware v5.0 for the a9 just yet, but firmware v6.0 is expected to be released during the summer which we are all hoping to do real well with capturing aviary photographs.
There are currently over 8 million animal species on Earth, so we understand that it's probably not going to be perfect for every animal on Sony's first run. As Sony develops Animal Eye AF they will continue to increase the range of animals recognized by the system as well as the system's ability to track their movement.
We are super excited to see that the eye autofocusing system has been updated along with the two new feature introudctions of Animal Eye-AF and an intervalometer function to allow time lapses for your photographs!
On May 3rd, 2019 Sony will be here at Unique Photo to update your firmware! So bring your a7III, a7RIII, or a9 while our staff and Sony representatives take care of the rest and answer any questions you may have on your updated camera! Click the banner below to find out more!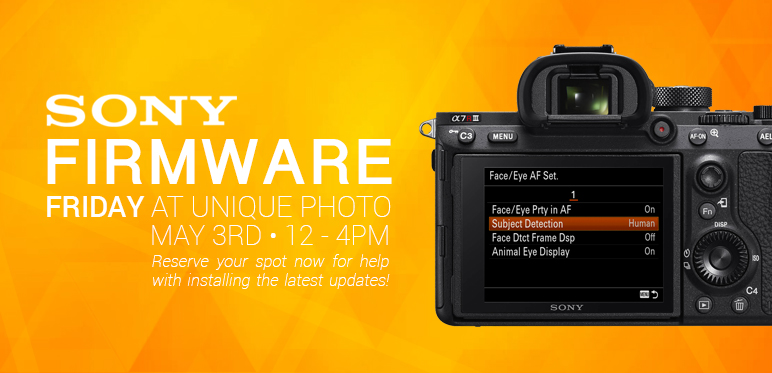 Can't make it to our event? Update your firmware today through these links below:
Sony a9 Firmware v5.0
Sony a7RIII Firmware v3.0
Sony a7III Firmware v3.0
You May Also Like: