Sony Action Cam Tracks Down Go Pro Hero: The First Hands on Review
Published: August 29 2012
By Matt Sweetwood, President, Unique Photo Twitter: @MSweetwood Email: matt@uniquephoto.com
The GoPro Hero created and defined the POV (Point of View) action video camera category. Sony, with today's release of its Action Cam, advances and re-defines it. This pint sized video camera is a game changer at roughly the size of a 15-stick pack of Juicy Fruit gum and about the same weight.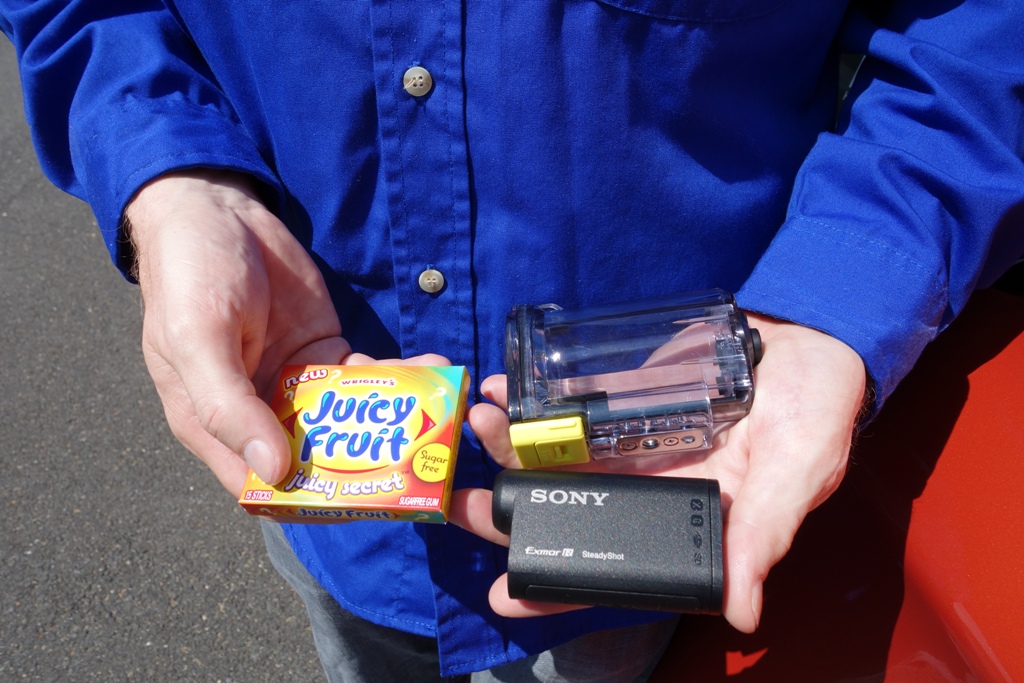 Although small, this camera is no light-weight in terms of performance. Video rates include: HQ 1080/30p, STD 720/30p, a surprisingly high quality VGA 480/30p, SLOW 720/60p and a SLOW 720/120p, the latter allowing for super-slow motion playback. Throw in a Zeiss lens, image stabilization, 3+ hour battery life, a micro-SD memory card slot and a terrific Sony image processor and you have the world's new leader in POV action video cameras. I also need to mention the interface, buttons, and hatches are easy to use and the built-in LCD is easy to read. I was given no instructions but still successfully mastered the intuitive menus in less than 30 seconds.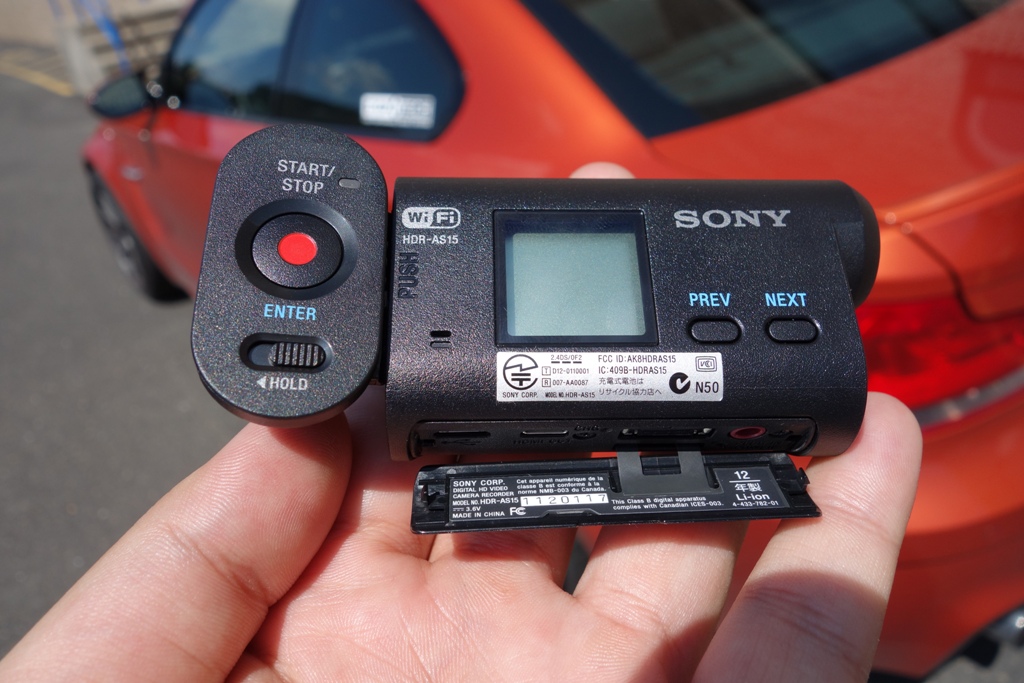 The excitement started for me early last spring when Sony invited me out to their San Diego HQ to see some of their new, soon to be released products. There, I had my first glimpse of the Action Cam. They even had some of the accessories laid out at that time, such as water proof housings, suction cup mounts, and an assortment of other straps and mounts for the various activities one uses a camera like this for. I was particularly impressed to see one future accessory in particular, a detachable LCD screen that turns the Action Cam into a usable camcorder for everyday use. One of the objections we hear frequently at Unique Photo during the sale of a POV camera is that the customer has to buy another video camera that has such a limited use. The ($99 proposed) LCD eliminates that objection.
Last week, Sony was kind enough to drop off a working beta-model of the Action Cam for me to take to a BMW club racing event at NJ Motorsports Park here in New Jersey. The Action Cam's first real-world racing test would be done in my BMW 1M on NJMP's Lightning Raceway. So, with the battery fully charged, a 16GB Micro SD Card inside, my seat back bar-mount and the Action Cam's waterproof housing and tripod mount, I was ready to shoot some auto racing POV action video.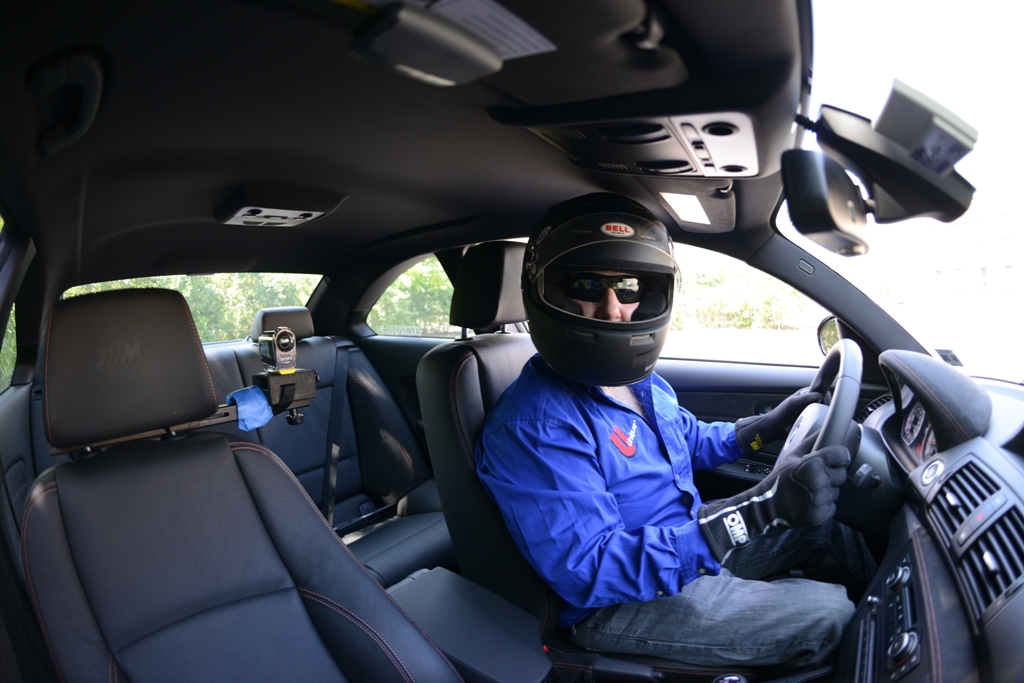 In this first video the Action Cam is set on HQ 1080/30p. First impressions: The video is smooth, even over rough and bouncy conditions (image stabilization works!), and notice the dynamic range of the video. The dark interior, the speedometer (see if you can see it indicate 145mph), the sky, and the pavement are all rendered accurately. One problem other POV cameras have is their inability to adjust to quickly-changing light conditions; turn into the sun and the video becomes overexposed. The Sony Action Cam adjusts to the changing brightness conditions flawlessly. One downside to this video mode is the 2GB file size limits one finds on SD cards which limits maximum video length to just under 18 minutes.
I have the Action Cam set to VGA 480/30p in this video. It is a full, 23-minute track session. The image quality is remarkable given the relatively low resolution setting and smaller file size. This setting is perfect for upload to YouTube and other web services, and for sharing over slow Internet connections. Not to brag, but sharing is something a race car driver likes to do when they make 20+ passes on the way to the checkered flag.
This final in-car video sample the Action Cam is set to STD 720/60p. It is unedited, so you can see some images from the still race car and the quality of the audio without wind noise. In my opinion, this is the ideal setting, providing the best balance between file size and quality. The quality of the video, even after I uploaded it to YouTube, is just awesome. Notice the colors, sharpness, and light adjustment as the car turns into the sun. The speedometer is perfectly readable.
Finally, for those of you using this video camera for applications like auto racing, Sony was thoughtful enough to build a small loop into the waterproof housing which allows for a safety cable. Most racing venues require objects mounted in a car to have 2 restraints. Clamp it on a seat back or roll bar using one of the various accessory mounts and also loop a wire cable through the housing as the second required restraint.
Quite frankly, there are not enough superlatives I can use to describe how much I enjoyed this new POV camera. But wait; I've saved the Action Cam's coolest feature for last! Because I had a beta model, I did not have the Android (iPhone, too) control software which will be available to download via the Google Play Store. This app allows you to control the settings of the Action Cam and see real-time video the camera is taking through its Zeiss lens. You can hold your Android device in your hand and see what the camera sees, wherever it's mounted. That's right, the Action Cam is the first POV Cam to use Wi-Fi for remote control and viewing! The possibilities for such an application are numerous to say the least.
In conclusion, if you want the device that is about to redefine the POV camera market , look no further than the pint-sized and dazzling Sony Action Cam. With configurations starting at $199, the Sony Action Cam has tracked down and passed all its competitors.
The Sony Action Cam and accessories will be available for purchase at Unique Photo about the 3rd week of September.