Ghost Town Fashion Shoot: Simplifying My Kit by Lindsay Adler
Published: August 17 2012
I love shooting in striking locations because it helps to add another level of visual interest to my images. The location can help tell the story, or it give graphic impact to a series of photos.
What's one of the main problems with going out on location? You must control the light, and you must also manage equipment on location. I like to keep it simple… as simple as possible. I find that I don't need an entire studio setup outside or 10 lenses to do the job. In fact, I can accomplish almost all of what I need with a reflector and a couple of lenses. If it doesn't have to be complicated… why complicate it?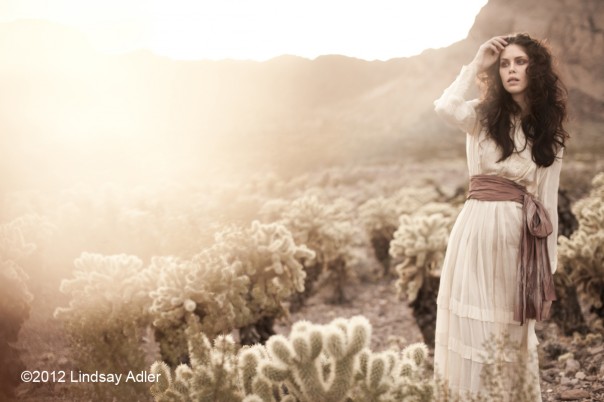 Here I have established the scene by having one of the models out in the desert. I wanted to give a feeling of desolation and loneliness. For this reason I had the model alone, appearing to look for someone in the distance. I included cactus in the frame and the mountains behind her in order to give that feeling of isolation. I also used a piece of plastic in front of the lens to create lensflare (to give the appearance of heat). Sigma 50mm 1.4, 5D Mark 2 | ISO: 200 | Aperture: f2.2 | Shutter speed: 1/800 sec | No tripod | Lensflare tool (plastic) on left side
This February I was invited to do a shoot for the online photo show "Framed" where I could capture my vision, shoot an editorial, and also educate an audience. At the time I was out in Las Vegas and was close to a location I had been dying to shoot for ages. Nelson Ghost Town is less than an hour from Las Vegas. It is an old ghost town (and tourist attraction) filled with old cars, buildings, and even an old crashed plane. In other words, its a photographer's playground! It has been used on the set of dozens of movies, fashion editorials and even music videos. One of my colleagues had photographed there a few years before and I had fallen in love with the images. I love the location so much that I am actually hosting a fashion intensive there this fall! The owners of the location have transplanted old buildings, gas pumps and a variety of props that make this look like a ghost town frozen in time from decades in the past. That is what I am drawn to for this location… its feel of being frozen in time (not just the props or grunge textures).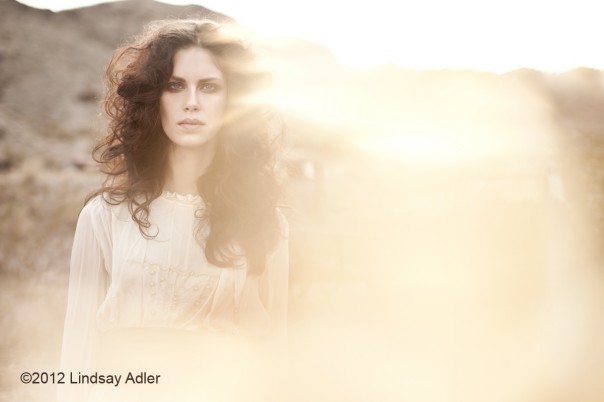 I've have moved in closer to the subject to introduce the viewer more to her personality and emptiness (feeling of loneliness). I have put the sun pointed directly back in the lens and put a piece of plastic in front of the lens to help increase the amount of lensfare. Sigma 50mm 1.4, 5D Mark 2 | ISO: 200 | Aperture: f 2.0 | Shutter speed: 1/800sec | No tripod | Lensflare tool (plastic) on right side
I did my research on the ghost town, and studied the types of images that had been created. Most were lit with studio on location or lots of reflectors, including a lot of the environment. I wanted to do something unique and eye catching, so I decided I wanted to create images that felt frozen in time. I decided to play with the concept of two sisters that were trapped in this ghost town. They were not only trapped in this location, but also trapped in time. I wanted to convey the sisters as lonely, down-trodden, and showing that they were each other's only support and interaction.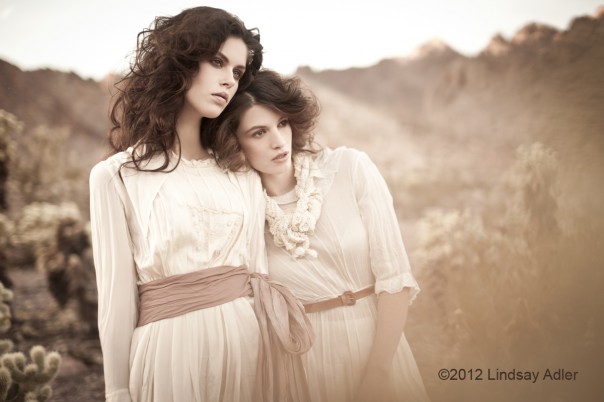 The two sisters are together, and they are each other's only support. I use their pose and body language to communicate this message. The emptiness in their expressions help show their isolation, while their posing emphasizes their reliance on one another. Sigma 50mm 1.4, 5D Mark 2 | ISO: 200 | Aperture: f1.4 | Shutter speed: 1/500sec | No tripod | Lensflare tool (plastic) subtle use on right side
If you take a look at the images I have shared here, all were taken with a Sigma 50mm 1.4 lens on the Canon 5D Mark II. This lens is incredible. It is sharp, it focuses quickly, and it has a beautiful narrow depth of field (the bokeh blur is striking!). In addition to the quality of the lens, it is also very light and portable. Unless I need a tight headshot, this lens allows me to capture a wide range of images… from mid-length shots to environmental scenes all at 1.4 (or other wide apertures).
NOTE: If I need some really tight beauty shots (just headshot), I would select a Sigma 70-200mm 2.8 lens or a Sigma 85mm 1.4 lens. If I am trying to keep my setup light and minimal, the fixed 85 would be a better choice.
Furthermore, this shoot utilized no flash or studio on location. Even better, I didn't even use reflectors in these images! If you take a look at my equipment list required for this shoot: Sigma 50mm 1.4 and CF cards! Its NOT massive amounts of equipment that makes the photographer, but instead their vision, composition, light and the way they portray the scene.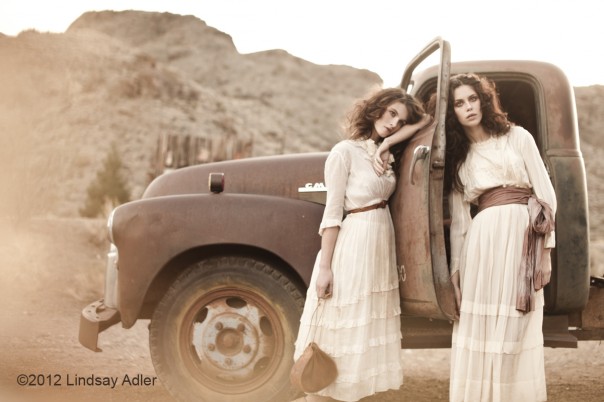 To establish even more of that aged looked, I have included this worn truck in the frame. I've shot at a long angle to make the subject dominate in the frame and also to include the ridge of the mountain in the background (to give more sense of location). Again the poses have been selected to give a quiet and lonely tone. Sigma 50mm 1.4, 5D Mark 2 | ISO: 200 | Aperture: f 2.2 | Shutter speed: 1/160sec | No tripod | Lensflare tool (plastic) subtly used on left side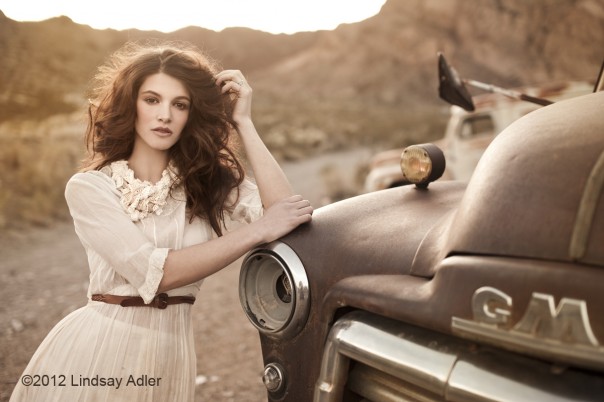 In this image I've moved in for a portrait of the other sister. The sun at her back continues to give her a beautiful glow and separation from the background. Sigma 50mm 1.4, 5D Mark 2 | ISO: 200 | Aperture: 2.2 | Shutter speed: 1/320sec | No tripod
To plan this shoot I had my stylist Tia Reagan acquire clothing that looked like it was from the late 1800s and early 1900s to give an aged and elegant appearance. I selected two models from a local agencies that looked like they could realistically be sisters or at least from a different era. I spent less than an hour at this location before the sun dipped too far behind the mountain for good quality of light. I only had a short period of time, but because I had my equipment minimal, I wasn't fussing with lights or moving a lot of equipment, and therefore had plenty of shooting time.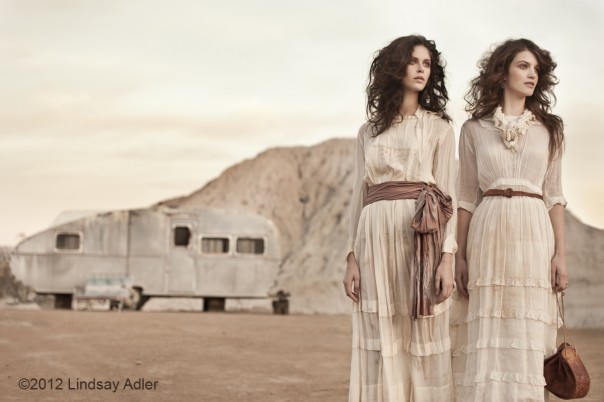 In this final image in the series I have gotten to a low angle to make the subjects dominant in the scene, and moved the girls away from the trailer in the background so that I could include it as a nice story-telling element. I got down low enough so that the girls' heads would not be bisected by the mountain in the background. I posed them looking off to the right as if looking for a solution or into the future. Sigma 50mm 1.4, 5D Mark 2 | ISO: 200 | Aperture: f2.2 | Shutter speed: 1/500sec | No tripod
A great deal can be accomplished with a good quality lens, an awareness of light, and strong compositions.
The result of all our efforts was Season 3, Epsiode 9 of FLIX on the Framed Network. You can watch my interview, see my behind the scenes of the shoot and more.