*Opened Box* Panasonic Lumix G9 Camera with 12-60mm f/3.5-5.6 Lens
Product #:

UIOPND1913
Manufacturer #:

DC-G9MK
UPC:

885170427303
*Open Box* Panasonic Lumix DC-G9 Mirrorless Micro 4/3 Camera
With 12-60mm f/3.5-5.6 Asph Vario Lens
20.3 MP Live MOS sensor
Venus Engine image processor
3.0-inch free-angle touchscreen LCD
Continuous shooting up to 60 fps
UHD 4K recording at 60 fps
Advanced DFD technology AF
Dual I.S. 2
Wi-Fi with NFC, Bluetooth 4.2 LE
Splash, dust, and freezeproof construction
DMW-BLF19 Li-ion battery pack
Condition: *Open Box*
Open Box
Viewfinder Type:

Electronic
Viewfinder Type:

Electronic with 3,680,000 Dot
Viewfinder Magnification:

Approx. 0.83x
Articulating Touchscreen LCD
Screen Resolution:

1,040,000 Dot
Interface:

Dual Slot: SD/SDHC/SDXC (UHS-II)
JPEG, Raw
Effective Pixels:

20.3 Megapixel
17.3 x 13 mm
Image Sensor Type:

MOS
Micro Four Thirds
Filter Diameter:

58 mm (Front)
12 to 60mm (35mm Equivalent Focal Length: 24 to 120mm)
f/3.5 to 5.6
Micro Four Thirds
OVERVIEW
THIS IS A USED ITEM
IMAGES ARE FOR ILLUSTRATIVE PURPOSES ONLY
Condition: *Open Box*
The Panasonic Lumix DC-G9 Mirrorless Camera is packed with various features that aid you when composing a shot. This digital camera can fit Micro Four Thirds mount lenses. The 20.3 MP Digital Live MOS sensor and Venus engine image processor work together to produce a vibrant picture quality with accurate colors and detail. You can record videos in stunning UHD 4K quality and take continuous 4K still shots at 60 fps. The 5-axis sensor stabilization ensures a smooth movement even when shooting handheld. You can view the camera setting on the top LCD. The built-in Wi-Fi and Bluetooth 4.2 allows you to transfer images to smartphones as well as control the camera remotely.
Optics and Focus
The camera accepts Micro Four Thirds mount lenses. This camera comes with the advanced depth-from-defocus AF system that includes 225 contrast detection points. The focusing system offers a fast response in 0.04 seconds to facilitate the continuous shooting mode. With the Starlight AF function, the camera provides an accurate autofocus even in low light down to -4 EV. You have to use the rear joystick to control the focus setting manually. You can also utilize the Touch MF Assist for the manual focus operation. Both mechanical and electronic shutters are included in the camera design to offer distortion-free image capture and a quiet performance respectively.
Improved Focus Detect & Selective AF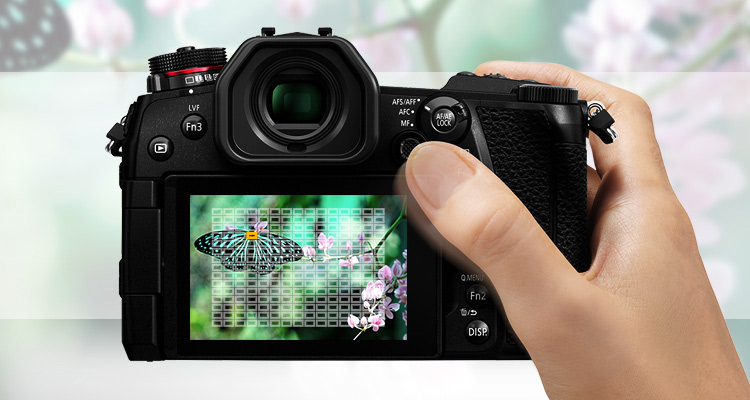 A Joystick Controller on the back can be used to smoothly and intuitively select focus blocks inside the focusing area grid overlay. A new 225-Area AF focus detection area has been massively increased from 49 (conventional LUMIX G cameras) to 225 points. The Custom Multi AF mode enables free selection of blocks inside the 225 focusing area.
Sensor and Screen
This Panasonic mirrorless camera is fitted with a digital Live MOS sensor that makes the camera capture 20 MP images. The 3.0-inch rear touchscreen LCD offers 1040-dot resolution view of the scene. You can tilt the LCD as per your requirement to use the camera from different shooting angles. The 21mm OLED viewfinder lets you see the final image in 3.68 million dot resolution with a 0.83× magnification. You can adjust the diopter of the viewfinder eyepiece from -4 to +3 m. You get a 100% frame coverage with both LCD and OLED viewfinder. Additionally, the Night Mode automatically adjusts the brightness of the LCD and viewfinder to provide a comfortable view.
Image and Video
The camera takes 20 MP images with a maximum resolution of 5184×3888 dpi. Both continuous shooting mode and UHD 4K video recording is supported by the Venus Engine image processor. The processor also reduces noise when shooting with a high ISO in low light. You can capture 6K stills at 30 fps and 4K images at 60 fps in Burst, Pre-burst, and Burst (S/S) modes. The dual I.S. 2 couples the camera's sensor-shift image stabilization technology with the lens-based image stabilization to reduce camera shakes by 6 stops. With the high-resolution mode, the camera captures and compiles eight different images to create a single 80 MP raw file.
Rugged Design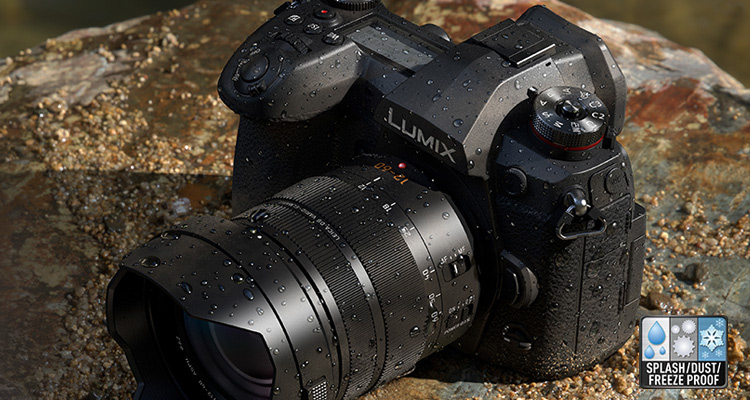 The LUMIX G9 is built tough to withstand heavy professional use. It is freezeproof down to -10-degrees in addition to splash / dustproof construction thanks to weather sealing on every joint, dial and button. A magnesium alloy full diecast armor frame makes the body lightweight yet durable while bringing ruggedness to the compact size.
Other Features
The camera allows you to send captured images to a smartphone via built-in Wi-Fi and Bluetooth 4.2. You can use the hot shoe contact for attaching an electronic flash device or the PC terminal for connecting a flashbulb. Dual UHS-II SD card slots are provided to support relay recording or take back-up. Along with the magnesium alloy construction, the camera has a dust- and water resistant sealing to protect the internal mechanism from environmental elements. The camera can take 380 shots on a fully charged DMW-BLF19 battery.
Product Reviews
There are no reviews for this product.
Specifications
Brand
Panasonic - panasonic
Physical Specifications
Dimensions:
5.4 x 3.8 x 3.6" / 136.9 x 97.3 x 91.6 mm

Dimensions:

The measurements of an object.
Interface
Connectivity:
3.5mm Headphone,
3.5mm Microphone,
2.5mm Sub-Mini,
HDMI A (Full Size),
USB Micro-B (USB 3.0)
Connectivity:
Wi-Fi
Bluetooth
Viewfinder Specifications
Viewfinder Type:
Electronic
Viewfinder Type:
Electronic with 3,680,000 Dot
Viewfinder Magnification:
Approx. 0.83x
Power System
Battery Type:
DMW-BLF19 Rechargeable Lithium-Ion, 7.2 VDC, 1860 mAh

Battery Type:

The type of battery for a device. Some cameras use single use alkaline while others use rechargeable lithium batteries.
Brand
Brand:
Brand:
Panasonic
Monitor Specifications
Panel Type:
Articulating Touchscreen LCD

Panel Type:

Type of LCD monitor.

Screen Resolution:
1,040,000 Dot
Memory & Storage Specifications
Interface:
Dual Slot: SD/SDHC/SDXC (UHS-II)
Camera Attributes
Recording Limit:
Up to 29 Minutes, 59 Seconds
Picture Format:
JPEG, Raw

Picture Format:

The types of files that a particular camera produces. All cameras output JPEG images, but some of the more sophisticated models will shoot in RAW mode. RAW Image Formats will vary based on manufacturer.

Audio Recording:
Built-In Microphone (Stereo)
External Microphone Input
Effective Pixels:
20.3 Megapixel
Extended ISO:
100 to 25600
Autofocus Sensitivity:
-4 to +18 EV
Image Stabilization:
Sensor-Shift, 5-Axis
Total Pixels:
21.77 Megapixel
Focus Mode:
Continuous-Servo AF (C), Flexible (AFF), Manual Focus (M), Single-Servo AF (S)
Image Sensor Size:
17.3 x 13 mm

Image Sensor Size:

Refers to the actual physical size of the imaging sensor in the camera. A sensor that has the same dimensions as a 35mm frame of film is considered to be "full" frame. Other smaller sensor sizes are described in terms relative to a "full" sized sensor. (e.g. an APS-C 1.5x crop sensor)

Electronic Shutter:
Electronic Front Curtain Shutter
1/8000 to 60 Seconds
1 to 30 Minutes in Bulb Mode
Electronic Shutter
1/32000 to 1 Second
1/16000 to 1/25 Second in Movie Mode

Electronic Shutter:

Blades or a curtain of some type of cover that controls the time during which light reaches the film or a sensor.

Autofocus Points:
Contrast Detection: 225
Interval Recording:
Yes
Aspect Ratio:
1:1, 3:2, 4:3, 16:9
Self Timer:
2/10-Second Delay
Image Sensor Type:
MOS
White Balance Mode:
Auto, Cloudy, Color Temperature, Daylight, Flash, Incandescent, Shade, White Set
Metering Type:
Center-Weighted Average, Multiple, Spot
Continuous Shooting:
Up to 9 fps at 20.3 MP
Up to 12 fps at 20.3 MP
Up to 20 fps at 20.3 MP
Up to 60 fps at 20.3 MP
Up to 30 fps at 18 MP
Up to 60 fps at 8 MP
Camera Format:
Micro Four Thirds (2x Crop Factor)
External Recording Modes:
4:2:2 8-Bit
UHD 4K (3840 x 2160)
Full HD (1920 x 1080)
Recording Modes:
MP4 4:2:0 8-Bit
UHD 4K (3840 x 2160) at 59.94p [150 Mb/s]
UHD 4K (3840 x 2160) at 23.976p/29.97p/59.94p [100 Mb/s]
Full HD (1920 x 1080) at 59.94p [28 Mb/s]
Full HD (1920 x 1080) at 29.97p/180p [20 Mb/s]
AVCHD
Full HD (1920 x 1080) at 59.94p [28 Mb/s]
Full HD (1920 x 1080) at 59.94i [17 to 24 Mb/s]
Full HD (1920 x 1080) at 23.976p [24 Mb/s]
Monitor Size:
3"
Exposure Compensation:
-5 to +5 EV (1/3 EV Steps)
ISO Sensitivity:
Auto, 200 to 25600
Maximum Resolution:
5184 x 3888
Exposure Modes:
Aperture Priority, Manual, Program, Shutter Priority

Exposure Modes:

The various programmed, automatic, semi-automatic, and/or manual shooting modes which a camera has available for use. (e.g. Program, Shutter Priority, Aperture Priority, and Programmed Automatic)

Lens Mount:
Micro Four Thirds

Lens Mount:

The type of lens mount.

Metering Range:
0 to 18 EV
Camera Body Weight:
1.27 lb / 579 g (Body Only)
Lens Specification
Lens Min. Focus Distance:
7.87" / 20 cm

Lens Min. Focus Distance:

The shortest distance that a lens can focus.

Dimensions:
2.6 x 2.8" / 66 x 71 mm
Minimum Aperture:
f/22

Minimum Aperture:

How wide a lens can be opened.

Filter Diameter:
58 mm (Front)
Lens Magnification Factor:
0.27x

Lens Magnification Factor:

This is the magnifying factor of a lens. Macro lenses will often be described by their "magnification factor". A lens with a 1:1 magnification factor produces a projected image on the sensor which is the same as the subject.

Diaphragm Blades:
7, Rounded
Optical Design:
11 Elements in 9 Groups
Image Stabilization:
Yes
Weight:
7.41 oz / 210 g
Focal Length:
12 to 60mm (35mm Equivalent Focal Length: 24 to 120mm)

Focal Length:

Focal Length

Angle of View (diagonal):
84.05° to 20.44°

Angle of View (diagonal):

Area of a scene that a lens covers or sees. Determined by the focal length of the lens

Maximum Aperture:
f/3.5 to 5.6

Maximum Aperture:

How wide a lens can be opened.

Focus Type:
Auto and Manual Focus

Focus Type:

The type of focus of the lens from full manual control to auto focus.

Focus Type:
Autofocus

Focus Type:

The type of focus of the lens from full manual control to auto focus.

Mount Type:
Micro Four Thirds

Mount Type:

This is the mount type for the lens to attach to the camera body.
In The Box
*Open Box* Panasonic Lumix DC-G9 Mirrorless Micro 4/3 Camera
(H-FS12060) 12-60mm f/3.5-5.6 Asph Vario Lens
Battery Charger (AC Adaptor, USB connection Cable included)
Battery Pack
Body Cap
Hot Shoe Cover
Eye Cup
Flash Syncro Socket Cap
Cover for the Battery Grip Connector
USB Connection Cable
Shoulder Strap