Introduction
When it comes to studio photography, various kinds of accessories can be used to help you get the most of your pictures including backgrounds, copystands, copylights, rail systems and much more. Although the camera is the most important tool used to capture images, a nice backdrop can make the difference between a drab photo and a spectacular portrait. Unique photo offers a variety of different backdrops and background accessories from simple seamless backdrops to intricately painted canvas.
Purpose of the Guide
This buying guide will help you to accurately choose the backdrops and background stands based on your requirements.
Why Use a Background?
Backgrounds, also known as backdrops, are a standard feature used in a controlled setting such as a photography studio. The ability to change backgrounds adds versatility to portraits allowing you endless possibilities in truly crafting an image. Backdrops are available in various types and are categorized based on the size and materials they are made of. These can range from simple solids to subtle patterns and even custom-painted, photo-realistic scenes. To effectively use a backdrop you will need stands and other accessories.
Features of Different Backgrounds
Most background stands support full-width or half-width rolls of paper which are categorized based on the materials used in them. Let us check out the various types of backgrounds.
Seamless Paper
The seamless paper is the most basic backdrop used in photography. Seamless background paper comes in rolls with typical widths of 26, 53, 107 or 140 inches and are usually 12, 35 or 50 yards long. These backgrounds are usually available in solid colors and can be used for portraits and product or still life photography because of its flexibility.
Muslin Backgrounds
Muslin is a cotton weave fabric that holds dyes and paints with ease. These backgrounds are made of lightweight material and are clamped to a background stand or even draped over anything to transform the look of a picture. As the muslin is made of thinner and lighter material, it does not show wrinkles and can be used as a neutral background or as a dramatic one. It comes in many different sizes and pattern that range from 5x8 to 30x30 feet and solid color backdrop or designer series patterned design. Muslin backgrounds can feature replicas of old master paintings, abstract patterns or marbleized patterns. This material is very portable and fairly inexpensive making it a favorite with photographers.
Canvas Backgrounds
Canvas backgrounds are made of a moderately thick, heavy fabric. These backdrops are mostly painted to look like classic paintings or have imagery of scenic realism. They are also known as roll drops or scenics and need a suspension system. Usually, photographers use motorized backdrop stands though background rollers can also be used to clamp the canvas. A good canvas backdrop can provide an amazing look to the photographers scenes and can even last for a longer span of time. These backdrops are also available with subtle patterns or even neutral backgrounds which highlights the portrait subject.
Velour
Velour backgrounds are a relatively thick but lightweight material that is available in 40x5 to 8x12 inches. They give you the look of seamless without the hassle of getting crumpled up and ruined. Most are made of wrinkle-resistant fabric and can be reused again and again. Even though these backdrops are not available in a wide range of patterns and colors, they are perfect for those looking for low maintenance backdrops.
Collapsible Disc
Collapsible backgrounds are an ideal choice for photographers who need a portable, compact, and simple to set up and take down. These versatile backdrops are lightweight, easy to setup and never show creases. Collapsible backgrounds spring open, attach to stands with touch fasteners, and can be used horizontally or vertically. Portable collapsible discs are limited and available in a small range of sizes. There are some foldable disc backdrops available that extend in front of the backdrop to the floor, serving as a seamless background for full-length subjects.
Special Effect Backgrounds
When it comes to special effect backgrounds, the chroma key backdrops are the most common used in tandem with special effects. The chroma key or key backgrounds are usually set to perfect blue or green helping a computer differentiate the background from the subject easily. This background can be used to superimpose a second image over the first one to show the chroma key color section.
Another special effects background is the translucent background that is used in videography or photography to disappear under accurate lighting. It is a perfect backdrop to use for theatrical scrim effects wherein the photographers or videographers control the appearance and disappearance of the subjects. These backgrounds can be illusion netting, gauze, scrims and so on. The fabric used for these backdrops can be translucent or transparent and diffusive or non-diffusive.
Utilities of Backgrounds
The backdrops used for photography are usually made of lighter material which makes it easy for the photographers to carry them around while traveling. The backdrops are usually hung as panels or can be easily draped over anything to give a particular effect. They can also be suspended from background stands by using clamps. Depending upon the type of effect needed by the photographer, the type and size of backdrop can be selected from the wide variety available. Since backdrops require some support, there are many types of background supports available that are well-suited for location work, or even sophisticated permanent studios.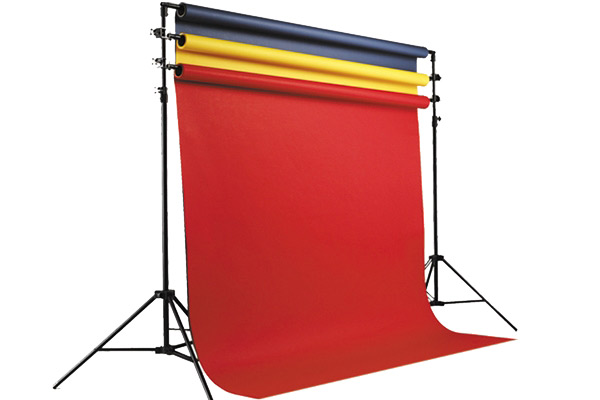 Some stands can even support multiple backdrops such as the Savage Multiple Polevault Stand
Top 5 Manufacturers
Since studio equipment can be just as important as a camera to professional photographers, many manufacturers provide high quality backdrops. Here, we have listed the top manufacturers who are well-known for offering the best quality backdrops and background stands.

Savage Universal is a manufacturer of quality background and paper products. They are a world leader in producing high quality photographic products such as backdrops, studio equipment, tethered photography equipment, mat & mount board and much more.

Westcott a major innovator in creating professional light control products. They are a world leader in professional photography and video lighting equipment. Westcott has more than 600 items for professional and beginner photographers which include backdrops and background stands.

Photoflex is a world renowned company that produces innovative lighting products for photographers. Their products are well-known among the top-most digital, film and video industries worldwide. The lighting products made by this brand are mostly preferred by professionals in the photography world.

Lastolite is a leading manufacturer of backgrounds and lighting control equipment that are used by photographic and video industries. The products offered by this company are innovative and of the best quality.

Giottos is a world famous company that manufactures the best quality professional products including tripods, monopods, ball, pan and video heads, lens cleaning kits, backdrops, background stands and much more.