Introduction
Prior to digital technology, photographers lacked the convenience of an instant preview after the shutter was fired. Instead one would have to wait until their film was developed, which is not so reassuring for those who mess up a lot... Luckily instant film was created to fill this void. No darkroom necessary.
Instant film was first introduced by AGFA and then made popular by Polaroid to be used in instant cameras such as their famous Land Camera. Kodak and Fuji soon followed suit providing similar technology for instant imaging which led to legal troubles of course. While Polaroid revolutionized the product, they have since discontinued their film leaving Fuji to be one of the only manufacturers of instant film aside from the Impossible Project. While instant film has had a rollercoaster ride of ups and downs, instant photography still remains popular with all ages of photographers and Fuji Instax continues to provide these instant fanatics the medium that embraces fun and spontaneity. If you are planning on buying a Fuji instant camera, check out this buying guide that goes over the basics of Fuji Instax cameras.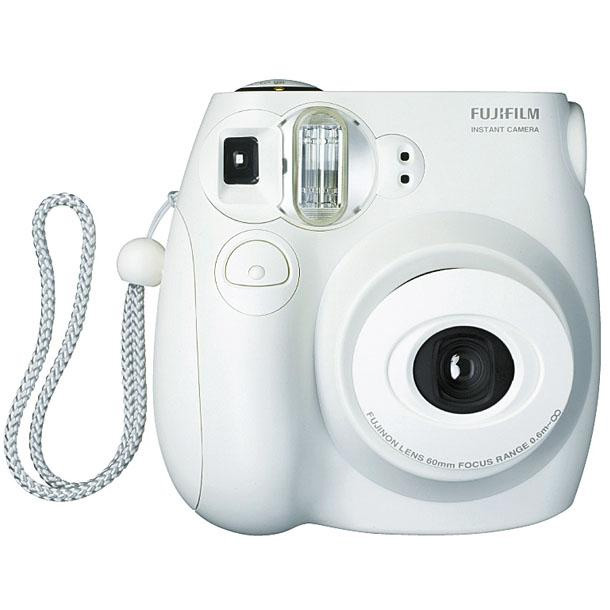 Figure 1: FujiFilm Instax
Purpose of the Guide
Fujifilm offers various different types of Instax cameras for photographers to choose from. In order to select the right model for you, we have put together this little guide to help you become further acquainted with the Fuji Instax System.
What is Fujifilm Instax?
Fuji Instax was first introduced in the 90's offering two formats of instant film: Their original "wide" format (60mm x 99mm) and mini format (62mm x 46mm) Instax improved on Polaroid SX-70 formula by allowing the film to be exposed through the rear of the photograph and had a reversed order of the dye layers, allowing the exclusion of a reflex mirror. Color balance was vastly improved and the inclusion of a power source inside the camera (opposed to being inside the film pack) was deemed more economical. Once Polaroid ceased making film, Instax remained the only integral instant film system around until The Impossible Project.
Figure 2: Instax Mini 50S
Features of Fujifilm Instax
Stylish Compact Body
Fuji Instax cameras offer a variety of sizes and styles. Most of the mini cameras are very portable and light-weight unlike a DSLR. Dressed to impress, the Mini line offers a variety of fun colors!
Simple Operation
Turn on the Camera by pressing a button or pulling out the lens (depending on the model) and start taking pictures! Most of the functions are automatic making it easier for you to have fun!
Brightness Adjustment Dial
With a simple turn of the adjustment dial you can adjust the aperture according to the shooting conditions: Indoors, Cloudy, Sunny with shade, or Bright and sunny.
Format
Choose from two formats of Instax film the original "wide" 60mm x 99mm film used by the Fuji Instax 210 or the Mini 62mm x 46mm format used by the 7S, 8, 25 and 50S.
Self Timer
Featured on the 50s is a Self-Timer mode allowing you to take two photos with the single press of the shutter.
High Performance Flash
The camera detects the brightness of the background to control the shutter speed. Backgrounds can be captured clearly even in dark rooms.
Lens and Exposure
Fujifilm Instax cameras come with high quality lenses with autofocusing. The close-up lens allows you to shoot from up to 30-45cm away from a subject.
Great Quality Film
Instax film provides sharp, clear quality with amazing vivid color and natural skin tone. Instax mini prints fit just about anywhere and even come in cool frame designs like pink polka dots and rainbow.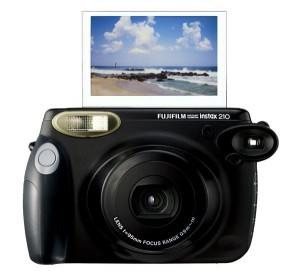 Figure 3: Image Quality
Film and Photo Storage
Camera films are made of chemicals that can adversely get affected due to high temperature, humidity and other harmful gases. It is advised to keep unused film in a cool, dry, and properly ventilated place. When the film is not in use, it is preferable to store it in a refrigerator 50 degrees below Fahrenheit. Just remember to have it at room temperature for at least 12 hours before shooting. Factors like strong light, high temperatures, and humidity can severely affect the quality of the finished photos so it is necessary to preserve all the finished photos in a dry, dark room that is well-ventilated.
Top Instax Cameras
Fujifilm is a well-known company that has produced many different instant cameras under its Instax series. Here, the Fujifilm Instax series cameras have been highlighted along with the various features they provide.