Panasonic LUMIX G100 Mirrorless 4K Vlogging Camera with 12-32mm Lens
Product #:

PND1530
Manufacturer #:

DC-G100KK
UPC:

885170426900
20.3-megapixel Sensor w/o Low Pass Filter
ISO range from 200 – 25,600
4K 24/30p including V Log L
OZO Audio clear audio quality with 3 built in mics
Slow & Quick FHD High speed video 60fps / 90fps / 120fps
Hybrid Image Stabilization - 5 Axis O.I.S + E.I.S
Mic Jack / USB Charging
Free-angle, 3.0-inch (7.5cm), 3:2 aspect
Viewfinder Type:

LCD Live View Finder
Effective Pixels:

20.30 megapixels
Image Sensor Type:

Live MOS Sensor
Digital Single Lens Mirrorless camera
Micro Four Thirds mount
OverView
NEXT-LEVEL VLOGGING IS HERE: The G100 4K vlogging camera has the superior performance and portability, designed especially for content creators. Shoot, transfer, edit, and upload—in sparkling video and audio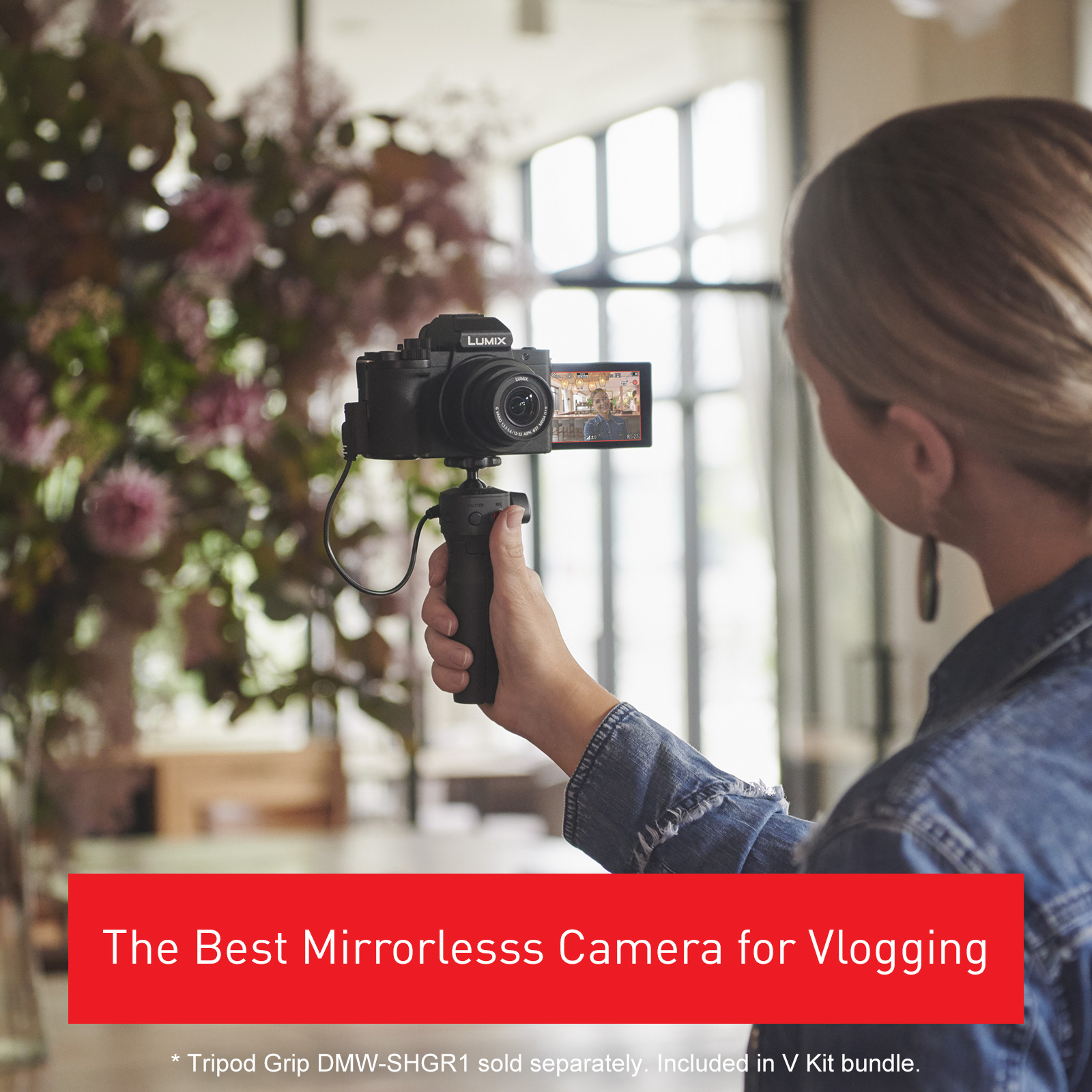 FEATURES FOR BEGINNERS AND EXPERTS: Intuitive, lightweight camera is packed with features to make content creation easy to learn and cultivate, from a Frame Marker to V-LogL recording
ADVANCED OZO AUDIO WITH TRACKING: Audio tracking auto-adjusts the recording range and direction to record clearly in crowds, and during interviews, speeches, and selfies
FRAME MARKER : Indicator of final picture area that includes 1:1, 4:5, 5:4 and 9:16 allows you to check composition while recording.
COMPACT, LIGHTWEIGHT DESIGN: G100 is lightweight even with a lens attached to support one-handed recording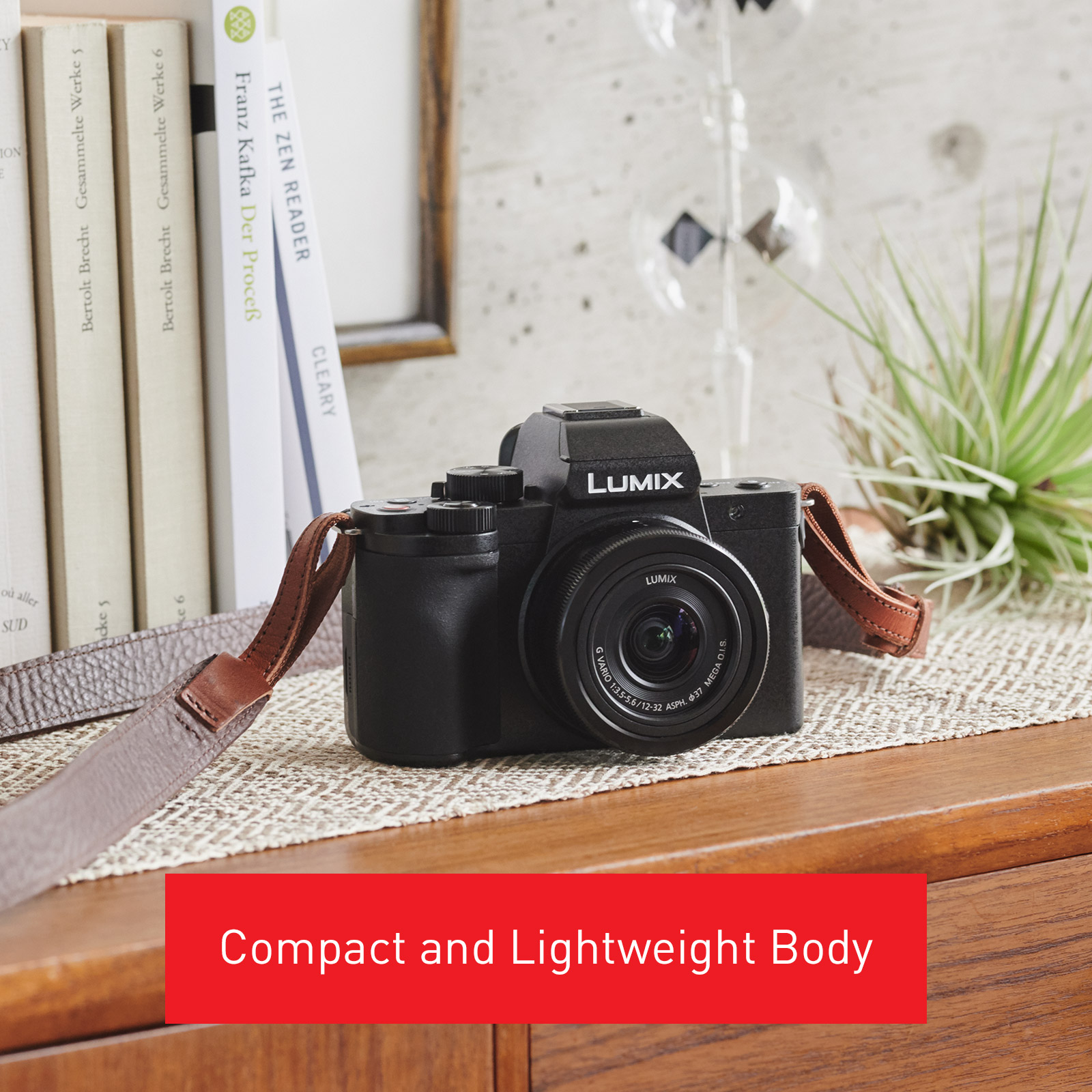 Next-level vlogging is here! The LUMIX G100 brings you everything you need to create a high-quality vlog, with the superior performance and portability you have come to expect from LUMIX. Create smooth, high-resolution QFHD 4K 24p/30p videos in 3840x2160 resolution and FHD at 60p.
You'll find all the camera features you need, right at your fingertips: a 3.0-inch free-angle touch rear monitor and advanced image stabilization, to ensure that you can shoot a clear walk-and-talk from any angle; to the Frame Marker, which enables you to quickly and easily check the composition in the camera frame; to the REC Frame Indicator, which helps you avoid time-consuming re-dos by clearly indicating when the camera is recording. Various popular aspect ratios such as 16:9, 4:3, 1:1, and 9:16 are available, ready for every platform from Instagram to YouTube.
The G100 also features high-quality spatial audio recording, integrating OZO Audio by Nokia. The high-performance built-in mic is composed of three internal microphones (Surround, Front, and Back), which can be activated manually or automatically through the Tracking function to ensure clear audio whether you're recording selfies, interviews, live events, or nature. When you're ready to start editing, you can retouch, resize, crop, and more within the camera, or send to a Bluetooth or Wi-Fi-paired device with the push of a button via the LUMIX Sync app. For advanced videographers, the LUMIX G100 supports V-LogL recording.
Compatible with the Micro Four Thirds system, the G100 is remarkably compact and lightweight, easy to carry even with a lens. Tripod grip (sold separately) makes it easy to hold the camera and connects with the camera via USB to start/stop video recording, release the shutter, and enable/disable Sleep mode. Whether you are a beginner or experienced in content creation, you will find the G100 the perfect camera for creating ready-to-share, gorgeously high-quality vlogs and still photos that bring your ideas to life.
Product Reviews
There are no reviews for this product.
Specifications
Image Sensor
Color Filter System:
Primary color filter

Color Filter System:

The amount of pixels on a camera sensor that are used when an image is captured. Although sometimes smaller than the total pixel count, it is an insignificant difference.
Display & Viewfinder
Screen Size:
Free-angle, 3.0-inch (7.5cm), 3:2 aspect

Screen Size:

The size of the screen listed by height and width.

Diopter Adjustment:
Approx. 20 mm / -4.0 - +2.0 (dpt)
Viewfinder Resolution:
Approx. 3,680k dots equivalent
Viewfinder Magnification:
Approx. 100% / Approx. 1.46x / 0.73x (35mm camera equivalent) with 50 mm lens at infinity; -1.0 m-1
Display Type:
TFT LCD monitor with static touch control

Display Type:

The type or brand of the screen.

Monitor Resolution:
Approx. 1,840k dots

Monitor Resolution:

A measurement of the LCD Monitor's resolution not by width by height, but rather the total amount of dots.
Physical Specifications
Dimensions:
Approx. 115.6 x 82.5 x 54.2 mm / 4.55 x 3.24 x 2.13 inch (excluding protrusions)

Dimensions:

The measurements of an object.
Viewfinder Specifications
Viewfinder Type:
LCD Live View Finder
Power System
Battery Type:
Li-ion Battery Pack (7.2V, 1025mAh, 7.4Wh) (Included) USB power charging

Battery Type:

The type of battery for a device. Some cameras use single use alkaline while others use rechargeable lithium batteries.
Brand
Brand:
Brand:
Panasonic
Camera Attributes
Recording File Format (Image):
4K Photo: MP4 (H.264/MPEG-4 AVC, Audio format: AAC (2ch)) Extracted still images: JPEG (DCF, Exif 2.31)
Recording File Format (Image):
JPEG (DCF, Exif 2.31), RAW
Effective Pixels:
20.30 megapixels
Light Metering Modes:
Multiple / Center Weighted / Spot
Image Stabilization:
5-axis HYBRID I.S. *For video recording only. 4-axis compensation works in 4K video recording.
Total Pixels:
21.77 megapixels
Focus Mode:
AFS (Single) / AFF (Flexible) / AFC (Continuous) / MF
Image Sensor Size:
17.3 x 13.0 mm (in 4:3 aspect ratio)

Image Sensor Size:

Refers to the actual physical size of the imaging sensor in the camera. A sensor that has the same dimensions as a 35mm frame of film is considered to be "full" frame. Other smaller sensor sizes are described in terms relative to a "full" sized sensor. (e.g. an APS-C 1.5x crop sensor)

USB/HDMI Ports:
USB 2.0 Micro-B
microHDMI TypeD / VIERA Link Video: Auto / 4K/30p / 1080p / 1080i / 720p / 480p Audio: Stereo
File Size (Pixels):
Motion Picture:
[4K] 3840x2160 "4K/30p: 100Mbps 4K/24p: 100Mbps"
[Full HD] 1920x1080 "FHD/60p: 28Mbps FHD/30p: 20Mbps FHD/24p: 24Mbps"
[HD] 1280x720 HD/30p: 10Mbps
File Size (Pixels):
Slow & Quick:
[Full HD] 1920x1080 "60p, 28Mbps (Sensor output is 120fps / 30fps / 15fps / 8fps) 30p, 20Mbps (Sensor output is 120fps / 60fps / 15fps / 8fps / 4fps)"
File Size (Pixels):
Still Image:
[4:3] 5184x3888(L) / 3712x2784(M) / 2624x1968(S) / 3328x2496(4K PHOTO)
[3:2] 5184x3456(L) / 3712x2480(M) / 2624x1752(S) / 3504x2336(4K PHOTO)
[16:9] 5184x2920(L) / 3840x2160(M) / 1920x1080(S) / 3840x2160(4K PHOTO)
[1:1] 3888x3888(L) / 2784x2784(M) / 1968x1968(S) / 2880x2880(4K PHOTO)
AF Mode:
Face/Eye Detection / Tracking / 49-Area / Custom Multi / 1-Area / Pinpoint (Full area touch is available) (Scalable AF frame size and flexible AF position)
Aspect Ratio:
4:3, 3:2, 16:9, 1:1
Image Quality:
RAW, RAW+Fine, RAW+Standard, Fine, Standard
Image Sensor Type:
Live MOS Sensor
White Balance Mode:
AWB / AWBc / AWBw / Daylight / Cloudy / Shade / Incandescent / Flash / White Set 1, 2, 3, 4 / Color temperature setting 1, 2, 3, 4
Shutter Type:
Electronically-control focal-plane shutter
Metering Type:
1728-zone multi-pattern sensing system
Continuous Shooting:
[Electronic first curtain shutter] AFS/MF: H: 6 frames/sec, M: 4 frames/sec (with Live View), L: 2 frames/sec (with Live View) AFF/AFC: H: 5 frames/sec, M: 4 frames/sec (with Live View), L: 2 frames/sec (with Live View)
[Electronic shutter] AFS/MF: H: 10 frames/sec, M: 4 frames/sec (with Live View), L: 2 frames/sec (with Live View) AFF/AFC: H: 10 frames/sec, M: 4 frames/sec (with Live View), L: 2 frames/sec (with Live View)
Exposure Compensation:
1/3 EV step, ±5EV (±3 EV for motion picture)
Camera Type:
Digital Single Lens Mirrorless camera

Camera Type:

The type of camera. Examples: SLR, point and shoot, mirrorless.

Recording File Format (Video):
MP4 (H.264/MPEG-4 AVC, Audio format: AAC (2ch))
Bluetooth:
Bluetooth® v4.2 (Bluetooth Low Energy (BLE))
ISO Sensitivity:
Still image: Auto / i.ISO / 100 (Extended) / 200 / 400 / 800 / 1600 / 3200 / 6400 / 12800 / 25600
(Changeable to 1/3 EV step) Creative Video Mode: Auto / 100 (Extended) / 200 / 400 / 800 / 1600 / 3200 / 6400 (Changeable to 1/3 EV step)
Exposure Modes:
Program AE, Aperture Priority AE, Shutter Priority AE, Manual Exposure

Exposure Modes:

The various programmed, automatic, semi-automatic, and/or manual shooting modes which a camera has available for use. (e.g. Program, Shutter Priority, Aperture Priority, and Programmed Automatic)

Lens Mount:
Micro Four Thirds mount

Lens Mount:

The type of lens mount.

External Microphone Input:
f3.5mm Stereo/Lens Auto/Shotgun/Super Shotgun/Manual is selectable when attaching DMW-MS2 (sold separately).
Built-In Flash:
TTL Built-in-Flash, GN5.1 equivalent (ISO200 ·m) / GN3.6 equivalent (ISO100 ·m) (Reference), Built-in Pop-up
Camera Body Weight:
Approx. 345g / 0.76 lb (SD card, Battery, Body)
Lens Specification
Focus Type:
Contrast AF system

Focus Type:

The type of focus of the lens from full manual control to auto focus.
In The Box
Panasonic LUMIX G100 Mirrorless 4K Vlogging Camera
Come with Panasonic 12-32mm Lens
Hot Shoe Cover
Battery Pack
AC Adaptor
USB Connection Cable
Shoulder Strap
Lens Cap
You May Also Like
Media and Memory
Product #: SYCD4047

Our Price: $59.99 After $10.00 Instant Savings
Filters
Product #: BWL65045594

Our Price: $21.25

Product #: BWL661069182

Our Price: $55.50