Gene Lowinger Black and White Gallery Opening
Product #:

UUU472
Manufacturer #:

UUU472
After graduating college I traveled to Nashville TN to work as a bluegrass fiddler for Bill Monroe's Blue Grass Boys. When I decided to become a photographer I chose to document the final years of Monroe's life as a performing artist because, having been a member of his band, I knew I would be allowed access to his personal life at home and on the road that would be denied anyone else. Monroe began playing on the Grand Ole Opry in 1939 and his career ended in 1996 after suffering a stroke. In 1945 he formed the first band of five instruments – Monroe on mandolin, Lester Flatt on guitar, Earl Scruggs on banjo, Chubby Wise on fiddle, and Howard Watts on bass - that was to become the standard for bluegrass bands for many years to come. That first iteration of the
Blue Grass Boys was arguably the best bluegrass band ever. Monroe was known as a tireless road warrior. He would often live on his tour bus, leaving his family behind, for weeks at a time crisscrossing the South and Midwest. His performances, which were always high-powered and packed with drive and energy, belied the grueling and tedious hours of driving, eating, and sleeping on the bus. When I conceived of the idea to do this documentary I wanted to depict not only his life in front of the curtain, but also the toll he paid late in life.
The photographs in this show were first displayed at the International Bluegrass Music Museum in Owensboro, KY from September 2011 to September 2012 as part of the centennial celebration of Monroe's birthday. The images were included in a book of my memoirs entitled I Hear a Voice Calling – A Bluegrass Memoir which was published by the University of Illinois Press in 2010. The book is available on Amazon.com.
These photographs and many more can be viewed on my website: www.genelowinger.com The photographs were shot on Fuji Neopan film (either 400 or 1600 ISO) using a Nikon SLR and Leica M4 and M6, along with a variety of lenses. The negatives were digitized with a Nikon Coolscan film scanner.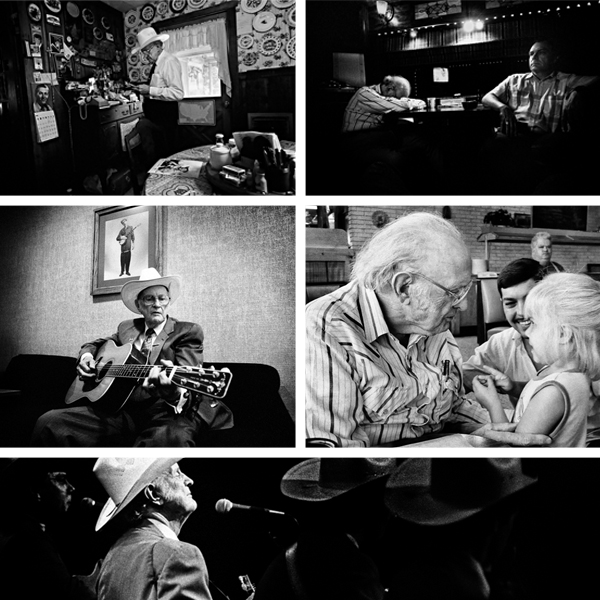 About Gene: I began playing bluegrass fiddle while a student at Rutgers University. After graduating in 1965, at the invitation of Bill Monroe (the Father of Bluegrass Music) I went to Nashville, TN to join his band, The Blue Grass Boys, on the Grand Ole Opry. After eight months with Monroe I returned to New York City and entered the artist diploma program at Mannes College of Music to study with world-renowned violin pedagogue Raphael Bronstein. I continued my music studies at Manhattan School of Music from which I received a master's degree in performance, and subsequently worked for a number of years in the freelance music business of New York. After a stint of ten years as a systems analyst for a Wall Street bank during which time I studied photography with Mario Cabrera at the New School, I became a freelance photojournalist/documentary photographer. The images in this show are a part of one of the first personal projects I created.
Product Reviews
There are no reviews for this product.