Gary Fong



Gary Fong introduces the Lightsphere Collapsible, the new evolution of the famed Lightsphere series of diffusers. It is made from soft vinyl, making it flexible yet durable.
Collapses down to a 1 ½ inch thick ring for easy storage.
Utilizes sizing ribs that provide an equally tight fit to several sizes of flashes without the need for straps or bands.
Inverted Dome included w/ every Lightsphere Collapsible.
Works with existing accessory domes: Amber & Chrome.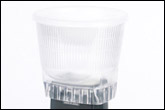 All other diffusers 'point' the light forward like a flashlight. LIGHTSPHERE is the only diffuser that lights up the entire room, softening your images tremendously. It has been referred to as the "best diffusion we have ever tested" by Professional Photographer Magazine".
The LIGHTSPHERE II - CLEAR is a very translucent and highly efficient diffuser. Since it allows more light to pass through, your flash batteries don't have to work as hard for a proper exposure, allowing you to keep up with the action. Many of our clients also use the Clear with commercial product photography in place of umbrellas and soft boxes.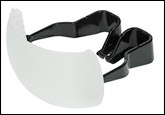 The PUFFER Pop-Up Flash Diffuser mounts in the hot-shoe slot of digital cameras with a pop-up flash, greatly softening the quality of light. It's great for portraits, grabshots of people and closeups of objects (great for eBay photos). It can also eliminate the shadow from your lens shade almost completely.
It packs completely flat for convenient storage in your camera bag (or pocket!) and has eight different mounting positions for the perfect fit for any pop-up flash camera. The PUFFER is compatible with many of today's digital cameras.
Gary Fong is a photographer who ended his 20 year long career in 2002 to pursue other interests, including creating a product marketed as the solution to unflattering images lit with direct flash lighting called the "Lightsphere."

Instead of filling a room with soft light, the PowerSnoot focuses light into the areas you want to highlight, and more importantly, away from where you don't.

Made for the Lightsphere Universal and Lightsphere II Cloud, the ChromeDome increases light output dramatically while keeping the diffusion properties.