Digital Learning Lab
Digital Photo Manipulation and picture editing made easy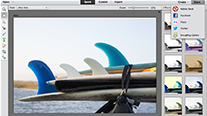 Adobe Photoshop Elements 12
Learn the basics of digital imaging and photo manipulation with our Digital Learning Lab. Here, we teach you the basic principles of editing your digital photos with popular picture editing software like Adobe Photoshop Elements 12, Photoshop CS5, Lightroom 5, Premiere Pro, and Final Cut Pro. For anyone who harbors a desire of becoming a professional photographer, learning how to edit and manipulate your photos is one of the most important skills to learn. Make your photos really stand out while learning essential skills in photo manipulation from our expert and accommodating veteran instructors. See below for currently available classes.
Class Code: UUU329

Instructor:

Skill Level:

Everyone

If you are crunched for time and want to learn as much as you can about Photoshop as fast as you can, then this is the course for you! Learn the Basics of Photoshop with Certified Adobe Instructor Blake Taylor! Blake will review the essential tools to enhance your photographs.

NOTE: Practice images will be provided. You will receive a take home booklet to reference when needed.

WHAT TO BRING: Please bring 1-2 images you would like to work on. Each student will need a notebook (paper) and some type of storage and transfer media for image files to bring to and from class. Thumb drives or external pocket hard drives are all suitable. I would suggest nothing less than 4 gigabyte thumbdrive storage capacity with USB or Firewire connectivity. CD's and DVD's are not recommended for transferring digital media to and from class. The fastest storage media is either a thumb drive or pocket hard drive.

*Seating is limited to 13 students.
*Our digital lab has MAC desktops. If you'd prefer to bring your own laptop, please let us know ahead of time by emailing university@uniquephoto.com.

Please note that the June 23rd class has been postponed to Saturday, August 11th.