Digital Learning Lab
Digital Photo Manipulation and picture editing made easy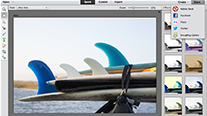 Adobe Photoshop Elements 12
Learn the basics of digital imaging and photo manipulation with our Digital Learning Lab. Here, we teach you the basic principles of editing your digital photos with popular picture editing software like Adobe Photoshop Elements 12, Photoshop CS5, Lightroom 5, Premiere Pro, and Final Cut Pro. For anyone who harbors a desire of becoming a professional photographer, learning how to edit and manipulate your photos is one of the most important skills to learn. Make your photos really stand out while learning essential skills in photo manipulation from our expert and accommodating veteran instructors. See below for currently available classes.
Class Code: UUU493

Instructor:

Skill Level:

Everyone

Join Adobe Certified Instructor Blake Taylor for this intensive 5 week, hands-on class that will introduce you to the latest version of Adobe Photoshop CC 2016! Even if this is the very first time you've ever worked in Photoshop, the class will start with the very basics. You'll learn how to open up Photoshop and how to bring a Raw image into Photoshop by way of Camera Raw, as well as the basics of image enhancements. Once you are comfortable with the basics, you will begin to learn more advanced techniques, from creating selections and masks in order to enhance just parts of a photo to learning about blending modes to creating adjustment layers. You will also spend lots of time experimenting on your own with your personal photos. By the end of the 5 weeks, you will have lots of information so that you can better teach yourself how to make your photos look their best!

Registration Includes 5 Saturday Sessions:
September 10th 2016 (11:00am - 1:00pm)
September 17th 2016 (11:00am - 1:00pm)
September 24th 2016 (11:00am - 1:00pm)
October 1st 2016 (11:00am - 1:00pm)
October 8th 2016 (11:00am - 1:00pm)

WHAT TO BRING: Each student will need a notebook (paper) and some type of storage and transfer media for image files to bring to and from class. Thumb drives or external pocket hard drives are all suitable.

* Seating is limited to 12 students.
* Our digital lab has 12 MAC desktops. If you'd prefer to bring your own laptop, please let us know ahead of time by emailing university@uniquephoto.com.