Introduction
When choosing a camera, one thing photographers consider is a versatile camera that provides loads of features to help them capture better images. The Digital SLR has become a gold standard among all photographers, amateur and professional alike, as they can shoot high-quality images and video with the added bonus of amazing features. There are many different types of cameras to choose from, so why would you choose a DSLR over something more compact? Well, the answer is quite simple. DSLRs offer photographers the advantage of a larger sensor for better image quality along with the versatility of interchangeable lenses, opening up a whole new world of creativity to you. While the DSLR is an ideal camera, there are still various types geared towards different levels of photographers. Getting to know which one is right for you can help you out in the long run.
Purpose of the Guide
This SLR buying guide will help you understand the different types of DSLRs out there while helping you answer the age old question: "Which is the right one for me?"
What is a DSLR Camera?
The Single Lens Reflex camera, or SLR, is based on the design of a hinged mirror that bounces light passing through the lens into the viewfinder that you look through in order to compose an image. When the shutter is pressed, the viewfinder flips out to let the light pass through and hit the sensor or film. The viewfinder in the SLR contains a prism or pentaprism which flips the incoming image around so that it is seen right side up on the focusing screen.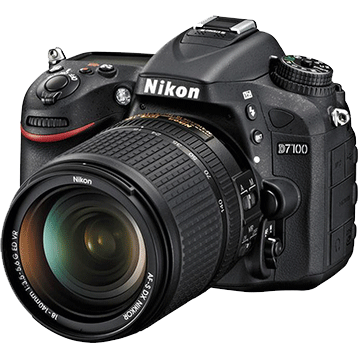 Nikon D7100 DSLR Camera Front
Ideally, SLRs are preferred by most photographers for serious applications, but not all are made solely for professionals. Many models offer various levels of control and creativity when shooting pictures. DSLRs not only offer better control but also feature pre-set programs, interchangeable lenses, pop-up flash or hot shoe capability and other accessories to help you get the most out of your camera. Beyond the entry-level models, higher-end DSLRs offer a Live View mode that lets photographers use the LCD to compose and take an image instead of using the viewfinder.
Most DSLRs have interchangeable-lens systems allowing the ability to swap one lens for one with a different focal length. Some SLR designs are fixed-lens which doesn't allow a change of lenses. Newer technologies feature semi-transparent mirrors that do not move, but allow some light to go to the viewfinder, while allowing most to go to the sensor. While most traditional cameras have an optical viewfinder, some newer models feature an electronic viewfinder (EVF) providing similar quality with the advantage of additional brightness. These are considered hybrid SLRs because they usually lack mirrors and instead utilize an EVF and Live View at all times.
Features of DSLR Cameras
Different features offer additional advantages in capturing high-quality images. Let's check out some of the basic features that should be considered when buying a digital SLR camera.
Build Quality
Most DSLRs feature better a build quality than compact cameras. Often these cameras are made with materials such as magnesium alloy in place of the plastic that some cheaper cameras are made of. These better quality materials allow better performance in tough conditions as well as a rugged look. More advanced cameras have weather sealing to help against slight water and dust damage. Most have in-camera sensor cleaning which vibrates the sensor to knock off small dust particles on the sensor. This is especially useful for photographers who change lenses often.
Display
DSLRs generally have an optimum screen size, allowing the user easy viewing of the pictures they take with the camera. Most of these cameras now have Live View for point-and-shoot style framing which utilizes a live display on the camera's rear LCD screen. Live View makes it easy for the photographer to frame up shots from different angles. Certain cameras even have variable-angle displays, allowing even more creativity with unconventional angles.
Sensor
Camera sensors contain photodiodes which capture light. These are known as pixels and the misconception is that more pixels mean better images. More megapixels doesn't necessarily mean a better picture when it is on a tiny sensor. Truth is that the size of the pixels allows more information to be captured, allowing sharper images with better color representation, while allowing cleaner images at higher ISOs. This means better images in low light, but larger pixels means a larger sensor which are known to cost more.
Interchangable Lenses
One of the most important features of the DSLR is that it gives the photographer the facility to change lenses for different effects. There are many different kinds of top-quality lenses available that suit various DSLR cameras which are perfect for every style of photography. Certain lenses feature image stabilization that reduces blurring caused by camera shake while an image is being taken.
Light Sensitivity
The sensitivity of the camera's sensor to light is determined by ISO. A low ISO is necessary for settings with much light while a high ISO is needed in order to take a picture in low-light conditions. High ISO's often yield images that have noise, but higher-end cameras generally have larger sensors which produce cleaner images.
Face Detection
There are many DSLRs that use this technology to identify a face in the frame. The camera will automatically adjust picture settings and focus specifically for a recognized face.
Autofocus
When it comes to DSLRs, autofocus is almost a necessity in order to take pictures quickly with ease. Autofocus is made possible by onboard microcomputers which relay messages to the focusing motor, adjusting at a very fast speed.
Performance and Speed
DSLRs excel in producing images that have fine detail and accurate colors, making them the ideal choice for professionals. These cameras have larger sensors than point and shoots and feature more responsive controls, giving it the speed and accuracy pros need. Additional control over shutter speed, aperture, white balance, contrast, and flash synchronization allow photographers to take their creativity to the next level.
Extended Dynamic Range
DSLRs have the capability to recognize extra contrast detail. This means more information is captured in the lightest and darkest parts of the image. Some cameras have a high dynamic range mode to further these capabilities by taking three images together and blending them together for a unique-looking shot.
Low Noise Processor
DSLRs have processors that help reduce the grainy appearance of noise that occurs when shooting in low light at high ISOs. This advanced technology allows you to shoot without the aid of flash, while still maintaining a usable image.
RAW Capture
When looking to take pictures without sacrificing any details. A RAW file is simply just the original data and is ideal for advanced users who use photo editing software.
Interface and Connectivity
DSLRs use digital memory cards that can be removed and used with a memory card reader so you can transfer your images to a computer. Newer cameras allow wireless transfer through a Wi-Fi connection.
Dual Card Compatibility
Opposed to having just one memory card slot, some higher end cameras have dual slots. This is a useful feature for creating backups should one card fail and also for those who like to delegate what content goes onto which card.
Utilities of DSLR Cameras
Some of the factors that need to be considered when buying a DSLR include the camera's build quality, sensor, display, ISO range and so on. These factors are of vital importance when picking out a camera as you pick out the right one for you. Some features may be more suitable for pros instead of amateurs, while entry-level cameras might lack the extra controls more advanced users will need.
Top 5 DSLR Manufacturers
Many companies worldwide have started producing high-quality digital SLR cameras with loads of high-end features. Here are the top five leading DSLR manufacturers.

Canon U.S.A., Inc., is a leading provider of consumer, business-to-business, and industrial digital imaging solutions. The Canon EOS Camera System is the most complete Single Lens Reflex (SLR) camera system in the world. Whether you are a beginner or advanced professional looking for a digital camera, the EOS System takes your photography to the next level. Canon has taken digital photography to the next level by offering high-end digital SLRs which are driven by a host of cutting edge technologies. Canon's excellence in producing digital cameras is seen in the stunning colors and exceptional quality images from their DSLRs. Apart from the impressive image quality , Canon also provides exceptional quality lenses and external flash units. Canon's comprehensive EOS system keeps up with the latest trends, ideal for all photographers - amateurs and professionals alike.

Nikon is the world leader in digital imaging, precision optics and photo imaging technology and is globally recognized for setting new standards in product design and performance. The unique strength of the Nikon brand is attributable to the company's unwavering commitment to quality, performance, technology and innovation. Nikon Inc. markets and distributes consumer and professional digital SLR cameras, NIKKOR optics, Nikon 1 and COOLPIX digital cameras, Speedlights and system accessories.

Sony is a leading electronics manufacturer that produces a full range of Digital SLT (Single Lens Translucent) cameras for both amateur and professional photographers. Sony's Alpha cameras are packed with powerful features that give photographers the edge with the most innovative technologies.

Olympus E-System Digital SLRs are designed with revolutionary features that expand the frontiers of digital photography. From their flagship E-5 aimed at working professionals as well as advanced amateurs, to other models like the E-620 and E-30, you're sure to find an E-System camera that fits your needs.

Pentax DSLR cameras are both easy to use and masterfully designed with all the features and performance any photo enthusiast could want to take their photography to the next level. Whether you're a novice or an expert, there's a PENTAX DSLR that lets you capture your interesting view of the world.
Terminology
When buying a DSLR, it's important to keep a few terms in mind to understand which features you're looking for. Let's check out these important terms and what they mean below.
Build Quality:

A DSLR can be made out of a variety of materials such as Magnesium alloy which provides a sturdy build while maintaining a light weight. Although more expensive, these materials can take more of a beating that those made mostly of plastic and are worth the added expense. Other higher end features include better weather-proofing including protection from moisture and dust.

Display:

The LCD display on a DSLR should be an optimum size for previewing images as well as taking pictures and video using Live-View.

Megapixels:

The count of pixels in millions on a DSLRs sensor correlates with the resolution of the images you take. Although Megapixel count is thought to be important, the size of the sensor has a bigger impact on resolution.
DSLRs allow the exchange of lenses for different viewing angles and focal lengths, producing a wide variety of styles. Although most DSLRs come with a kit lens which is useful in learning how to use the camera, advanced users opt for better quality lenses such as telephoto, wide angle zoom and prime lenses.

ISO:

ISO is the term for the camera's range of light sensitivity. Most cameras have a base ISO around 200, which is suitable for great amounts of light. On the other side of the spectrum, higher ISOs such as ISO 6400 allow one to shoot in low light without the aid of flash, but produce noisy images. More expensive cameras have sensors that perform better in low light.

Autofocus:

This allows the user to lock onto a subject without the need to manually focus. Speed and accuracy in autofocus are big features which allow the photographer to get an image quicker in one shot. Autofocus ranges from contrast detect which is found in most cameras to newer technologies such as phase detection AF.

Face Detection:

This feature is used to detect a subject's face automatically when shooting a picture.

Performance and Speed:

DSLRs have larger sensors than point and shoots, allowing them better control of getting a picture without lag.

Extended Dynamic Range:

These cameras have the ability to record extra contrast detail without sacrificing information lost in shadows and highlights.

Low Noise Processor:

The grainy appearance or noise in images caused by higher ISOs can be reduced considerably by low noise processors, giving the image a cleaner look.

RAW Recording Mode:

RAW files allow more flexible editing and lost information caused by JPEG compression. This is more suited for advanced users who use photo editing software.

Interface and Connectivity:

Memory cards are used to store the images you take with your DSLR. Most common forms are Compact Flash, SD, Memory Stick and QXD.

Dual Slot:

Some high end cameras come with dual memory card slots to store information on more than one type of memory card.