Creating Your Signature Look Using DxO Software with Hector Martinez
Product #:

UUU464
Manufacturer #:

UUU464
Join DxO Tech Rep Hector Martinez in this hands-on workshop and learn how to create your signature style using DxO's Optics Pro and FilmPack software! Hector will take you step-by-step from capture to processing the final image in-class. There will be a live model and demo before attendees take a quick turn.

Attendees are encouraged to bring some images on a flash drive. If you have a laptop (with or without DxO already installed), please bring it as well.
DxO Optics Pro: Push the limit of your camera.

Automatically enhance your RAW and JPEG images, thanks to DxO Optics Pro's outstanding performance. Effectively remove noise, optimize exposure and contrast, boost colors, apply sophisticated optical and geometrical corrections and enhance details.

Fast, intuitive and powerful. Thanks to the preliminary laboratory characterization of thousands camera/lens combinations, DxO Optics Pro's automatic corrections are perfectly suited to your equipment and to the content of each of your photos.

DxO FilmPack: Rediscover the magic of analog film.
Give your digital photos all the quality and emotion of Fine Art photography with DxO FilmPack, the creative image processing software.

Perfectly reproduce the quality, style, colors, and grain of the most famous analog films. Bring out the best in your photographs by applying original effects both in color and in black & white.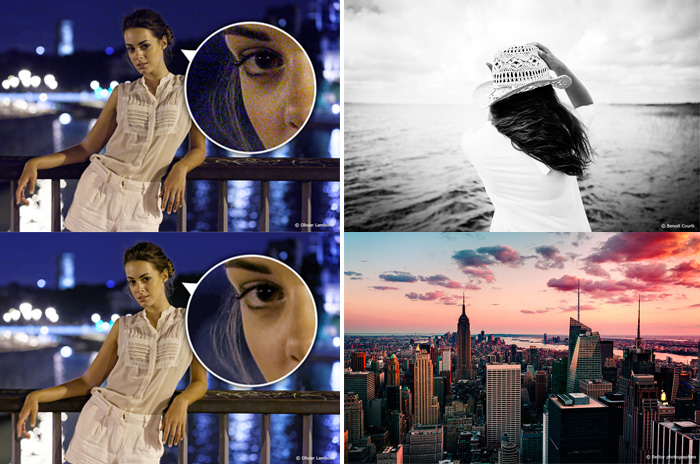 Product Reviews
There are no reviews for this product.