Capture One: Advanced Full Day (Hoboken)
Product #:

UUUH222
Manufacturer #:

H222
Are you comfortable with your basic skills in Capture One, but eager to explore and understand more of the exceptional power of the new features and improved processing engine in Capture One Pro 11? It's a complete, but complex application, and it takes time to grasp even the primary functions. Most people may only use about 15% of the tools, but what secrets and time-savers lie within the other 85%?

In this intensive, full day workshop, we'll help you discover the hidden treasures that will help you create even better images and save more time in your image processing. We'll explore Capture setup, Exposure settings, Color, Local Adjustments, Metadata, and Output in detail. You'll learn how to setup efficient workflows for various assignments and identify the right steps to take to achieve your photographic objectives.
*This class takes place at our Hoboken location!
*It's strongly recommended that every registrant brings a laptop with Capture One Pro installed. If you don't have Pro 11 yet, our instructor will help you install and set up a free trial version at the beginning of class.
*Limited to 8 registrants.



What is Capture One? Capture One continues to lead the way in RAW file image editing. Expertise from creating customized color profiles for more than 400 cameras, combined with our relentless dedication to creative freedom has brought recognition to Capture One's workflow, our exceptional color handling, and precision editing tools. We develop our software with the ambition of enabling you to achieve your creative vision through a smooth, efficient workflow; making it the professional's choice in imaging software.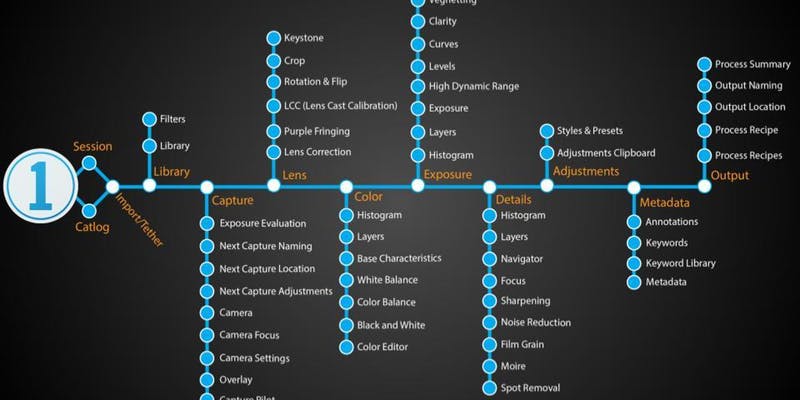 Harwin Camera is a value-driven photographic equipment company offering the best personal experience through professional service, knowledgeable staff, competitive pricing and innovative technologies. Our staff of seasoned professionals provides differentiated and cost-effective integrated solutions. Harwin Camera is committed to inspire, educate and problem-solve for our customers. Harwin Camera may be a new new name to some of you, but our faces will be familiar since we have all been active in the photographic industry for most of our working careers. We have lots of experience to share with you and are happy to guide you in making wise investments in your business. Our team is based in New York City, Boston, St. Louis and San Francisco. We are looking forward to helping you become a successful photographer with a profitable business.



Instructor DOUGLAS KEHL graduated from the Fashion Institute of Technology with an AAS and Savannah College of Art and Design with a BFA in Photography. Working as a photographers assistant and retoucher for a number of years he made the transition to digital technician. While both assisting and digital teaching he worked at the International Center of Photography as a lab assistant and Fashion Institute of Technology as a photo technician. At the Fashion Institute of Technology Douglas taught professors and students to be more proficient in the digital workflow. More recently he has worked with videographers as an AC, focus puller, Gaffer and G&E.
Product Reviews
There are no reviews for this product.