NYC Grand Central Terminal HDR Photowalk with Alan Kesselhaut
Product #:

UUU421
Manufacturer #:

UUU421
UPC:

UUU421
For this 3 hour excursion in and around Grand Central Terminal, we have obtained special permits to photograph the interior of the terminal using tripods. This photowalk is an opportunity to apply the lessons from our "Introduction to HDR Photography" class in a real-life setting and offers an exciting environment for photographers of all skill levels.

This photowalk is strictly limited to 10 people. Sign up to reserve your spot!
*Travel is not included.
If you're planning to shoot HDR, take a look at my starting camera settings below. Familiarize yourself with your camera's menus and bring your User Manual along to make your shooting experience more enjoyable. If you have a wide angle lens, bring it along.
HDR starting Camera Set-up:
· Shoot in "Aperture Priority" mode
· ISO - 100 or as low as you can set it (this will change as the situation demands)
· F Stop - f8 (this will change as the situation demands)
· Shoot in High Speed Continuous mode
· Shoot in RAW
· Turn on - "Auto Exposure Bracketing" and "Highlight Warning"
· Turn off - "Auto Focus" and "Image Stabilization"
· Histogram on (Make sure the images taken cover the full range.)
--------
We will meet in the center of the Main Concourse in Grand Central Terminal under the clock. Direct contact information to Alan will be given out to each attendee via email after registration.

The excursion will include:
A short lecture focusing on:
• Basic HDR information, Camera set-up and settings and Shooting tips.
• Special requirements: Security at the Terminal is a top priority; therefore all participants must follow the rules as set down by your instructor. These will be discussed at the beginning of the class. Please be aware that if there is an emergency situation at GCT, our tripod permit may be revoked.

All photos will be for personal use only!
A DSLR camera and tripod are strongly recommended but nor required.
Please wear comfortable shoes.
--------
SUBWAYS
Grand Central Terminal is serviced by the 4, 5, 6, 7, and S Subway Lines. Subway Stations are located at XYZ. For more information visit the MTA's subway page.

BUSES
Local: Grand Central Terminal is serviced by the M00 and M00 bus lines. Bus stops are located at XYZ. Bus schedules can be found at the MTA's bus page. For airport transportation, visit the NY Airport Service website.

TAXI STANDS
Grand Central Terminal features two taxi stands, located at:
The northwest corner of 43rd Street and Vanderbilt Avenue, across the street from Grand Central Terminal.
East 42nd Street at Vanderbilt Avenue.
A Grand Central Partnership taxi dispatcher will staff these taxi stands Monday through Friday from 7 a.m. to 8 p.m., and Saturdays and Sundays from 10 a.m. to 8 p.m.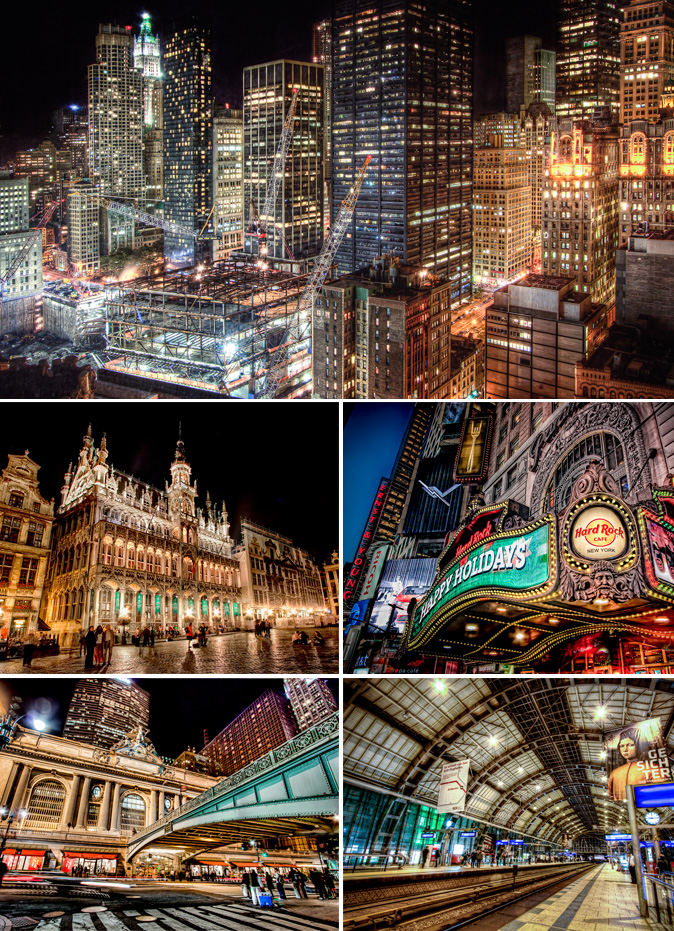 "I just wanted to send a thank you to your company for having Alan Kesselhaut's HDR class at the Expo. My father and I attended the seminar and enjoyed it very much. Alan was well spoken, provided useful information, and illustrated his points well. He even went above his duty and took the time out of his personal life to assist me with a few related questions I had. Should you have Alan back for any additional seminars I would gladly participate. We also enjoyed the rest of the Expo and look forward to coming again in the future."
Product Reviews
Excellent HDR Primer
Reviewed on Saturday, March 2, 2013
By: Kanoebilldr
The instructor was very well prepared and a good speaker. He laid out the steps for shooting and processing HDR images in terms we all could understand without talking over anyone's head. I came out with a much better understanding of how to setup for and make an HDR image, and an idea of just how much detail it can recover from highlights and shadows (even more than from processing RAW images in Lightroom). His handouts were very well done and a good reference for settings and techniques to use in processing HDR images. I think ALL the Unique instructors should have handouts with their classes. If you are interested in HDR, take this class. My only dissapointment was that I didn't win the raffle at the end of class for the copy of NIK software.