About Unique University
Unique University® is the highly-acclaimed education component of Unique Photo® - NJ's only camera and video superstore. There is over 2000 sq. ft. of learning space, including our state-of-the art, 1000 sq. ft. main presentation hall.
Unique University's mission is to help our visitors "Create Better Pictures" by providing photography education for beginners to pros. With events daily, it is the place where photography groups such as local camera clubs, ASMP, PPA, and others meet.
We have a full curriculum of classes and seminars from world-famous professionals like Art Wolfe, Rick Sammon, Michael Yamashita, Tyler Stableford, Lindsay Adler, and Will Crockett. We offer photography excursions to places like professional sporting events, the Lakota Wolf Preserve, botanical gardens, balloon festivals, and much more.
Our technical classes include such topics as basic DSLR photography, lighting techniques, macro photography, composition, editing and printing, wedding photography, HDR photography, working with speedlites, how to use social media, digital organization, one-on-one instruction, and much more.
Click here to see all of our current class offerings!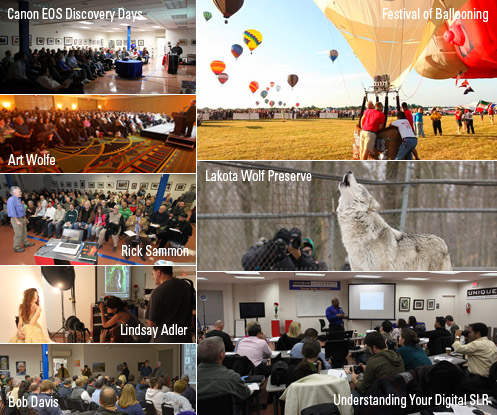 Digital Learning Lab Classes
Unique University® also offers lab classes to help students develop a better understanding of popular software programs, such as Adobe Photoshop and Elements, Lightroom, and Premiere Pro. Classes on non-destructive photo retouching, organization, and many more specialized subjects are also offered.
Our digital lab boasts 12 MAC computers for a convenient, hands-on approach to every class, many of which are instructed by Adobe certified instructors.
Click here to see all of our current Digital Lab classes!

If you have any questions about any of our classes, please feel free to email us at university@uniquephoto.com or call us at 973-377-6454.