Digital Learning Lab
Digital Photo Manipulation and picture editing made easy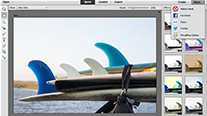 Adobe Photoshop Elements 12
Learn the basics of digital imaging and photo manipulation with our Digital Learning Lab. Here, we teach you the basic principles of editing your digital photos with popular picture editing software like Adobe Photoshop Elements 12, Photoshop CS5, Lightroom 5, Premiere Pro, and Final Cut Pro. For anyone who harbors a desire of becoming a professional photographer, learning how to edit and manipulate your photos is one of the most important skills to learn. Make your photos really stand out while learning essential skills in photo manipulation from our expert and accommodating veteran instructors. See below for currently available classes.
Class Code: UUU231

Instructor:

Skill Level:

Everyone

Adobe Certified Instructor Don Polzo will go over most Tools, Menu Options, Adjustment Panels, Layers & Masks, and how to organize files in Photohop Elements 11. At the completion of this course, students will have a solid, working understanding of the program.

Class Code: UUU220

Instructor:

Skill Level:

Beginner

Through 8 sessions of hands-on computer use, demonstration, and practice, students will get a hands-on review of Adobe Lightroom while following a typical photographic workflow from Don Polzo, an Adobe Certified instructor.